THE EDGAR NOMINATIONS
by James Lincoln Warren
The same week we lost a giant, Ed Hoch, Mystery Writers of America published the nominations for the 2008 Edgar Awards. Steve and Leigh have both written eloquently on Ed's untimely demise, and I have nothing substantive to add to their tributes. But it is fitting that Ed should be commemorated with a tribute to excellence.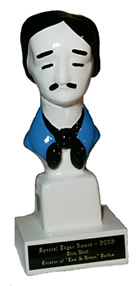 The Edgars exist for three essential purposes.
The first is to reward excellence in the crime fiction genre.
The second is to publicize and promote crime fiction in general, hopefully enabling its practitioners to make a living.
The third is to have an excuse for one of the best parties of the year for fans and writers alike. There is nothing like Edgar Week.
But we were talking about the nominations. The only nominees that interest us here are those for Best Short Story, along with the winner of the Robert L. Fish Memorial Award for best first short story, so here they are.
EDGAR NOMINEES:
"The Catch" by Mark Ammons, in Still Waters (Level Best)
"Blue Note" by Stuart M. Kaminsky, in Chicago Blues (Bleak House)
"Hardly Knew Her" by Laura Lippman, in Dead Man's Hand (Harcourt)
"The Golden Gopher" by Susan Straight, in Los Angeles Noir (Akashic)
"Uncle" by Daniel Woodrell, in A Hell of a Woman (Busted Flush)

ROBERT L. FISH MEMORIAL AWARD:
"The Catch" by Mark Ammons, in Still Waters (Level Best)
There are two things that strike me about this list: first, all of the stories were published in anthologies and not in magazines; and second, that they represent all levels of experience–it cannot have escaped your notice that the same story that won the Fish Award is also nominated for an Edgar, right alongside the likes of chronic bestseller and Edgar alumna Laura Lippman and the amazing and prolific MWA Grand Master Stuart Kaminsky.
What do these things mean?
Well, it does not mean that there is an inherent bias against magazines in the selection process. Edgar judges are prohibited from discussing the selection process, but anybody who wants to know how the process works can read about it here. Last year, the nominees were also exclusively from anthologies. Is this a trend?
Maybe. But what I think it shows is that there are more anthologies of mystery stories being published than in a long while. I would especially like to point out that four of the five nominees were published by small presses. This is actually good news for the mystery short story. Since one of the purposes of the Edgar is to stimulate sales, this would seem to indicate that markets are expanding.
Typically, though, most of the nominees for Best Short Story are novelists. True, Lippman and Kaminsky regularly write short fiction, and I am by no means second guessing the judges on the relative merits of all the stories submitted, but it does always strike me as strange that this should be so.
In any case, while rejoicing in the success of the anthologies, we shouldn't lose sight of the importance of the magazines. First time authors rarely debut in anthologies, since contribution to an anthology almost always requires an invitation. EQMM and AHMM try to introduce new authors at every opportunity. And for us regular contributors, the magazines offer much more opportunity with regard to developing series characters — for one thing, a writer can consistently reach the same audience with every story, something very difficult to do in anthologies.
One final thought: the Edgars make no distinction between short stories, novelettes, and novellas. Personally, I have always been a little disappointed by this, especially since it puts what I consider to be stories with different structural components in competition with each other — it's sort of like judging a Vespa against a Ducatti simply because they both have only two wheels.
But all five authors are to be congratulated for being nominated. It's about the greatest honor for a mystery writer there is.