BE SEEING YOU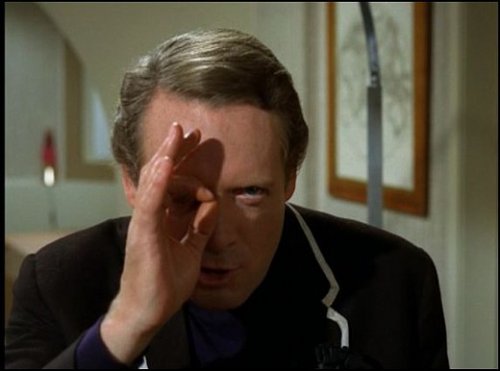 By Rob Lopresti
I feel like Mr. Morbid here, writing an obit for the second time in a month, but I can't let Patrick McGoohan pass uncommemorated. (And as I write this, John Mortimer has just died … what a month.)
Back in the early sixties when spy shows were popping up like mushrooms, one end of the axis was The Man From U.N.C.L.E. – shiny colors, cool gadgets, and handsome young men triumphantly saving the world from megalomaniac archfiends. At the other end of the scale was Secret Agent — gritty (cheap, really) black-and-white, minimal guns and other toys, and a handsome young man trying to make Great Britain a tiny bit safer by defeating some foreign bad guy. Unlike Napoleon Solo and company, John Drake had no high-tech backup network ready to rush to his rescue. He was on his own, in morally ambiguous waters, and sometimes he failed.
I liked both shows, but only the British one seemed to have any relationship with planet Earth.
The main reason so many of us were saddened to read of Patrick McGoohan's death last week was that he got bored after making fifty-four episodes of Secret Agent and came up with an idea for a different series, The Prisoner, to be filmed mostly in the very weird Hotel Portmeirion in Wales.
Let's put on a show
McGoohan brought his proposal to Lew Grade, the president of ITV who had paid for Secret Agent. (Incidentally, Grade also produced the original Muppet Show, and was the basis for Orson Welles' character in "The Muppet Movie." Too bad Jim Henson never parodied The Prisoner. "I'm not a number! I am a free frog!" But I digress.)
"I talked for about ten minutes," McGoohan recalled during an interview with TVOntario in1978, "and he stopped me and said, 'I don't understand one word you're talking about, but how much is it going to be?' I had a budget with me, oddly enough, and I told him how much. He said 'When can you start?' and I said 'Monday,' and he said, 'The money will be in your company's account on Monday morning.'"
Square holes , round pegs
So we can thank Lord Lew for blessing one of the oddest shows ever made, which has been called "the first television classic."
A bit pompous that, but the show is hard to label. It's science fiction in the same way that "Hamlet" is a ghost story. It's a spy story like Oedipus Rex is a mystery. You can shoehorn it into a category but neither the show nor the category will be comfortable with it.
Basically The Prisoner was something that had never before (and seldom after) been tried at series length: an allegory.
The set-up is simple. A government employee, probably a spy, gets locked up in a fantasy-like Village by people who use numbers not names. They want him to get along, to cooperate, and the first step is giving them information.
Obviously a metaphor for the individual struggling with society, but the show was also about progress (which McGoohan disliked), the mutability of identity, and the dubious value of national identity. (In the end it didn't matter whether the rulers of the Village sat at Whitehall or the Kremlin, because all the bosses were working against the individual. McGoohan's character, No. 6, didn't resist providing information out of patriotism so much as out of simple stubbornness.)
In the end the hero escaped to freedom — for a given value of hero and a given value of freedom. Like a dedicated deconstructionist McGoohan gleefully kicked the legs out from under anyone who had been watching the show as "just a spy thriller" by filling the last episode with evidence that No. 6.'s individualism was obsessive and futile, and that the whole world is just a bigger Village.
Quotations from Chairman M
Here are a few more thoughts from that interview with McGoohan.
I wanted to have controversy, arguments, fights, discussions, people in anger – waving fists in my face. How dare you? Why don't you do more Secret Agents that we can understand.
The majority of [the residents of the Village] have been sort of brainwashed…watching too many commercials is what I think happened to them.
Freedom is a myth.
Your village may be different from other people's villages, but we all have one.
On seeing things
Some of the show was schlock (and the technology was tacky even in 1967). But some bits were brilliant. For instance, in the Village people didn't say goodbye; they said Be seeing you.
Consider how much is packed into that phrase. It's a note of cheer even when the speakers and listeners are feeling grim. It says: this place is so small we will meet again. And: There is no escape so we will DEFINITELY meet again. And: You are being watched. And: No one can tell the watchers from the watched. Finally, all this took place in a TV show, whose very purpose is to be seen.
Pretty powerful stuff for three little words.
So thank you, Mr. McGoohan, for many hours of pleasure, bafflement and thought. Every TV show that tries to push the envelope a little owes you a salute.