DUMB AND DUMBER
by Deborah Elliott-Upton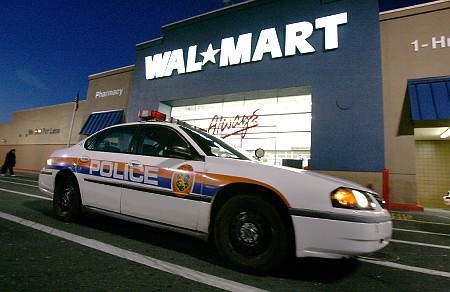 You know something out of the ordinary is going on when several squad cars and a couple of state trooper vehicles block the entrances of a Walmart super center with their lights flashing. It isn't just a shoplifter being apprehended and for some of us, whether we're writers or bystanders, it isn't something from which you walk away without being curious.
Yesterday, a woman took her grandson into the Texas Department of Public Safety to find out why his state-issue ID card had not been mailed. Obviously unknown to her, the 19 year-old was wanted on a felony warrant. He bolted when the deputy began to read him his rights and ran across the Interstate almost being hit several times. The officers thought he may have entered Walmart, so they were checking inside. In reality, surveillance tapes show he ran beside the building, but did not go inside. The man had not been handcuffed while his rights were being read.
I'm not sure who was dumb and who was dumber here, an officer thinking handcuffs weren't worth the trouble or the felon going inside a building filled with state police officers.
The toilets at a local police station have been stolen. Police say they have nothing to go on. – Ronnie Barker
The TV programs about dumb criminals always seems too stupid to be true, but from the stories my police officer friends share, they are too common not to be expected.
It doesn't work that way in fiction. The criminals are usually close to brilliant as are those who are investigating the cases. Would we read an entire story about murders, robberies or scams if the criminals were as dumb as most of those we see on reality-based television programs? I doubt it.
The reading public wants to figure out the puzzle, to find whodunnit and just as important, the why they did it in the first place.
In fact, many crimes are committed on the spur of the moment without any thought of premeditation or planning. Even if they are planned, often things go wrong. I wonder how many professional criminals have done their chosen profession without getting caught? If they've spent time in the prison system, does this mean they weren't very good? How does one get to be a professional criminal except for being caught repeatedly?
I remember stories by Charles Dickens of homeless, young runaways being taught the trade of pickpocketing by those befriended by them on the streets. Does this happen in real life? Probably. Is there such a "schooling" process for those who specialize in robbery? I suppose Mafia hitmen are trained by someone, or is it on-the-job training? Who chooses when they are good enough to go out on their own to kill for hire?
I've heard of people contracting a stranger to kill their spouse or boss or even their family members while they set up their own alibi. Where do you find such a person? Do you ask for references?
Okay, I realize this sounds a bit naive, but if I'm asking, wouldn't a reader? I can't tell you how often I've judged a short story contest and have a writer subject the reader to such moments of pure disbelief and then wonder why his story didn't sell, much less win a contest.
There has to be a believability to the plot, to the characters and to why we'd think the plot plausible. To suspend the disbelief is not trickery by the writer, but truly a skill.
When writers think the reader is dumb, it's really the writer who is dumber.