THE FOUR SEASONS
by Rob Lopresti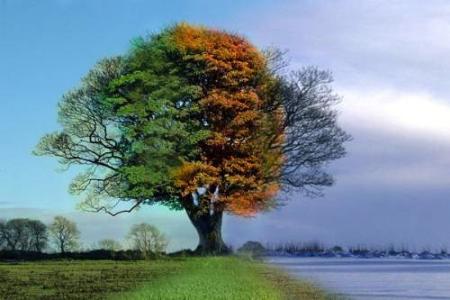 Last month, in the midst of darkest, coldest December, spring broke out.
I have to explain that the seasons of a writer's life are not the ones you find on the calendar. They have to do with what is going on in his head or between his hand and the keyboard.
Spring is the time when ideas germinate, blossoming apparently out of nowhere. For me, the whole first draft of a short story is spring. I write it as quickly as possible, trying to get the original sense of it down and knowing that not one sentence will make it into the final version unchanged.
Summer is the time to make those newly planted crops grow and flourish. For me that means taking that first draft – not much more than a full-length outline – and turning it into something worth reading.
Fall is the harvest. You take the almost-perfect story and ask: how can I make each paragraph a little better? Which words can be pared away? Is there a theme hidden in the plot that can be emphasized by a change of a name or a shift of emphasis? Does every scene do it's job? For me, this is always the longest season.
Winter is the fallow time. I'm sure it has a connection to writer's block, but I don't think it's the same thing. Winter is the time when the big ideas stop coming, so you tinker. Dust off an old manuscript and consider revising it. Do some writing exercises. Sharpen your tools for the coming year. But always know that the part of your brain you don't control is nurturing a new crop of seeds, getting them ready for you.
Tending the garden
In November I realized it had been almost six months since I had had an idea for a short story. I have been playing this game too long to worry much about such things. Fallow seasons happen. I had plenty of stuff to work on and had faith that when the seeds were ready, something would burst forth.
In the mean time I remembered a story I never finished and, since I couldn't find the incomplete draft, I started it over. After a thousand words or so I recollected a glimmer of an idea I had written in my notebook and suddenly saw how to turn that into a story. So I started on that one.
And then, while reading a story in AHMM, I got a dazzling new idea. I have mentioned Jack Ritchie before, one of my favorite writers. One of his specialties was stories that consisted of two men in a room chatting, except that one is pointing a gun at the other. "Shatter Proof" and "A Taste For Murder" are two of my favorites.
I had just thought of a variation on that theme, two men and a gun, and I have written four thousand words so far. There's snow outside my window but in this room there is nothing but balmy spring.