SHORT STORY ROUNDUP
I have a lot of short stories on my nightstand this week. I'm enmeshed in — or have recently finished — several collections and anthologies. Since this is a blog about short mystery fiction, what better topic to discuss?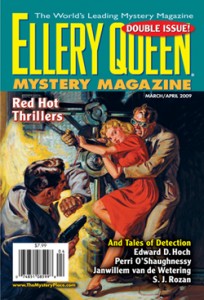 Ellery Queen's Mystery Magazine March/April 2009
The current issue is a fat "Double Issue" with loads of good stories by familiar names and a few new ones. I was pleased – and honored – that Queen opened with an obscure story by Ed Hoch that I'd recommended to editor Janet Hutchings. The story is called "The Vorpal Blade," and was adapted by Anglia Television for the ITV series "Tales of the Unexpected" featuring Peter Cushing as the elderly Von Baden relating a story of a fateful college duel in the early 1920s. "The Vorpal Blade" is a great story with a clever, double-edged ending.
Astute readers will recognize the title from two lines in Lewis Carroll's "Jabberwocky," the very poem from which I extracted the title of my weekly column.
The Black Mask story is S.J. Rozan's "Silverfish," a clever and touching tale of one prostitute helping another. This is the first of many stories that I'll mention that contain prostitutes, strippers, or pornstars. Am I just noticing more of this since writing about sex in last week's column? Is there a disproportionate amount of wanton women in current crime writing? Or is it just a coincidence?
The issue also contains stories by Ed Gorman, Edward Marston, Perri O'Shaughnessy, Robert Barnard, Doug Allyn, and the late Janwillem van de Wetering.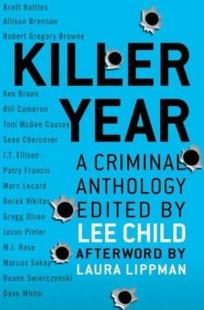 Killer Year, edited by Lee Child
This anthology is a sort of gathering of the International Thriller Writers Freshman class of 2007. Thirteen authors, all who had their first novels appear in '07, each contributed a story. The stories are each introduced by a "mentor" – more seasoned writers including Gayle Lynds, Tess Gerritsen, and Joe Lansdale. Additional stories and essays are provided by Allison Brennan, Ken Bruen, Duane Swierczynski and others.
I'm not yet halfway through this collection, in which stories are arranged alphabetically according to the author's last name. Brett Battles' "Perfect Gentleman" is a wonderful story set in the red-light world of the Philippines. Robert Gregory Browne's "Bottom Deal" takes its title from a card-cheater's move, and is set in the seedier parts of Las Vegas and has a couple of prostitute characters. Ken Bruen's "Time of the Green" is written in a weird style, a kind of noir free-verse, and is a grifter tale set in Ireland. Bruen's story, with its weird style, put me off at first, but was ultimately satisfying.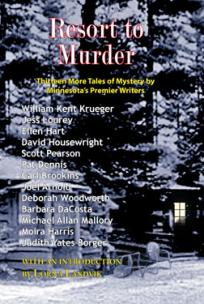 Resort to Murder
Minnesota — The Land of 10,000 Lakes — offers ample opportunity for vacations, and murder. The stories in this collection, put together by members of Minnesota Crime Wave including William Kent Krueger, Jess Lourey, and Ellen Hart, are set amid the cabins, cottages, and condominiums along Minnesota's many lakes. There are plenty of fishing boats, saunas, and lutefisk.
The opening story, "Hills Like White Rabbits" by William Kent Krueger, sets the tone for the collection. A bitter writer and his young wife are vacationing near Camp Du Nord, and the writer becomes convinced that his wife and her lover are planning to kill him. As with so many of the stories in Resort to Murder, the old Finnish tradition of the sauna plays an important role. So does the twist ending.
My two favorites in the collection both feature elderly sleuths. Joel Arnold's "Leave No Wake" features a Gay septuagenarian and his eighty-something year-old partner. The couple own a small resort with cabins, fishing boats, and a bait-shop. A young woman checks in. She's a stripper from a nearby nudie-bar who had visited the resort with her family when she was a child. When she disappears, and later turns up dead, the two old men heroically solve the crime. The solution is satisfying, but it's the characterization and tender writing that make the story memorable.
Jess Lourey's "The Locked Fish-Cleaning House Mystery," my other favorite, features a Mrs. Berns who escapes her nursing home and crashes a wedding party. In the process she solves a murder and smokes a reefer with the DJ. The story is funny, clever, and captures Minnesota culture as well as any Garrison Keillor monologue.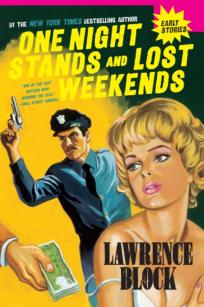 One Night Stands and Lost Weekends by Lawrence Block
This is Harper's repackaging of two earlier anthologies originally put out by Crippen and Landru. Ten years back, Doug Greene offered to publish some of Larry's early, un-reprinted works. They gathered 25 stories that Larry had written between 1958 and 1962, as well as a science fiction story included in the limited edition hardcover as a separate pamphlet. These stories, like the stories in Killer Year, are arranged alphabetically (except, of course, since they're all by Block, they are arranged by title). These were the works of an unseasoned author. By Larry's own admission, "For God's sake, when I wrote these my typewriter still had training wheels on it." I have to concur. The stories in this first collection on the whole are not very good. Some, while dated, are fun to read, and clever. Others are just plain bad. Die-hard fans of Block (and I'm afraid that includes me) ought to read this collection, just because I say so.
In 2001, Doug published another collection of early Block stories. This time, he compiled three novellas originally published in 1962 and 63, all featuring private investigator Ed London. While showing their age – as well as a certain salaciousness befitting a young writer writing for salacious magazines — these stories are pretty good. In fact, I enjoyed every one of them very much. The stories include "The Naked and the Deadly," "Stag Party Girl," and "Twin Call Girls." Each is a solid, if titillating, example of the private eye genre in the spirit of Peter Gunn or Mike Hammer.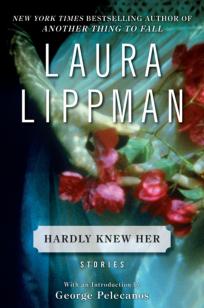 Hardly Knew Her by Laura Lippman
I've read quite a few of Laura's "Tess Monaghan" novels as well as one of her standalone thrillers (What the Dead Know). I must have known that she's written short stories, but since none of these stories appeared in magazines, I don't think of her as a short story writer. But boy, can this girl write short stories.
What stands out about the seventeen stories in this collection is how sexy they are. Several feature prostitutes. One involves a woman in her sixties who begins a career in porn. Another involves a lesbian romance used for murder. In nearly all of the stories, female characters are using their sexuality to commit crimes and/or to seek justice. In these stories, Lippman reveals talents — a dark genius — that I haven't seen in her novel-length writing. There's not a clunker among the batch. Highly recommended.
Wrapping up
There are a number of superstars in the mystery world — Lawrence Block, Peter Lovesey, Robert Barnard, Jeffery Deaver, S.J. Rozan, Joyce Carol Oates — who are known both for their novels and their short fiction. We're as likely to find their names on the cover of Hitchcock and Queen as on the spine of a new novel.
I'd like to hear Lippman's thoughts on the subject of short fiction. Maybe one day we can coerce her into guest blogging. My guess is that she sees herself as a novelist, and only does short stories when one is solicited for an anthology. I find it sad that I've never seen any of her stories in Queen or Hitchcock.
And what's this with all the sex? I don't know. Stay tuned.