LOADED MAGAZINE
by James Lincoln Warren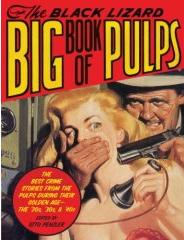 For Christmas, my wife got me Otto Penzler's anthology The Black Lizard Big Book of Pulps, an epic collection of hard-boiled crime fiction from the 20s, 30s, and 40s. Highly recommended; it's a wonderful collection and I have been enjoying every bit of it, even the abysmally bad writing of the genre's inventor, Carroll John Daly. Most of the stories are from Black Mask, but all of them, even the two included novels, originally appeared in magazines.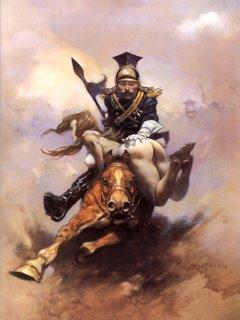 I remember well when novels were regularly serialized in magazines before they appeared in hardcover. Of course, all of Dickens' novels originally appeared as serials, as did all four of the Sherlock Holmes novels. I remember reading George MacDonald Fraser's Flashman at the Charge serialized in Playboy in advance of its publication as a book, likewise Poul Anderson's A Knight of Ghosts and Shadows in the late pulp if (aka Worlds of If and if: Worlds of Science Fiction). I bought these magazines exclusively for the purpose of reading the serialized novels. (Even the copies of Playboy, honest.) Buying magazines containing serialized novels never prevented me from buying the books when they came out, either.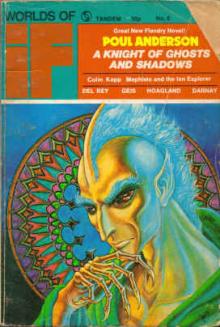 In last week's column announcing the Edgar nominations for best short story, I mentioned that the crime fiction magazines were beat out by anthologies both this year and last as sources for those nominations. I mentioned that I did not consider this a trend, given my understanding of the nomination process, and I still believe that it says more about the resurgence of the anthology than it does about the quality of the crime fic magazines. But I have to admit, trend or not — I'm concerned about the viability of magazine fiction for the future.
In former days, there were numerous magazine titles. Harlan Ellison, in the introduction to Part II of Otto's anthology, lists the the pulp magazines he wrote stories for: Manhunt, Mayhem, Guilty, Sure-Fire Detective, Trapped, The Saint Mystery Magazine, Mike Shayne's, Tightrope, Crime and Justice Detective Story, and Terror Detective Story Magazine. All gone.
When I was in college, there were the following science fiction magazines: Galaxy, Worlds of if, Analog, Amazing Stories, Fantastic Stories, Isaac Asimov's Science Fiction Magazine, and The Magazine of Fantasy and Science Fiction. More than half gone.
The alternative market from the pulps were the "slicks": The New Yorker, Atlantic, Playboy, Esquire, and so forth. Cosmopolitan was mostly fiction before Helen Gurley Brown got her mitts on it in the 70s. All right, you can still read fiction in The New Yorker, if you're into sophisticated ultra-hip Big Apple lit — but what about mainstream, commercial fiction like mysteries?
It has been said that fiction in magazines is irrelevant in the 21st century world. That maybe the long demise of fiction in magazines is simply a matter of Darwinism in publishing. The decline is most frequently traced to the influence of television and the internet as alternative sources of entertainment, and according to this wisdom, the invisible hand of market forces are inevitably forcing out the obsolescent periodicals. (I have also seen this argument used to explain why so many newspapers are failing.)
But maybe instead of being commensurate with a cyclical ice age that has no place for dinosaurs, it's really the intellectual equivalent of industrial global warming. Maybe we are pouring so much intellectual garbage into the atmosphere that it's choking off the cycle of life at its very foundations. If that's the case, then don't we have a collective responsibility to do something about it? Maybe this should be a clarion call to action. Save the planet, so to speak. Or at least that part of it that still can read.
What can you do to help?
Lock and load, baby.
Every time you finish reading a magazine, give it to someone else to read. Somebody different each time, though. Tell each person you so benefit to buy his own copy next time, and then to pass it on to someone else as you have done. Now there are two people buying magazines with fiction instead of just one. And possibly more.
Buy extra copies of Hitchcock or Queen and seed them in dentist's offices and other lobbies. Be sure to include the subscription cards.
Casually ask your friends if they have the latest issues and then talk about the stories you liked best when hovering around the water cooler at work — you know, the way you might talk about football or "Desperate Housewives": "Did you catch Estleman's latest in Queen? Awesome." Make them feel unhip and out of touch if they don't understand what you're talking about.
Scowl at every magazine you see that doesn't publish fiction, even though it may contain such salutary features as sexual IQ quizzes, holiday recipes, and blonde blue-eyed cheesecake, declaiming loudly, "How can you read this crap? Why don't you subscribe to Hitchcock instead?"
Take no prisoners.