THE THEFT OF SOMETHING PRICELESS
by Robert Lopresti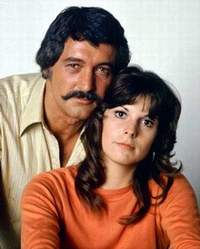 Back in the 1970s I used to climb out of my playpen and toddle over to the TV to watch "McMillan and Wife," the witty cop show starring Rock Hudson and Susan St. James. More than once I had a strange sense of déjà vu, almost as if I were watching a rerun. When I saw the credits I understood. Some of the episodes were based on short stories by Edward D. Hoch which I had read in Ellery Queen's Mystery Magazine
If more TV shows did that think how much better their plots would be. And hey! How much more money would make it into the pockets of deserving short story writers.
Of course, Ed Hoch was a special case (in more ways than one). Before he passed away this month he wrote more mystery stories than anyone else on earth. Among my favorites were the Nick Velvet stories, about a thief who only stole things with no monetary value. And so you had "The Theft of Yesterday's Newspaper," and "The Theft of Last Year's Calendar," among many others.
But what I admire most is that, in his seventies, he was still creating new series characters. I especially enjoyed Stanton and Ives, two young couriers who traveled the world finding murder and romance. What a leap for a guy even older than me!
Meeting a master
The first time I ran into Ed Hoch was at an MWA event. This was back when he edited the Year's Best Mystery and Suspense Stories and I thanked him for including one of mine in the Honor Roll. He remembered the story, which amazed me, considering how many he must have read (much less written). His graciousness to a newcomer has been my model for how a writer should behave ever since.
Years later I went to an Edgar symposium and there was a panel, if I remember correctly, on the history of MWA. The moderator raved about his panelists, pointing out that each one was an MWA Grand Master. Ed Hoch immediately and politely corrected him: he was an Edgar-winner but not a Grand Master.
Another man might have sounded bitter. Not Ed. He was just modestly declining to claim an honor he had not been given. I heard amazed murmurs around me. How could his impossibly long list of published stories not be worthy of mysterydom's highest honor? In 2001 MWA agreed, adding him to the pantheon.
I love a parade
Ed Hoch was also a part of my absolute, bar none, favorite moment as a mystery writer. In 1994 I moderated a panel at the Seattle Bouchercon on the health of the short story. The planned panelists included Ed, Miriam Grace Monfredo and Polly Whitney, among others. Then not long before the conference we were told that MWA's newest Grand Master Lawrence Block wanted to join. Would that be all right? Not being idiots we said, great.
And the panel was terrific, but that wasn't my favorite moment.
Before hand we all met in the green room to shake hands and organize a few last things. Then it was time to head down the hall to the escalator (the same one where I met Steve Steinbock that weekend) and go down to the room.
As it happened we all left the green room in single file: Larry Block, Rob Lopresti, Ed Hoch and the rest marching off. A few people noticed us and stopped to watch the parade. Some of the top mystery talent in the world and me, the joker slipped into the deck.
Now Ed is gone. In his honor, read a short story this week. It doesn't even have to be his. He'll approve.