COMMENCEMENT EXERCISE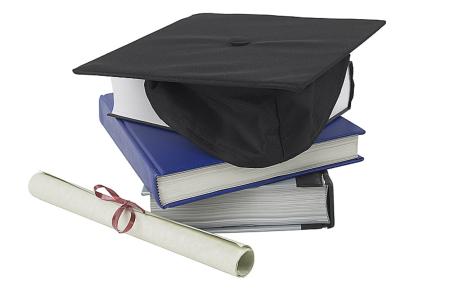 by James Lincoln Warren
In response to Rob's query, "What comes after the title?", Our Correspondent Gary very sensibly requests, "I'd like to see some comments on where to start the story."
Where does one start the narrative? Luckily, people have been telling stories for thousands of years and have built up a plethora of techniques to launch a thousand tales. The one thing they all have in common is that they are designed to intrigue the audience to such an extent that the audience wants to find out what happens next. I've already written on the value of opening sentences, but that doesn't address the question of what part of a story should kick off the narrative.
So in my plodding and methodical manner, let's examine the possibilities:
(1) Tell the story sequentially in the order of events, i.e., from the beginning. We may look at this as the Genesis Approach: "In the beginning God created the heaven and the earth."

(2) Commence the story with an incident that occurs in the middle of the action, then explain how we got to this point and continue the story to the end. This is literary legerdemain is usually referred to as in medias res ("into the middle"), and is the technique favored by epic poets, so we'll call it the Epic Approach. The Aeneid, for example, begins with Aeneas' arrival in Carthage, then explains his exile by relating the Sack of Troy, follows with coverage of Aeneas' adventures in North Africa and his doomed affair with Queen Dido, and then concludes with the conquest of Latium (and yet another Queen, Lavinia). This is also the technique used by Baroness Orczy in the novel version of The Scarlet Pimpernel.

(3) Begin at the end or the climax, then track back to explain how we got this far. This is a favorite method among screenwriters to come up with a "teaser". After the initial scene, we are told "24 hours earlier … " (or two weeks or ten years). I'd like to call this the Had I But Known Approach, but "HIBK" has already been pre-empted to refer to stories written in imitation of Mary Roberts Rinehart's The Circular Staircase, a much more specific example of foreshadowing, so we'll call it the How Did I Get Into This Mess Approach.

(4) Tell the story in multiple episodes within the frame of another relevant story. In crime fiction, the frame is frequently a criminal trial. But there are other examples—a tale that comes out in conversation (a good example is the classic M. R. James ghost story, "The Mezzotint"), someone conducting an investigation (Eric Ambler's A Coffin for Dimitrios), a storyteller who relates stories or experiences to some ulterior purpose (The Arabian Nights), and so on. Let's call it the Sheherezade Approach.

(5) Tell the story completely out of sequence, determining the order of episodes according to what you want to be revealed to the audience. The most extreme example of this is probably Lawrence Durrell's The Alexandria Quartet, but I like to think of it as the Jewish Mother Tells a Joke Approach, after Dan Greenburg's hilarious explanation of how Jewish mothers tell jokes by beginning with the punchline, and then explaining everything that leads up to it out of sequence in such a way as to completely baffle the audience. ("Perhaps I should have mentioned that it's Yom Kippur … ")
I have used all of these methods at one time or another except for the last, which is beyond my technical skill. Which I have chosen depends on the story being told. But to illustrate, let's invent a story and subject it to all five approaches. Since space is limited, I will provide the story using the Genesis Approach and invite the Gentle Reader to provide me with examples of the other approaches using the material provided below. Then we'll continue the discussion next week. Please note that this is strictly an exercise and that I do not claim any merit whatsoever for the actual story.
"Simon's Secret" (Genesis Approach)

Simon's hand shook as he read the blackmail note. How could Ted have learned his secret? Was there really a photo, and if so, where had it come from?

He was distracted on his way home and ran a red light, nearly colliding with a minivan full of kids being chauffeured home from soccer practice. His fingers were cold as he turned the key in the front door.

"Honey, you look pale," said Betty. "What's wrong?"

"Nothing," he muttered.

"Dinner's in ten minutes."

He had no appetite, but he couldn't let Betty see how upset he was. Then, as he sliced his chop with the keen serrated steak knife, he knew what he had to do. It was the only way. With Ted gone, his secret would be safe.

He made sure that Betty would sleep soundly by spiking her after-dinner cocktail. When he was sure she was under, he got out of bed and got dressed in an old pair of khaki work pants, a pair of worn-out sneakers he had intended to toss out, and a gray USMC sweatshirt.

He hid the K-Bar under the seat of his Corolla and cautiously drove to Ted's section of town. There was almost no traffic this late at night, but he parked the car two blocks away from Ted's house, in the parking lot of a strip mall featuring a crowded neighborhood dive. He went in for a quick shot of Kentucky courage. Nobody in the bar paid him any attention at all. Wiping his mouth with the cocktail napkin, he walked toward the restroom into a dark corridor reeking of urine and left by the back door.

Simon retrieved the knife, placing it under the waistband of his trousers where it would be covered by the windbreaker. Other than the dozen or so cars belonging to the tavern's customers, the lot was deserted. He walked away, slouching slightly and taking his time.

He jumped the fence into Ted's back yard, wincing as the chain links rattled ever so gently as he vaulted over. He held his breath and stood in the shadow of the eaves, waiting to see if his arrival had been noticed. Silence.

He hadn't broken into a house in years, but his old talent had not deserted him. The snick of the lockpick was quieter than the crickets chirping in the hedge. Simon carefully cracked the door open and slipped inside.

He held the knife the way he had been taught in Basic Training. He forced himself to slither slowly toward the bedroom, one foot in front of the other, as stealthy as a jungle snake.

When he got to the bedroom, he felt a mixture of relief and dread. There was nobody home. He pushed the emerging sense of panic back into its dark little box in his heart, and that was when he saw the safe.

He almost laughed out loud. Ted was an idiot. The odds were overwhelming that Ted used his birthday as the combination, since that was what he used at work. November 6, 1970. Kneeling before the short iron box, Simon put his fingers to the dial and gave it several turns. Then more slowly, he turned to the first number.

November. Eleven.

Six.

1970. Seven zero.

Simon turned the lever. Click!

He pulled the door slowly open. If only he had thought to bring a flashlight!

He reached in to feel its contents. There was nothing there but a single sheet of paper. Where was the picture?

Simon pulled the sheet out, but it was too dark to see what was written on it. Still not daring to turn on a light, he walked over to the window, where the faint beam of a streetlamp sent stripes of dim yellow light through the Venetian blinds.

There was a single line of text: "Got you."

Simon was blinded as the lights suddenly went on. He stared into the muzzle of Ted's gun.

"There never was a photograph, Simon," Ted said calmly. "But I knew in my heart that my brother Joe never fell to his death on that camping trip by accident. You pushed him. But I could never prove it. Until now."

"Let's talk about this," Simon said. "It was an accident, I swear. But I was afraid no one would believe me."

"Maybe," said Ted. "But now it's time for your own accident."

Simon never heard the shot.
And now, Gentle Reader, it is your turn.
After writing your version, you can submit it by cutting and pasting it here (don't forget to include your name and email address) or by sending it as an attachment to editor@criminalbrief.com.