PREMISE AND POSSIBILITY
by Steve Steinbock
This discussion of What Comes After the Title couldn't have come at a better time. Having written just under ten thousand words of a novel (during last November's National Novel Writers Month), I'd let the book gestate for a month. And then another month. And then another month.
Having read Alexandra Sokoloff's excellent posts on premise and high concept, I set out to identify what my book was really about.
The key is to distill the idea into something tight and concise.
John Truby, in The Anatomy of Story, gives a good rationale for premises:
First, Hollywood is in the business of selling movies worldwide, with a big chunk of revenue coming from the opening weekend. So producers look for the premise that is "high concept" – meaning that the film can be reduced to a catchy one-line description that audiences will understand instantly and come rushing to the theater to see.
Of course, everything Truby says about the film industry goes double for book publishing. The "high concept" premise is the first line of the dust jacket (or back cover) copy. It sounds like crass commercialism, but it's also real life.
For the idealists among us, Truby goes on:
Second, your premise is your inspiration. It's the "lightbulb" moment when you say, "Now that would make a terrific story," and that excitement gives you the perseverance to go through months, even years, of hard writing.
A good premise should tell us about the central character, his or her needs, challenge, opposition, and what he or she needs to do about it.
Easily said.
So over the course of a month, between jotting notes and doing exercises to build character (my own as well as the book's), I wrote down several potential premise lines. Without looking at what I'd already written, I would start fresh, telling myself what I thought the book was going to be about.
I had six of these candidates for premise all lined up in their best suits. Four of them stayed within the one-sentence rule. One was two-sentences in length, and the sixth was three sentences long. There were common elements running through them all, but each emphasized different aspects of the story and the characters. I sent them all to my pal and cyber-cousin Neal, who happens to be a professional technical writer as well as a mystery reviewer. Neal looked them over and wrote back with a sentence that combined and crystallized the essence of the story. (Thanks, Neal).
Stay tuned. It's going to be a long road.
Road Trip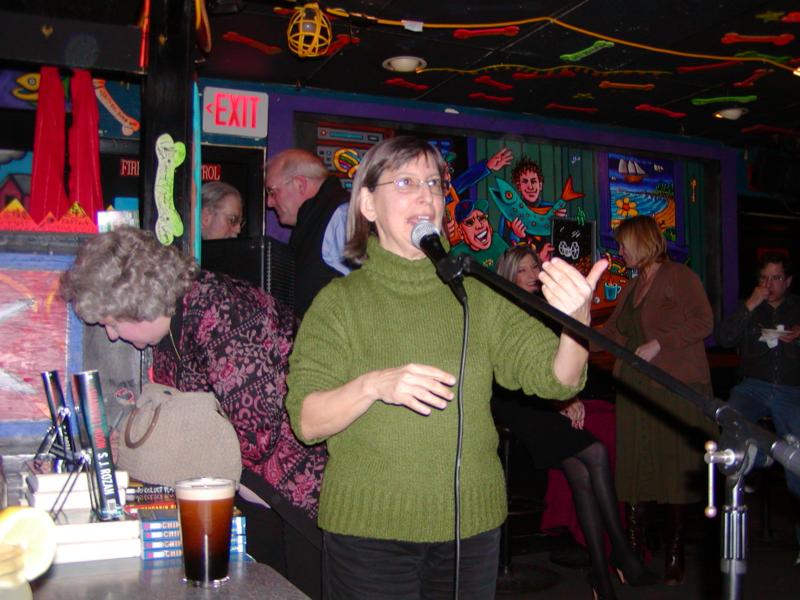 Speaking of long roads, Tuesday afternoon I drove down to Somerville, Mass. S.J. Rozan was in town for a reading to launch her new book and the return of her series characters Lydia Chin and Bill Smith.
Anyone who's spent time in the Boston area knows how easy it is to get lost. Roads change their names arbitrarily, and sequences of one-way roads force you to travel twelve blocks in order to get to a spot a half block away. So I was glad to have my GPS device along for the ride.
I'm not one of those who keeps the GPS on all the time. In the part of Maine I live in, it isn't necessary. But this time I had an interesting surprise. At various points long my trip, the GPS would beep out a siren-like sound, and a weird design would flash on the screen. It took several times to realize that this was Nate's doing. My fifteen year-old son, Nate, had hacked the GPS unit.
Nate, you see, is an Uber Geek, a new class of hip nerds, the intellectual grandchildren of Bill Gates. Nate takes part in numerous forums, and often surprises his forum buddies when they find out how young he is.
Nate belongs to several overclocking forums, a radar detector forum, a Suburu owners forum, and a discussion group dedicated exclusively to fans of the AMD Socket 939 series of processors on one of those overclocking boards. Go figure. At fifteen, he doesn't have a driver's license, and doesn't own a car. But that doesn't stop him from taking part in Suburu owners discussions and the underground community of drivers dedicated to outwitting speed traps.
That brings us back to my GPS. He and radar-detector fans throughout the country have been digitally mapping speed traps and sharing their findings with other users. That's what was showing on my GPS: speed trap locations.
Incidentally, the trip to Redbones BBQ was delightful. S.J. talked about and read two selections from her new book, Shanghai Moon. She even sang for us!!! (Parnell Hall, eat your heart out!)
Another Stupid Crook Story
One of Nate's buddies from the Suburu Owners forum is Patrick Rosario, the recently laid off technology manager from Washington Mutual Bank who outsmarted a couple of intellectually challenged crooks. The whole story is here. Rosario was working in the basement when he heard a noise upstairs. He realized that a pair of bandits were making off with his flat-screen TV, and he sneaked out with his cell phone and a hammer for self-defense. What he found outside was the burglars' mini-van with the keys in the car. Rosario gave the thieves a taste of their own medicine by making off with their getaway car.
One can only imagine the looks on the faces of the two crooks as they came outside with their loot and found they'd been car-napped.
Way to go, Rosario!