OSCAR IN LOVE
by Melodie Johnson Howe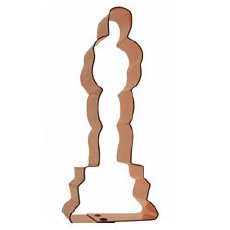 I have a love-hate relationship with the Oscars. Having been an actress I can understand wanting the acceptance of your peers and being a part of a magic bubble like community that sees the world the way you do.
But as a viewer and writer (a writer can never be just a viewer) I hate the Oscars. The actors' love for the spotlight and themselves is so palpable that I want to throw up. I want them out of my kitchen. That's where they paraded their egos and gowns in my house last Sunday night. While I cooked scrambled eggs and salmon the stars posed on the red carpet describing their borrowed gowns and borrowed jewelry to a gushing plastic-looking person holding a microphone.
"What gown are you wearing?"
"Versace." Star turns. Star poses.
"You look fabulous." Plastic Person peers at me in my kitchen and demands, "Doesn't she look fabulous?" Not giving me time to respond he turns back to the preening star. "Well, good luck tonight." Star drifts off while another drifts in.
"Who made your gown?"
"Yves St. Laurent." Star poses. Star turns.
"Oh, you look gorgeous." Plastic Person stares at me. I'm tearing pieces of Cambridge salmon into thin strips. "Doesn't she look gorgeous?" I pop a piece of salmon in my mouth. "Well, good luck tonight." Star sways to next interview. New star takes her place.
"Who designed your gown?"
"Dior Haute Couture." Star puffs her voluminous skirt.
"You look stunning. " Plastic Person faces me again. "Doesn't she look stunning?" Then back to star, "Well, good luck tonight."
I gulp wine. I feel pressured and cajoled. It's as if I've run into a mother of toddlers who is demanding that I agree with her on how beautiful and talented her children are. I begin to furiously beat the eggs. My husband, sitting at the kitchen table, looks at me.
"What?" I ask.
"You wanted to watch it."
"How can you not watch the Oscars?
"I can. I didn't even watch the Grammys."
"But you're more mature than I am."
The show begins. I pour my eggs into the skillet and the gorgeous, fabulous, stunning Hugh Jackman appears on the screen. I wonder who designed his tuxedo. I look at my husband who is feigning interest. Hugh beings to dance and sing about the movies that have been nominated. I'm not sure how, but the recession seems to be responsible for this number. My eggs bubble in the pan.
"Did I just hear the words, 'pubic hair', actually being sung?" I ask.
"Uh?" My husband is now reading Investors Daily.
"He just sang, 'pubic hair'. It's about the movie, 'The Reader.'"
"We didn't see it."
"I read the book. Pubic hair is not exactly the two words that remained in my mind after I finished it. Amoral, maybe?"
"Amoral is one word."
I gulp more wine and watch Hugh peeking out from behind tacky card board cut-outs of the aging or should I say "de-aging of Benjamin Button."
"De-aging," I announce." I just made up a new word."
"How are those eggs doing?"
The eggs! I peer into my skillet. A yellowy coagulated blob has formed. I toss in the strips of salmon and quickly stir, well scrape the eggs, around turning the deep pink fish pale. Hugh is now sitting on Frank Langella's lap. How did he get there?
The wine bottle is half empty and the dogs are licking the leftovers from our plates. Instead of telling Anne Hathaway how gorgeous she is in her designer dress, Shirley MacLaine is telling her how important and brilliant she is. Anne is deeply touched and shows it by modestly clasping her hands to her heart implying that Shirley is really the most brilliant and important one. I can't remember the actress Sophia Loren introduced because I couldn't get past Sophia's gown.
"You look so very awful. Who is your designer?"
"Tinkerbelle and she sprinkled it with fairy dust."
"Well, good luck to you anyway."
Just when I think the evening can't get worse, Adrian Brody, that brilliant wonderful actor, didn't know who Richard Jenkins, the only consummate working-actor among them, was. He proudly admitted to Googling his name to find out. As the camera riveted on Richard Jenkins, he tries for a smile but it fails. An honest man. He lost.
I think we have finally hit bottom when the brilliant wonderful Sean Penn accepts his best actor award. He thanks, tongue in check, "all the Commies and homo-loving son-of-a-guns in the audience. The stars in their millions of dollars of gowns, tuxedos and jewels laugh. Stars are artists. And artists must feel they are always on the outside even when in a protected Hollywood bubble. He then lectures, not his audience in the Kodak Theater, but the millions of knuckle-dragging Americans about equal rights. Actors no longer act a role of a famous or important person. They become as important as that person because they portrayed that person. Sean is as significant as Harvey Milk and he wants the world to know it.
I gulp the last of the wine and we go to bed. I now have Barbara Walters on.
"If you hate all this why do you continue to watch it?"
"I can't help myself."
My husband turns on his side pulls the covers and the dogs up around him and falls promptly to sleep. Barbara is interviewing the dancing singing hunk Hugh. They're talking about his marriage and his two adopted children of mixed race. Then she leans forward in an oozy confidential way and says, "There are rumors that you are gay. Are you?"
Hugh stares at her for a moment. I hold my breath and hope for a punch in that powdery puss of hers. But as easily as doing a glissade, he says, "No."
She pauses, then decides to accept his answer—for now. Without bothering with a segue, she sits back, and asks him to do that sexy dance he did on Broadway. Like an obedient dog, Hugh leaps up and begins to bump and grind in front of the still sitting Barbara. Her wrinkled-lifted eyes are fixed on his crotch. She flutters her hands and laughs in an eerie girlish ghost of a laugh. Hugh leans over her, still bumping and grinding, and peers closely into the camera and says, "This is where we should end, don't you agree?"
I do.
I lie in bed without the wonderful, lifesaving stars around me. But their words linger. "Commie homo-loving sons-of-a-guns." "Pubic hair." "Significant" "Dior Hauteur Couture." "Most important" "Brilliant." "The best." "Are you gay?"
I close my eyes and think about the Indian technician who won the Oscar for Best Sound for Slum Dog Millionaire. In his acceptance speech he talked about the sound of Om and the silence that comes before it
Silence. At last.