HOW I FOUND VIRGINITY AND MY VOICE
by Melodie Johnson Howe
Voice is one of those "writerly" terms that are thrown around in writer's workshops and discussed on author panels. It's a term that drives me crazy, because none of us really know how to define it. Asking a writer how she developed her voice is like asking a great pitcher how he throws a slider. He can show you how he holds a split finger fast ball and then what? Well you throw it.
An aspiring writer can learn all the definitions of voice, but she won't understand it until she can capture it, write it and scream, "I got it."
So how do you get to that moment? Well, this how I did it. Please note you will never find this in any how-to-write books. Nor is this taught in any workshop.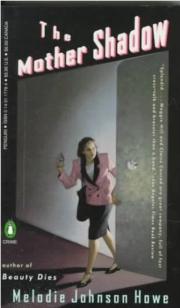 I was on the what – seventh? – draft of my first novel, The Mother Shadow. I knew it wasn't going well because even I was bored with my female narrator, Maggie Hill. One minute she'd sound like Philip Marlow in drag, the next minute Nancy Drew would possess her and turn her into a breathless idiot. And, echoing JLW's column, I had used some clichés to define her character. She was divorced from a cop, had a mother who kept calling her, and was struggling with being a single woman. This was not new stuff. (By the way I agree with Jon Breen. The cliché is only a cliché if you don't bring something fresh and extraordinary to it.)
One day, sitting at me desk, I was depressed and fed up with wanting to be a writer. No one knew I was writing this novel. No one really cared that I was writing it. I could have tossed it in the bin and been done with it. Those who loved me would still love me. But I didn't throw it away. I took a shower instead. Showers are great therapy for authors because they keep you from killing yourself. And for a brief moment you think you might wash away all that bad writing that's clinging to your skin. Alas, it does not do this to the hard copy.
Before I got into the shower I turned on the radio. The news was on. Letting the warm water pound on the back of my tense neck and knotted shoulders, I pondered my useless future. Then I heard the radio newsman say in a deep professorial-voice, "Virginity on high school and college campuses is making a comeback."
How was it possible for virginity to make a comeback? You either have it or you don't. The girls in college who have it can certainly try to keep it. But those who don't are out of luck. They can't be part of the new trend. There is no gray area here. So what was this man trying to tell me? Obviously, that those who are still virgins are not going to give it away so easily. Or at least not before the first keg of beer. But that isn't what he said. What he said was a wonderful absurd irony. "Virginity is making a comeback!" It certainly wasn't making its comeback in my life, I thought bleakly. It was then I knew I had Maggie Hill's voice. She would think and question the same as I was at that moment in the shower.
Virginity had nothing to do with the plot or story line of my book. But the way sex is used, and what hurt, pain, and even death it can cause, was part of the plot. The opening lines of the first chapter belong to the newsman saying virginity is making a comeback. Then I end the chapter with this:
Maneuvering my Honda east on the Ventura Freeway, I rolled back my sunroof so my hair could dry. The radio rocked. I loved being alone in my car. I loved driving. My Honda was the only thing in my life I had control over.

I kept thinking about virginity making a comeback. What form would she take? She wouldn't dare return in the bowed and draped form of the Blessed Mother. Virginity wasn't coming back because she was sacred or moral. No. Virginity was traipsing back into our lives like an old ex-movie queen. Big tits jiggling. Flabby hips swaying. A thin halo of platinum hair. Diseased pink flesh stuffed in hourglass white.

"I'm back in town, big boys," she'd coo, scared to death.
Maggie Hill's observation of what virginity would look like sets the tone of her character and the tone of the book. So how does my example help an aspiring writer find a voice? It doesn't. It's only how I found mine. But I do know if you're not sitting at your desk, if you're not on your first to seventh draft you will never find your voice. Because when that moment comes, whether it's in the shower, driving on the freeway, sitting on the sofa, you won't be able to recognize it.
After the novel was published my friends kept saying how much Maggie Hill sounded like me. I never took this as compliment because it wiped away all the hard work and good writing. But it was me. It was my voice spoken through the veil of fiction which is not me.
In an e-mail Leigh jokingly, but not, referred to me as Diana. (Diana Poole is the narrator of my short stories.) He was right of course. I am Diana, but only when I'm telling very tall tales about murder. Oh, and I didn't discover her voice in the shower.