SCREEN TEST
by John M. Floyd
Let me begin with a question: Do you think all avid readers also enjoy movies?
My guess would be that they do. Much has been said, in these columns, about the impact and the influence of films of all kinds — some adapted from novels or short stories and some written originally for the screen. After all, most movies are fiction, and a good story is a good story whether it's read from the page or heard on tape or seen in a darkened theater or living room.

I'll admit I'm a movie addict. I watch films all the time, on both the big screen and the small, and when my wife goes out of town and I'm home alone for a week or so, it's even worse. On those occasions I usually drive to the grocery store and to the video store as soon as her taillights round the corner, and I buy and rent equally tall stacks of TV dinners and DVDs to sustain myself in her absence. I justify this odd habit by telling myself that writers can learn almost as much about storytelling from movies as from books and short fiction. Especially "genre" writers.

My fascination with movies began early. We had no videotapes or discs when I was a kid, and not even many movies on TV, but what I did have was the Strand Theatre in nearby Kosciusko, Mississippi, and Odom's Theatre in Durant. And I had an older cousin, Margaret Gilliland, who would happily — bless her kind heart — haul ten-year-old Johnny along with her and her girlfriends to the "picture show" almost every weekend. The first films I ever saw were at those two movie houses in the late 1950s, unless you count the rickety little theater we had for a while in my hometown of Sallis, which screened mostly grainy black-and-white westerns featuring Tom Mix and a young John Wayne.

When I was older, I and my high school buddies went regularly to the Strand — I saw "The Magnificent Seven" there, and "The Hustler" and "Night of the Living Dead" and a hundred others. In college I continued the habit, often choosing the company of Cool Hand Luke or Frank Bullitt or Our Man Flint over studying for tests in my dorm room or the campus library. My physics and calculus professors would have been appalled, but I loved every minute of every one of those movies. Even my dates didn't receive my full attention until after the credits stopped rolling.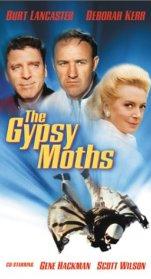 My addiction is still in full force, a fact that was proven at a local Hollywood Video store a couple of years ago. I had gone in for my weekly fix, and was standing in a Saturday-night line of about a dozen people waiting to check out. While I was there a lady came in and asked the young man at the counter if he could tell her the name of a movie if she told him the actors who starred in it. It turned out he couldn't. For one thing, the movie was fairly old — a skydiving film, she said, with Burt Lancaster and Gene Hackman and Deborah Kerr. Also, he couldn't stop and look it up on the computer because he was the only attendant in the store at the time and the line was growing longer by the minute; and besides all that, it was obvious the kid just didn't know much about movies. (Don't ask me why he was working at a video store.) Anyhow, he gave the lady a distracted apology and told her he couldn't answer her question.
Enter the resident movie freak. I leaned out of the line and got the lady's attention and told her the name of the movie she wanted — it was "The Gypsy Moths." I felt pleased with myself, though no one else in line seemed to care. One guy even rolled his eyes. But the lady thanked me and headed off to locate her video.
After a moment she returned, a frown on her face. "I couldn't find it," she said.
"It's in the Drama section," I told her, pointing. "I saw it just a while ago."
She left again, but reappeared five minutes later. "I still can't find it," she said, half to me and half to the guy behind the counter, who was still swamped and probably wishing he were anyplace else on the planet.
"I'll show you," I said. I stepped out of the Disney-World-length queue, trooped to the back of the store with her, and located the movie. The lady thanked me again, and I returned to the front of the store and went back to my earlier place in line. (The kind woman behind me let me in; this is, after all, the friendly South, in spite of the goober who had given me an eyeroll a moment ago.)
I finally reached the head of the line, gave the clerk my movie, and got checked out. But when I tried to give him my five-dollar bill, he just held up both hands and said, "For you, this one's free, Mister. Thanks for the help."
Later that night, at the supper table, something occurred to me. "You know how I always know that movie trivia stuff?" I said to my wife.
She knew, all right. Several people over the years had phoned me in the wee hours to settle some bet at a bar or a party about what color Tonto's horse was, or the name of the third nomad in the caravan in some long-forgotten B-movie. And I usually got it right. I've even won a couple of silly morning-radio call-in contests, long before Google and imdb.com were around. My one and only claim to fame.
"What about it?" she asked, giving me a look that only spouses with infinite patience can manage.
"Well," I said, grinning, "it finally paid off."