ROCKET TO STARDOM
by Melodie Johnson Howe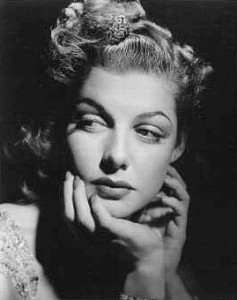 When I was a young contact player I was told to show up at the portrait studio on the Universal lot to do a shoot for the 4th of July. The walls of the room were lined with large black and white photos of the movie stars from the thirties and the forties. Ann Sheridan, Hedy Lamar, Lana Turner, Charles Boyer, Robert Taylor. They were all captured in Hollywood's flattering light and mysterious shadows.
In the dressing room there was another contract player named Edy Williams. She was a lush brunette with a pretty face that was already edging into hardness.
Hanging on a clothes rack were two costumes. Glittery blue long-tail coats, red striped silk shorts, white low cut vests, and sequined top hats. We had been made up, but Edy was adding more lipstick and darkening her eyes turning her appearance tougher. We struggled into our outfits and looked at ourselves in the full length mirror. I burst out laughing.
"We look like a pair of tap dancers," I said.
Edy didn't laugh. She seriously studied her image then pulled her bodice lower and tilted her top hat to a rakish angle. As we left the dressing room I was astonished to see her pulling the floor length mirror, on rollers, behind her. In the studio the seen-it-all and shot-it-all photographer had hung a shiny colored rocket from the beams against a back drop of blue sky and a frozen explosion of fire works. A ladder led up to it. Two assistants waited in the background.
Unlit cigar stuck in the corner of his yellowed lips, he turned to me and said. "Okay straddle that rocket."
I admit to having principles. I also admit that my principles did not always arise at the right occasion. But when they did, I took a stance and nobody could budge me.
I fixed the photographer with a look and said, "I'm not straddling that rocket. It's phallic symbol."
His cigar sagged. But his eyes shone with anger. "It's a damn rocket. Get on it."
"No." I wasn't against looking sexy or provocative, but I was dead- set against looking foolish and stupid. I adjusted my top hat.
"I'll do it! I'll do it!" Edy said, dragging the mirror to a halt and then adjusting it so she could see herself from the rocket.
"I have to shoot both of you." He turned on me. "You want me to call the big guys and tell 'em you think the goddamn rocket is a … what do you call it?
The two assistants were now snickering.
"A phallic symbol." My voice sound strangely prim when I was trying for scholarly. After all I was going to night school. I was learning how to write.
While Edy, finally letting go of her mirror, clambered up the ladder, with the eager help of the two assistants, I weighed the photographer's threat. I was already in trouble with the "big guys" as he'd called them. The Execs. The Suits.
The week before I had refused go on the set as a belly dancer in a western TV show. What a belly dancer was doing in the Old West I never found out.
They had spent hours in make-up darkening my skin and fitting a brown wig on me. The fact that I didn't know how to belly dance never occurred to anybody but me. And my body make-up kept coagulating on my skin. No matter what they did I looked like I had leprosy. The brown wig in some strange way made me look even more blonde. And my blue eyes? Who cared? Donned in skimpy veils, beads, and harem pants I looked in the mirror and knew I was never going before the camera this way. And I felt used even though I was getting paid three hundred dollars a week. I called Pat Kelly, the executive who had signed me to my contract. He was a witty erudite man. I told him I wasn't going on the sound stage as a belly dancer.
He told me, "It was a one shot. No speaking lines. Just wiggling around. Earning your keep. In the long run it wasn't going to matter." He was sounding less erudite to me.
I knew that the long run could chip away at my soul in the short run. Tears flowed. ( Mine.) He relented. It was the only time the show did not go on where I was concerned. "The powers that be" were not happy with me. (By the way they had no trouble getting a real belly dancer. She was waiting in the wings.)
Now I was in a stand-off with a photographer who was lingering near the phone with a threatening look in his eyes. Edy was on the rocket with her long muscular legs wrapped around it with all the gusto of a bronco rider. I looked at the photo of Ann Sheridan and knew somewhere early in her career there had to be a rocket or two she was forced to straddle. (Five years later when I was shooting "Moonshine War" I would see her in the make-up room. Bone thin and dying from cancer. She was ethereally beautiful and working to the end.)
"Okay," I said. "I'll do it. But I won't straddle it. I'll sit side-saddle on it."
"I don't care if you stand on your head on it," the photographer growled, disappearing behind his camera.
The two assistants helped me up the ladder. Neither one dared look at me. I sat on the back end of the rocket while Edy caressed the front end. I crossed my legs as if I were sitting on a bar stool in the Oak Room at the Plaza Hotel sipping a champagne cocktail.
I never saw the photos from the shoot. I have no idea if they did anything with them or not. Maybe they were just keeping two young contract players busy.
I didn't see Edy Williams until years later in Cannes. She was standing on the hood of a limo topless. Cameras flashed, as men in their tropical-worsted suit jackets and sunglasses surrounded her. The palm trees swayed over head as she lifted her face and her breasts toward the heavens. Edy was on the down side of her career as a porno star. We were both on the down side of our beauty; she, half-naked, posing on top of a limo, while I, now the writer, stood watching from the shadows.