BOOKS R US
by Steve Steinbock
Behind the scenes here at Criminal Brief Headquarters, Leigh Lundin and I have exchanged a couple of observations about the mega-chain book stores. You know what I'm referring to: the one multinational online superstore and the two huge brick-and-mortar bookstore chains. I'm not going to bad-mouth any of them. All of them have done a lot to promote books and authors, and have made it easier for consumers to find virtually any book and get it at a reasonable price.
The biggest price has been the disappearance of the small independent bookstore. But I'm not going off on that today.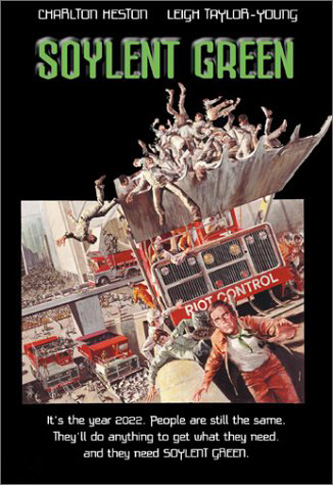 Last summer I was in a city thousands of miles from home and while passing one of these big chain bookstores, I happened to see a DVD of "Soylent Green" sitting in a window display. "Soylent Green" is a science fiction flick with Charlton Heston as a New York City detective in a horrifically overpopulated future, based on a novel by Harry Harrison. It's a mediocre film by anyone's standards. But it's a film I always enjoyed. A cousin of mine appeared in it (as a bad guy). And it was Edward G. Robinson's final film, and has a beautiful scene of Robinson licking a spoon that had remnants of strawberry jam, something he hadn't tasted since he was a child.
There was a price-tag visible on the DVD case. It was less than ten bucks. I always wanted a copy. I walked into the store. I went back to the DVD section and looked for a copy on the shelves. After a thorough search, I came up empty. There was no one in the DVD department to ask. So I went up to the front of the store.
This was a big store. I'm sure there were a couple dozen spycams set around the store, and somewhere in some back room on the top floor, ten security personnel were studying their screens for signs of shoplifting.
Fine. I'm all for security, of the Big Brother variety or otherwise.
But there was no one on the floor to help me.
Three registers were open at the front, each manned (sorry, "personned") by tattooed, perforated, ringed, and studded young persons with glazed-over eyes. I got in line.
"I can help the next customer," said an androgynous monotone voice.
I stepped up to be helped.
It was a nondescript young man with colorless hair and thick-lensed eyeglasses. He seemed flustered that I didn't have any purchases.
"I'm looking for a DVD. I saw a copy in the window, but I couldn't find it on your shelves."
"Did you look in the DVD department?"
"Yes. That's where I looked."
"And you didn't find it?"
"No. That's why I came up here."
"I'll send somebody over to help you. I can help the next customer."
I wound my way back to the shelves of DVDs in the back of the store. I checked the Science Fiction/Horror section again. I checked Action/ Adventure. I even checked Classics. Eventually a young woman whose hair was once red came over.
"I understand you're looking for a DVD."
"That's right. "'Soylent Green.'"
She looked at me like I'd just babbled a curse-word. "What did you say?"
"'Soylent Green.' That's the name of the movie. You have a copy in the front window of the store. It's on sale."
She hit a few keys at a computer terminal. "How do you spell that?"
I spelled it for her.
She typed it in. She stared at the screen and said, "Can you spell that for me again?"
I did. She retyped something, and a veil of something dropped from her expression. "Oh, here it is. It doesn't look like we have any copies. I can order it for you."
"No thanks. But like I said, there's a copy on display in the front window of the store."
"There is?"
"Yes."
"Of … " she looked at her screen, ""Solvent Green?'"
"'Soylent'," I corrected her.
"Oh."
"Can I buy the copy that's on display?"
The question took her aback. "I don't know," she finally said.
After a moment of silence, I said, "Is there anyone we can ask?"
"Um, let me check."
Several minutes later I was back at the front of the store with a "manager." He was tall, thin, and unkempt, and looked like he wasn't in the habit of sleeping much. I explained to him about the DVD on display in the window. The notion that a product was on display but not on the shelves was somewhat Greek to the poor lad. There were too many abstract concepts for his mind to juggle. Finally he said, "Oh, so you want to buy the copy that is in the window display. I get it. Sure, I don't see why not."
I watched the young man climb onto the ledge and make his way around the false wall behind the check-out area. The wall shook a couple of times. At one point I heard a crash followed by "I'm all right."
He finally emerged with the DVD held like a prize in his hands. If it was possible, he was even less kempt than before. His hair was still sticking up in several directions, but was now adorned with cobweb lace, and both of his shirttails were hanging out. "This is the one you wanted, right? I've never heard of it. Charleton Heston. Isn't he that NRA guy? Who's Edward G. Robinson?"
He gave me the DVD. I handed it to a clerk. She scanned it and said, "$26.84 please."
"What? It says $9.95 on the sticker."
"Oh. I see. You're right."
The manager had already disappeared. Presumably to tuck in his shirt. He was called back to approve the purchase.
The end of the story is that I did get my DVD of "Soylent Green." It was entertaining, but not quite as good as I'd remembered it. But the moral of the story, if there is one, is that while we hope that the mere presence of books will help people become smarter, we ought not count on osmosis. One must actually open the books — preferably books of quality — and read them with a critical eye.
That's my hope, anyway. Otherwise we might end up like the minions on "Soylent Green."