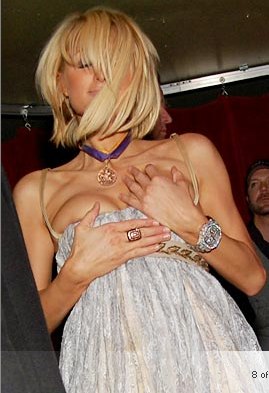 A CLASSLESS SOCIETY
by Leigh Lundin
I must be one of the few males who's not been in the Paris Hilton. I've never entered the glistening passage thereof, nor sunk into the plush though possibly overworn chambers, or been sucked into the whole celebrity thing.
That Norwegian immigrant, August Halvorsen Hilton, would be so proud of his offspring. The good news is that the hotel empire his son Conrad founded has long since passed out of the family's hands.
I am one of the least celebrity-cognizant people on the planet. Horrified at my ignorance, friends Steve and Sharon bought me Celebrity Pop Culture Trivia Cards. It might be a lost cause; as Cootie (poet/writer/teacher Deborah Bannister) pointed out, I take a perverse pride in not knowing what goes on in the celebrity world. Unfortunately, even I haven't been able to escape the invasion of Paris.
That's Hot
JLW and I cope with Hiltonisation in different ways: He pretends to ignore her, I pretend to hate her, and she pretends to act, sing, and model.
Diane a friend of my friend Thrush, is smart, articulate, and normally sensible, although it's sometimes not safe to dine across the table from her. (Maybe it's just me.) A few months ago, she made a heart-felt and impassioned argument that Paris should be pitied, that she's a victim of the media, a young lady exploited by promoters. It didn't help that I replied, "I think she's a waste of protoplasm," followed by the woman next to her snorting wine through her nose.
Mine was an uninformed opinion. I didn't know anything about pH other than she seems most notable for bad acting, bad singing, and bad blowjobs. However, a recent article caught my attention, that she was being honored by Harvard. Granted, it was the Harvard Lampoon, but it precipitated plans to write a Criminal Brief article about (hmm, here's a stretch) criminal excess. Forthwith, I had to conduct research. (Okay, nude photos are part of the research, see?)
Hilton Head
To track down old August (above), I found myself traversing a very wormy genealogical tree. I began to believe Diane has a valid point, that the girl should be pitied, albeit for different reasons. This isn't a family exploited by the media, but a family which exploits itself. This is a family, as my mother would say, that seems to have little grounding.
But what a history! It's bad enough that Conrad Sr, son of August, married cop-slapping Zsa Zsa Gábor but, according to Gábor, their own daughter was a product of rape at (or after) the time of their divorce. Zsa Zsa later filed suit against her own daughter for larceny and fraud. (Isn't that a legal oxymoron?)
Then we have Conrad Jr (Nicky) who managed to stay married to Elizabeth Taylor for nine months. Alcohol eventually took its toll at age 42. According to a biographical detail from Joan Collins, Junior was 'the sort of crude sexual athlete who boasted about the size of his member, the number of his conquests and the duration of his sexual encounters.' Reportedly, he kept an orgasm scoreboard by his bed.
The gold photos are part of a promotion themed 'Global Warming' by a German producer of cheap fruity wine, 'the perfect starter drink' in a beer can. Now that's class!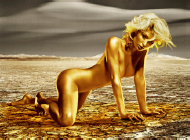 Recipe for kir, the original French wine 'cooler': In a glass of inexpensive dry white wine, add a few drops (to taste) of crème de cassis (black currant liqueur).
Credit for the pH moniker goes to one of our readers, alisa, (probably an alien alias.)
I'm not sure what such a scorecard would look like. (tic-tac-toe? bowling card?) Scoring systems, however, are prone to tampering and misinterpretation. Our pH has overcome this shortcoming. Utilizing the latest technology, she records her climaxes on DVD for internet distribution.
To be fair, Paris recently sued for invasion of privacy. Not the National Enquirer, not the Star, nor other trashy tabloids. She sued Hallmark Cards.
Who could have predicted Paris might have been one of the more refined Hiltons? Does anyone see potential in a Jerry Springer episode?
A Touch of Class
I have a conspiracy theory that pH is an alien species. Take notice of the two photographs from a commercial for canned 'champagne'. Paris was bad enough, but now we have a German company trying to sell us cheap sparkling wine in a beer can.
Note, pH appear to be metallic. Second, if my alien theory is correct, not only is pH missing, um, what do you call those little anatomical things? Oh, yes, nipples. As any aficionado of science fiction knows, aliens tend to get careless about things like that, not unlike politicians pretending to be human.
Thanks all the same, but I believe I'll return to my vast sea of happy celebrity ignorance. Anyone want a set of Celebrity Pop Culture Trivia cards?
An Evening in Paris
As mentioned above, what brought about today's column was twofold:
The Uncyclopedia has paid homage to Paris with articles (well worth reading), but to be honored by the premier publication of Cambridge must be especially meaningful. This award has been mentioned in such renown publications as TV Guide and, well, TV Guide. Somehow the Harvard Lampoon itself missed her actual visit. That's all right; she missed the opening of her Club Paris in Orlando, closed months later leaving high and dry investors, well, cold.