TUNE THAT NAME
by Rob Lopresti
I stopped by the Criminal Brief Corporate Headquarters last week to pick up my fan mail and see if any checks had arrived (hey, a man can hope). The place was pretty dead so I asked our receptionist if anyone had been in today.
"Just him," Velma said, not looking away from the magazine open on her desk.
"Him who?" I asked. "I mean, who he?"
"You know who. Mr. Lun-deen." The tone in her voice dropped the Fahrenheit by a good chunk.
Uh-oh. "So what did Leigh do this time?"
"You know what he did. If you read his column, at least."
"I try to reserve Sundays for spiritually enlightening texts, but I usually catch up during—
Oh. This was the one about profanity, wasn't it? Were you offended?"
She said something I won't repeat here. "Not by the language, you dope. But by what he called me."
"What exactly–"
"Vemla!" she spat. You may think it isn't possible to spit a word with no S's or Ps, but she's a woman of many talents.
"He spelled it right more often than he spelled it wrong," I pointed out.
"Oh, you're a real card, you are. Two of clubs, I think."
"It was just a typo," I said, trying to make peace. It took us over a year to get a receptionist who would work in this asylum. I didn't want to have to serve on another search committee.
"It's my name," she said. "Or it was supposed to be. And this was the first time you jokers have mentioned me on the blog. How would you like it if someone screwed up your name?"
"Happens all the time. I've seen Lopresit, and Lopretsi, and the Polish version: Lopreski, and of course LoPresti, which some people claim is the correct spelling. And I had a coach in high school who pronounced it Loprizzetti–"
"All I'm saying–"
"And then there's Rod and Ron and Bob. And on a letter once, Roberta–"
"You can stop talking any time. In fact, now would be good. My point is names are important. You know, some cultures think if you know a person's true name you can control them."
"Then obviously Leigh can't control you," I said. "He can't even spell your true name."
My attempt at humor fell flat, so I tried flattery. "I'm glad you brought this up, Velma, and I intend to do something about it."
"To Leigh?" she said, eyes wide.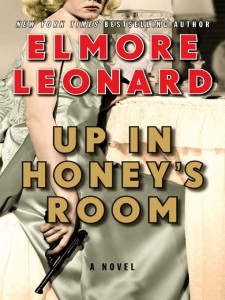 "Afraid not. I think my next column will be about names in fiction. For example, I just finished Elmore Leonard's novel Up In Honey's Room. Have you read it?"
"I don't have time to read books. I work for a living." She pointed to the files gathering dust on her desk, and at the high-tech phone in front of her, which, the whole time I had been there had been as silent as Bernie Madoff's conscience.
"Well, here's the deal. The book is set in World War II and one of the characters is an escaped German soldier, a Waffen SS major. His name in Otto Penzler."
"So what's your point? Sounds like a good name for a German soldier."
"I suppose so. But it is also the name of the founder of Mysterious Press. Otto Penzler single-handedly rearranged the world of mystery world back in the seventies, because he was the first publisher to specialize in new detective fiction."
"You sure know a lot of stuff," she said.
"Thanks," I said, although it didn't seem as if she had intended it as a compliment. "He also founded the Mysterious Bookshop in New York, published Armchair Detective for a while, and was — still is, in fact — a collector and anthologist."
"Sounds like he keeps busy." I had a feeling that comment related to my hanging around her desk instead of heading to my own.
"Oh, and in the interest of full disclosure, I should say he published a book I edited." I opened the door of our library. "Be just a sec."
It took me ten minutes to find Thurber On Crime, up on the mezzanine, filed with True Crime, of all things. We need to hire a librarian, but some of the cheapskates around here say we can't afford one. I say, heck, fire one of the gardeners.
By the time I got back Velma was gone. Dang. I wondered if one of the files on her desk contained the résumés of the other candidates.
The point I was trying to make to her was this: Why was Otto Penzler showing up as an SS major? Sure, the name has a nice Prussian sound to it, but so do many less famous ones. I assume Elmore Leonard put it in as a joking salute. My problem is that every time I see that name in the book it takes me out of the story, breaking the precious suspension of disbelief.
Names for the cause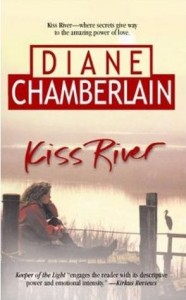 I should say that it's possible Leonard had another motive. Sometimes authors auction off the right to have name included in a novel for charity. My sister, novelist Diane Chamberlain, did that and wound up in an interesting dilemma. Her novel was set in the islands off North Carolina during World War II — and the lucky winner's name was clearly Japanese. There weren't a lot of Japanese at that place and time. She used the lemons to make very clever lemonade, but I won't reveal how. The answer is in her book Kiss River.
Alphabet city
Another reason I'm thinking about names is that I'm writing a novel and I have not found a satisfactory name for one of the major characters. The handle has to say "old money" and it has to begin Tom F—- Why does his last name begin with an F? Well, partly because I have decided it does. And partly because a lot of the other letters have been taken by other characters.
When I start to work on a novel I write out the alphabet and try to make sure that no major characters share a common initial. I hate it when a book features a Richard, a Rick, a Roger, and a Rob and I'm supposed to tell them apart. (You think I'm exaggerating. Not by much, I assure you.)
I'm not the only one who uses the alphabet system for naming characters. Remember the show Hill Street Blues? When that show started the regulars included Belker, Calletano, Davenport, Esterhaus, Furillo, Goldblume, and Hunter. I always wondered: what happened to the character whose name began with A?
Back at HQ
My musings were interrupted by rumblings from my tum-tum. It was lunch time. Our buffet table had barely been touched. Waste not, want not, so I put together a corned-beef-on-rye sandwich. We were out of the little half-sour pickles again. I'd have to tell Velma — except she was gone. Dang.
I noticed her magazine was still on the desk. I wandered over to take a look at the cover.
It was the current issue of the Journal of Applied Receptionist Theory.
"You read that and you'll go blind."
I jumped. Velma was back in the foyer, carrying a large brown paper bag with interesting dripping stains on the bottom.
"I didn't think it was that kind of a magazine."
"It's the kind with teeny tiny print." She settled down at her desk.
"Where did you go?"
"Next door to the Sub Shop. They have a special on their prosciutto, provolone, pancetta grinder today."
"But we have all that at the buffet, and it's free."
Velma carefully moved her magazine out of the way and started unwrapping a long sandwich on some of our files. "Yeah, but they call theirs the Sommergibili Siciliana. Names are important."
That's where I came in. So I went out.