JUST ANOTHER DAY AT THE OFFICE
by Deborah Elliott-Upton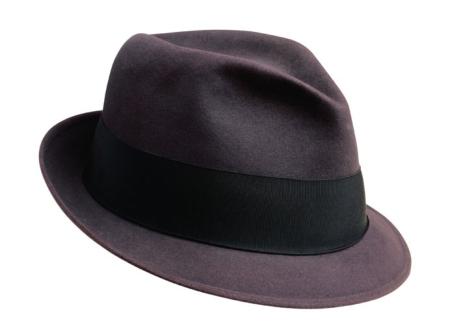 "Hold my calls, Velma," I said as I grabbed my trench coat and the new Fedora sent to me by an anonymous benefactor.
"Even the ones from Stephen King?" she asked, the cigarette holder languishing from her fingers like a permanent extension.
I sighed. "Is he still calling?"
She nodded and cocked an eyebrow. "Leigh keeps thinking those calls are for him, but, you know," she said lowering her voice, "no one ever calls him." She shook her head back and forth making a tsk, tsk sound.
I mouthed, "I know." Glancing at my watch, I said, "I gotta run. I'm already late."
"Where can I reach you?"
"You can't, but I'll be next door at the police station."
"They need your help again?"
"Yeah, but that shouldn't take long. The new captain just needs some protocol pointers for the President's visit next month."
"No one knows hospitality better than a Southern gal."
I smiled at our inside joke. Velma was anything but Southern and we both knew gal meant an old girl.
I didn't know if I wanted to tell Velma everything about my plans. She's been coerced into spilling her guts more than once, especially if the someone tempting her was tall, dark and handsome — or lately, any one of the three.
"If anything urgent happens – like an editor calls," I said, "then you can reach me at the new Dashiell Hammett exhibit at the Mystery Madness Museum next door, then I'm off to — "
"A secret rendevous?" she asked.
"Something like that."
"Gotcha," she said and went back to the crossword she always keeps on her desk. I'd noticed her doodles lately were no longer hearts and flowers, but daggers and bullets. I imagine some shrink could read a lot into that. I don't think she's over being dumped by her last boss and she'd already been mad because no one remembered how to spell her name. Those are hard ones to get over. Me? I just mind my own business when it comes to Velma. A good secretary is hard to find. That's why we still have Velma.
Outside, the wind whipped the trench coat like it belonged to a flasher. One hand held tight to my hat and the other to the Glock inside my pocket. It felt good to have it back. The concealed handgun permit had arrived just in time. You never could tell when you might need one at the Criminal Brief offices. All sorts of weirdos wandered into the office every day. I remember that big, hairy guy who tracked mud all over the floor just the other day, and then that Texas babe, Alisa, who had an article idea she wanted to discuss with James. She'd come equipped with an armful of research printouts about his being incorrect on some of his recent corrections on someone's article. I don't know if anyone noticed, but they both had twinkles in their eyes, so I think they like disagreeing way too much.
Dick the newspaper guy was always dropping in asking if anyone had a story for his blog, but I think he intends to sell them to the New York Times just for the byline to add to his collection, which is quite hefty already.
Lissa likes to stroll in once in a while, but all she's doing is flirting and we all know it. I don't think anyone cares because she is a cutie. I could say the same about Kerry. He doesn't poke his head in as often as some of the others, but when he does, all the ladies notice.
If anyone hanging around bothers me, I guess it's those naked authors. I could never flaunt my nakedness like they do. Mama would have told them to put on some clothes before they came calling, but then, Mama is of another generation. What goes on today would make Sam Spade blush.
Then there's those Mysterious Women who like to hang around Leigh. He tells me they ask his opinion. I wonder about what. Once you start him talking, you're there for a while. That guy's got more sayings than Charlie Chan and his Number One son put together.
James usually clears out the office regularly, tells them to move along and we get back to work. We do as he says, except when he's out of the office and then it's like playtime in a kindergarten. When I first came to Criminal Brief, I thought it'd be James who would pull the most pranks since he freely admits to be being a Hack Writer . The biggest prankster of all time turned out to be Leigh. He's always up to something. And he doesn't have to do much to drag Rob and Steve into the mix either. Steve hauls out his collections and tries to tell all the stories inside before the others can thumb through the magazines. Rob clucks his tongue and tries to act unimpressed with Steve's stash, but no one's buying it. When he thinks no one's looking, Leigh draws a KILROY WAS HERE symbol in the margins. I hope Steve never finds out who's doing that or Leigh really will be swimming with the sharks off the Florida coast.
Melodie just shakes her head and murmurs, "Boys will be boys." But before she gets back to work with Diana Poole, she'll share a story about her Hollywood days and we'll all take a trip down memory lane remembering the Good Old Days.
John's the quiet one. Those are the ones you have to really watch. You know what I mean.
Anyway, people are always milling about the offices when we should be working, but hey, if the Muse ain't in a playful mood, it doesn't matter.
Last month this one guy dropped off a package addressed to me. He had a uniform, but it wasn't UPS or anything — something none of us even thought about until he was already gone. James hadn't told us, but he'd taken the security tapes home to look over and make sure none of us were stealing red pens from his desk again. The tapes hadn't been replaced yet. I think someone was trying to save money like when all of the sudden the donuts were missing from the cafeteria. John said we should call the police next door and report the theft, but then we thought about it and decided to drop it. Fresh donuts appeared back in the cafeteria the next day and we haven't had any problems since.
The whole office thought the package might be a bomb or something since I'd written an unpopular article that created a backlash of unfavorable comments. You can't win them all.
I wasn't too worried, but Rob and Steve seemed to think it might be dangerous. Melodie and I were more used to actually receiving gifts, so neither of us cared much except the box was too big for Tiffany's and not big enough for the Manolo Blahnik alligator boots with the $14,000 price tag we'd both been eyeing. We're both buying a pair when we get our next advance check.
Before you could say, "Whoa, baby!" Velma had called next door to the firehouse. She might have fooled the guys in the office, but Melodie and I exchanged knowing glances. Velma knew those firefighters were smokin' hot — fire or no fire.
So, these He-Men beefcakes showed up and then sent for a SWAT team bomb expert who — thank you, Velma — was a Johnny Depp lookalike. (Brad Pitt would have done in a pinch, but Leigh told me I had to lay off Ashton Kutcher because his wife didn't like it. I thought I could probably take her, but, hey, I don't mess with other women's husbands anyway. It's just fun to look. It isn't just men who can appreciate beauty when they see it. Still, no need to get Demi upset.)
Anyway, there was no bomb, just the fedora with a note that said, "Wear this for me, Deborah. It'll look great on you."
So, I have. It's sort of become my lucky hat. Just last week when some kid tried robbing the convenience store next door, I yanked off the hat and threw it Frisbee-fashion hard. The stiff brim caught him in his Adam's apple. He was stunned, grabbed his neck and dropped his gun. I managed to get him on the ground with my knee in the center of his spine before he knew what was happening. Just a quick tussle getting him into handcuffs and we just waited for the guys in blue to show up and take him away. My being there was a fluke — or so I thought at the time, but having the hat sail through the air like that wasn't anything short of luck with a capital L.
Two days ago, I was standing in a crowd waiting to see if I could get a glimpse of what was happening when a night watchman made his way toward me, and motioned for me to join him. "You in the hat," he said when we made eye contact. "You look like exactly what we need."
I smiled.
"You a detective?" he asked.
"Only for a living," I answered. He didn't need to know I lived most of the time in a fictional world and my detecting was done on a computer screen. I hadn't lied. He just didn't ask the right question.
"We got a problem," he said pushing through the crowd and inside a bookstore. "Janitor came in to clean up and found this."
"You've interrogated the janitor?"
"Not really, but he has no idea where this came from." The uniformed man asked, "What do you suppose this is? There's no blood or any sign of a body other than this," he said, indicating the chalk outline on the grayish-green carpet.
I glanced at the lone table with three stacks of books, all the same with the name of a famous author on a placard. A sign next to the table announced a book signing for the next day.
"Fairly simple," I said. "No one died. At least not in the real world."
"Huh?"
"John Floyd is a writer," I said pointing at the sign. "A mystery writer. I think this is his idea of a notice-getter." I straightened my hat. "Not a bad idea for creating attention." Leaving the store, I made a mental note to self: Tell John he's welcome to use my ideas for marketing. That and he owed me a chicken fried steak dinner. A new restaurant opened next door to the CB Corporation and we'd both been dying to see if their claim to real Southern food was anywhere close to home cooking.
I may not have thought the hat was all that lucky until I got a text message from a PRIVATE phone number that gave the address of my favorite supper club and added, "I'll be looking for the lady in the hat. You be looking for your biggest fan."
My first thought was: Hey, Stephen King already did the bit with the biggest fan in Misery and look how that turned out. My second was: What the heck, it gave King another

I took a taxi to the restaurant. The mist was perfect. Nothing I love more than a nice, easy rain. I stepped from the cab and straightened the hat. Inside music was playing softly. As I peered through the people at tables already engaged in a pleasant evening out, I knew the hat was indeed about to make me lucky once again.

The man who probably is my biggest fan was seated near the stage, one red, long-stemmed rose in his hand. He stood as I walked toward him.

"My biggest fan, I presume?"

"Always," he said.

I smiled at my husband. Nothing better than this, I thought. I took off the hat and sat down. The night was young and I had a feeling two people were getting lucky tonight.