GUILTY PLEASURES
by Steve Steinbock
Welcome to the One-hundredth issue of Bandersnatches. I'm reporting from the fifth floor of Criminal Brief Corporate Headquarters. I'm using this celebratory column to share with you a few of my guilty pleasures as I take you around my office.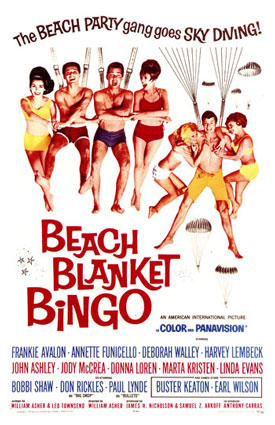 As you come in the door, among the first things you'll notice are the movie posters that adorn the wall. I know, you're probably surprised. You expected classic noir films like you'd find in Rob Lopresti's office. Sorry to disappoint you. Over here is "Beach Blanket Bingo." Don't laugh. It's a classic. I've seen all the American International films with Frankie and Annette (or DeeDee as she's inevitably named in the films). Annette was every other boys' crush back in the sixties. But I always liked Deborah Walley and Donna Loren, both of whom appeared in several of the "Beach Party" films including this one. "Beach Blanket Bingo" is my favorite, with "Ski Party" in a close second. Eric Von Zipper, Bonehead, lots of cleavage, and all the great musical cameos (Little Stevie Wonder, The Del Tones, Little Richard, Nancy Sinatra, etc.) all make the Beach Party movies a true guilty pleasure.
Yes, that's the Curly, Moe, and Larry wearing their golfing duds in the framed photo. I'm a sucker for The Three Stooges. What can I say? It comes with the Y-chromosome.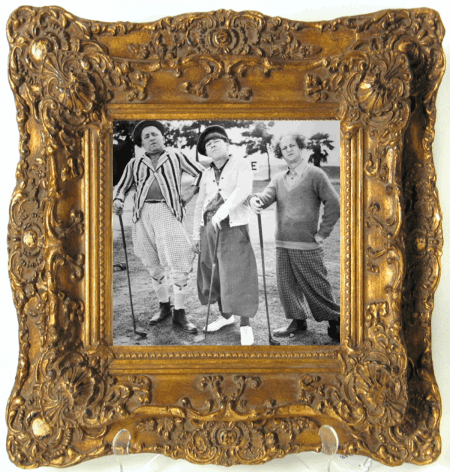 There's someone yelling outside on the street. It sounds like Moose. Big guy, and ugly, too. He used to go out with Velma, our receptionist. She doesn't have the heart to get a restraining order. Every couple months they get back together.
No. Please don't open my refrigerator! Oh, hell. Yes, that's a can of Duncan Hines chocolate frosting. I eat it straight out of the can.
Would you like a cup of coffee? I'd be happy to make you one. I drink it all day. Far too much to be healthy. I never touch Decaf. In fact, I'll let you in on a secret: I've been known to have a cup just before going to bed just so I can stay up reading longer.
Hang on. Someone is at my door.
"Oh. Hey, Jim."
It's our corporate CEO and perpetual Officer-On-Duty, James Lincoln Warren. He just got back from Lloyd's, across the street. (That's Lloyd's of London Coffee House, and not John Floyd's office, down the hall. Velma has a tendency to slur the names, and then she gets angry with us when we think she said one thing but actually said the other). James asks me a question.
"No, Jim, I haven't seen your small sword. Didn't you take it to the smithy to get it sharpened last week?"
He slaps himself on the forehead.
"That's all right. Come on in. Can I fix you a drink?"

He accepts. I pour him a glass of Jameson. It's good that he wants it neat because I don't have any ice. Normally we'd be in his office, over in the Left Wing, where we'd be sharing a drink. He has a whole shelf of Single-Malt Scotches and Kentucky Bourbons. I pour myself a glass of Israeli Arak. I'm not drinking whiskey this week because of Passover. What, you haven't tried Arak? That was my great-grandfather's drink back in Turkey. It's an anise-flavored rocket fuel made from distilled molasses water. It's like Ouzo, only not as sweet or as viscous. I can drink it during Passover because it's not a grain alcohol.
"L'Chaim!"
We toss back our shots, and we leave my office. I walk James back to his elaborate "cubicle." (It's actually a three-room office suite).
Along the way, we pass the Zeman Library, where Barry is re-shelving the Queen's Quorum section while Angie is dusting. It's good to see her moving around after the back problems she's been having.
Across the hall Melodie is speaking in heated tones to someone on the phone. She sounds angry. I think she just said something about a sponge bath and Clint Eastwood.
Next we pass the Galley. I can tell from the smell before we get there that Deborah is at work on something.
"Hushpuppies?" I ask.
She nods.
"Is that a box of Matzo Meal?"
She nods again, and tells me that they're kosher for Passover. She's so thoughtful! She hands each of us a butter-slathered treat cradled in a napkin.
Next to the galley, John is staring at a blank wall with a blank look on his face. He's working on his next masterpiece.
Next to that, Rob is tinkering with his guitar, singing some lyrics about "Rob Not Bob." He stops playing when he sees us, and starts to banter about a character in a Christmas story by Lawrence Block. The character is a Manhattan bookstore owner named "Otto Penzler," and Rob is incensed that Block would name a character after a real person.
"Rob," I tell him. "Larry wrote that story specifically for Otto. The 'Otto' character is supposed to be the real Otto."
"Dang," he says.
I have a lot more guilty pleasures. But they'll have to wait for a future Bandersnatch. Meanwhile, happy Passover and happy Easter to everyone.