FRED'S HANDS
by Melodie Johnson Howe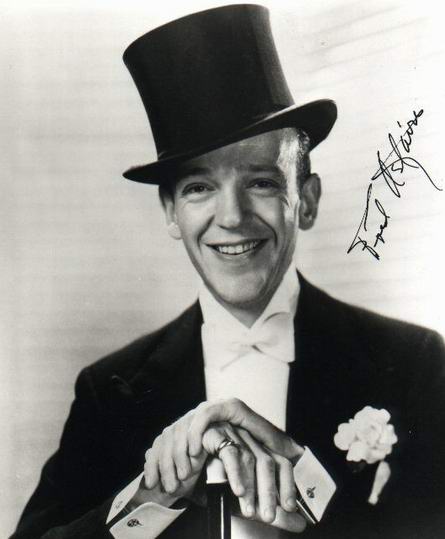 I think creating CBHQ came out of an idea that Leigh had to play an April Fools joke on James. I'm not sure how the joke was suppose to work, but Leigh being Leigh we all followed him into the nether world of CBHQ. Rob, who always gets his columns in early just to make the rest of us look like slackers, had already sent his essay (not on CBHQ) to James so we had to postpone the "prank" until after April Fools day. Which, of course, doesn't make it a prank anymore. Everybody following me here? Where was I? Oh, yes, what started as a joke ended up with seven creative views of a world that doesn't exist, but one I would love to enter.
Now back to reality. Sunday was Easter and that old warhorse Easter Parade was on. Irving Berlin did not have the wit and sophistication of Cole Porter but God could he write. As a friend of mine once said, "he writes the kind of music you can hum when you're leaving the theater."
It wasn't Fred Astaire's dancing, Judy Garland's singing, Ann Miller's brassiness, or Peter Lawford's charm that drew me to the film. It was Fred's hands. I cannot watch an Astaire movie without focusing on them.
In the late seventies I met Lesley-Anne Down along with Ava Astaire and her husband (both of whom I knew before) flying back from London where I had been visiting my husband. Ava invited Lesley and me to her father's house for cocktails and dinner.
Fred Astaire lived in a sprawling California contemporary-style home above Sunset Blvd. in Beverly Hills. The den had a bar and a pool table. Astaire looked exactly like Fred Astaire. Some stars are a surprise in person. Robert Redford, and Mel Gibson are comparatively short. But Gibson stays in my heart because he wiggled his high brows at me at a party. I found this more humorously endearing than a come-on. Sean Connery was at the same party and he won my sexiest man award. The old guy exuded more testosterone than all the young male stars there. Maybe it's just being a Scot. You know, wearing kilts and throwing tree trunks. Let's see, where was I?
Drinks were served at Astaire's. Many drinks. He wanted to play pool with Lesley and me. I said I didn't know how to play. Lesley with her big brown lush eyes said she didn't either. I now think of her as Pool Shark Down.
Fred cues up and sharply smacks the cue ball. All the other balls splatter across the table. I chalk my stick with great expertise. Then I line up draw my cue back and jab it at the little white ball which wobbles a few inches and stops. Fred leans elegantly on his stick and looks sternly at me shaking his head. Surprised, I realized that he truly was disappointed with me. Lesley lines up and smack! Balls drop in all pockets.
"Try again, Melodie," Fred says.
"Maybe you two should play."
"No no. Only this time…" He begins in a very serious way to instruct me on how to shoot pool. At that moment I could see him as the hard taskmaster he was said to have been. Instructing his dancing partners over and over until the routine was perfect.
I try again. My stick clips the side of the white ball and shoots it off into the middle pocket.
I smile wryly. "At least I got a ball in a pocket."
"I don't admire women who pretend to be helpless," he said.
I am closely paraphrasing because I can't remember his exact words but the cutting intent was clear. He would not abide coy or inept women. The fact I really didn't know how to shoot pool was beside the point.
Blushing, I had no snappy dialogue to throw back at the great star. I had just been unjustly and ungracefully put down by Fred Astaire. Without a pause he gilded back into his genial elegant character.
Soon we all piled into his Rolls or Bentley, I can't remember which, and he drove us to dinner. Approaching a four-way stop intersection in Beverly Hills where no one ever stopped, he announced: "I always feel that I have escaped with my life every time I make it through here."
At the now defunct Bistro a few photographers lingered outside. Nothing compared to the paparazzi of today. They took our pictures and then one of Fred Astaire.
"They always take my picture and never use it. They do it to make me feel better," he said grinning as he escorted me into the restaurant. It was then I realized that he was at the end of his career. At the table the great choreographer, Hermes Pan, waited for us. The two men spoke mostly to each other that night. I did learn that his favorite dancing partner was not Ginger Rogers or Cyd Charise but Barrie Chase—the young dancer on his TV Series.
We returned to his house for more wine. Astaire drank little and never lost control. Ava his daughter had gotten her mother's music box out and was playing it. I remember it as s beautiful small piece with a delicate bird that turned. I can't remember the song. Tears came to her eyes when she talked of her mother who had committed suicide. Astaire remained aloof and glided over his daughter's tears by changing the conversation.
I asked him about non-dancers having to dance as I had once in film. He laughed and said you can always tell a non-dancer because they stand straight up. A real dancer keeps his knees bent staying low to the ground. Only the torso is erect and rarely moves. The torso always stays centered. It's the arms and legs and head that move. But with a non-dancer you can hide a multitude of sins. It was then he confessed he had always hated his hands. They were too large. He devised little ways to make them appear smaller or graceful. He kept his fingers curved. If he was not in motion he created business for his hands such as adjusting his pocket square or smoothing his cuffs. Anything so his hands would not look large, flat, and still.
I cannot view an Astaire movie now without watching his hands. They are in constant movement fingers bent gracefully as if he is always drinking from a tea cup. Even when acting in a dramatic role his hands are always posed.
He was a man of perfection. He was suave and he did have a sense of humor; but there was an aloofness that verged on coldness to him. He was a man who demanded a lot from himself and from others. Especially women, I would guess.