LITERARY CATS
by James Lincoln Warren
I think that Rita Mae Brown and Lilian Jackson Braun, to name just two, have a lot to answer for. I am not constitutionally disposed against cosies like Otto Penzler, but I draw the line at violating feline literary dignity.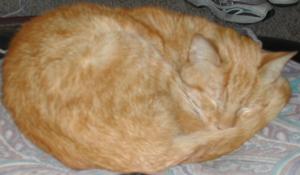 A couple months ago, we lost our cat Molly. She died in my lap. Molly used to sit on my right thigh as I worked. She seemed to believe that I could type better with her there, and the truth is that she was a veteran of many a murder investigation. I haven't written anything worth a damn since she passed away. I miss her with a terrible, poignant aching in my heart.
On Sunday, Margaret and I went looking for a feline orphan to give a new home to. Writers depend on muses, after all.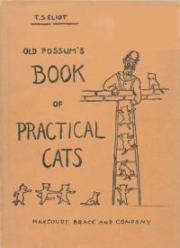 Writers and cats go way back, of course. The most evident is probably T. S. Eliot, but the earliest record I'm aware of dealing with the love a writer had for his cat is Boswell's description of Samuel Johnson's affection for Hodge — the name, I'm afraid, was applied as a generic term for a rustic simpleton, and so deemed worthy for a pet in the 18th Century world view:
Nor would it be just, under this head, to omit the fondness which he shewed for animals which he had taken under his protection. I never shall forget the indulgence with which he treated Hodge, his cat: for whom he himself used to go out and buy oysters, lest the servants having that trouble should take a dislike to the poor creature. I am, unluckily, one of those who have an antipathy to a cat, so that I am uneasy when in the room with one; and I own, I frequently suffered a good deal from the presence of this same Hodge. I recollect him one day scrambling up Dr. Johnson's breast, apparently with much satisfaction, while my friend smiling and half-whistling, rubbed down his back, and pulled him by the tail; and when I observed he was a fine cat, saying, 'Why yes, Sir, but I have had cats whom I liked better than this;' and then as if perceiving Hodge to be out of countenance, adding, 'but he is a very fine cat, a very fine cat indeed.'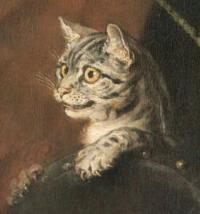 There is not in existence any picture of the Grand Cham and his cat, but I've always thought that maybe Hodge looked like the cat in William Hogarth's 1742 painting of the Graham children.
And it is not just English men of letters who have admired cats, either, assuming that you consider Eliot an English poet and not an American one: Mark Twain was very fond of his cats, especially one Bambino, who Clemens had trained to wash out of a basin and even snuff candles when it was sleepy time. Bambino escaped one evening, and Clemens advertised for his return:
A CAT LOST – FIVE DOLLARS REWARD for his restoration to Mark Twain, No. 21 Fifth avenue. Large and intensely black; thick, velvety fur; has a faint fringe of white hair across his chest; not easy to find in ordinary light.

— Kansas City Star, April 5, 1905
Bambino was found a couple nights later in a yard across the street, much to the relief of the Twain household.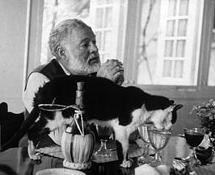 Ernest Hemingway also loved cats. Apparently, he didn't mind sharing the odd libation with a feline friend, either. Of course, if you think about it, Papa had a lot in common with tom cats, what with his nearly obsessive bloodlust and predilection for macho posturing. His Key West house is now a cat sanctuary.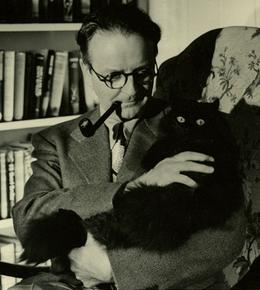 Nor should we forget Raymond Chandler, seen here with his beloved black Persian, Taki. You'll notice, of course, that Taki is an old-fashioned Persian, bred before it became fashionable to make the poor cat's face look like it's being sucked into a black hole located where its nose belongs. Chandler's cat was definitely a member of the family. His affection for her is obvious, both in the photo and in his description of her:
Sometimes she looks at me with a rather peculiar expression (she is the only cat I know who will look you staight in the eye) and I have a suspicion she is keeping a diary, because the expression seems to be saying: "Brother, you think you're pretty good most of the time, don't you? I wonder how you'd feel if I decided to publish some of the stuff I've been putting down at odd moments." At certain times, she has a trick of holding one paw up loosely and looking at it in a speculative manner. My wife thinks she is suggesting we get her a wrist watch; she doesn't need one for any practical reason — she can tell the time better than I can — but after all you gotta have some jewelry.
When the original Taki died, she was replaced with another cat who was given the same name. That's not a practise I'm in favor of, myself — I consider every cat an individual who deserves its own name.
So how did Margaret and I fare on our mission?
We found two sisters, between four and five months old, as different from one another as chalk and cheese but devoted to each other as only sisters can be. The black and white one is bold and sassy; her brown tabby sister is demure and refined. We're calling them Lizzie and Emma after our two favorite Austen heroines. They are both proving to be very vocal.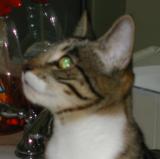 At last, I again hear the voice of the Muse, distinct as a bell, first whispering and singing, then shouting and cajoling and scolding and laughing, and now everything one witnesses in the voice of inspiration all at once.
It sounds like …
It sounds like meowing.