The Gentle Reader probably does not require an introduction to master short story author and former newspaper reporter and Pinkerton man Dick Stodghill, but if anybody does, here's a link to his website. You'll also find link to his blog, "Stodghill Says So", at right in our list of Amicae Curiae, ("Friends of the Court"). Anyway, here is his long overdue Criminal Brief debut.

—JLW
LOSS FOR WORDS
by Dick Stodghill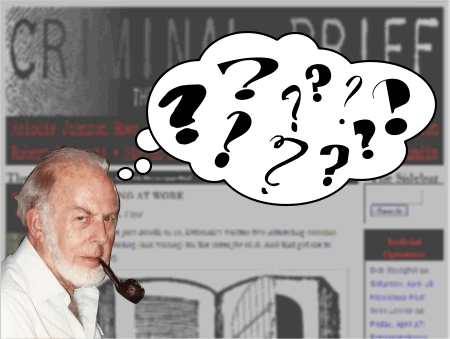 Since JLW, the genial moderator of Criminal Brief, my favorite website, afforded me the opportunity of writing a guest column I have been in a quandary. I have noticed this happens more frequently during my years as an octogenarian. Don't get me wrong, I have not reached the "Where am I? Who am I?" state as yet, although my wife Jackie might argue the point. No, the only thing bothering me has been finding something to write about.
"I'm at a loss for a few thousand words," I said.
Jackie laughed in a way I didn't appreciate. "You? Aren't you the one who used to complain because you were allowed to write only one newspaper column a day? You had a lot more to say, or at least that's what you told me, and now you can't come up with an idea for a single column."
"I guess I could write about my time at Pinkerton's. Or my experiences as a reporter. I promise not to tell any war stories. Well, maybe just one or two."
"Why don't you write about your embarrassing moments? God knows there's enough material there to fill Criminal Brief for a week."
"Let's see, there was that time at Pinkerton's when I almost shot a hole in a furnace. No, that's too long a story."
"What about the day a Linotype operator dropped three paragraphs from your City Court story and –."
Stop! I don't want to even think about that."
"Or when Mike Shayne changed 1875 to 1975 so in 1975 the Chicago detectives were rushing to the scene of the crime in a horse-drawn hansom cab."
"That was even worse than the story in Hitchcock when the villain had black hair and a few pages later was bald."
"I liked your explanation: it shows what a life of crime can do to a person."
We exchanged a few more ideas and then I said, "I didn't appreciate the way you used to upstage me at MWA events."
She feigned shock. "What are you talking about?"
"I'm talking about the night Isaac Asimov wrote an off-color limerick about you. He didn't write a single word about me."
"I was more his type."
"And remember how the big shots at MWA had tried for years to get the Times to send a reporter to cover the events leading up to the Edgar Awards dinner? So they sent a reporter and a photographer to that seminar at John Jay College. Remember that? They interviewed people and took photos of Block and Pronzini and Westlake and Mary Higgins Clark, just about all the speakers. So whose picture shows up in the Times the next day? Yours. No one else's, just yours."
"The cutlines said I was the wife of the mystery writer Dick Stodghill, like you were the only one. Didn't you appreciate that?"
"Not especially. It was embarrassing. Then that evening everyone was fawning over you as if you were the star of the whole show. You ate that up, didn't you?"
She reached over and patted me on the head. "But you had your moments. Remember the time you were talking to Eleanor Sullivan when she was editor of both Hitchcock and Ellery Queen? She had just bought another one of your stories and then Ken Follett walked up and said, 'Eleanor, why is it you won't ever buy any of the stories I send you?'"
"That was at the time when Follett's The Eye of the Needle was at the top of both the book and movie charts."
"And Eleanor said, 'Keep trying, Ken, keep trying.' Didn't that make you feel good?"
"Not when I thought about what I was making and what he was making."
"Money isn't everything."
"So who was it said, 'But it sure as hell beats whatever's in second place.'?"
"When did that ever bother you? That's always been your trouble. You've always placed having fun ahead of making money. How many times have I heard you say a large newspaper pays better but sticks you in a pigeon hole and lets you do only one thing? You said that's why you'd rather work for a medium-size paper."
"At a big newspaper they assign you a beat and won't let you cover high school football and basketball games at night. Besides, if I hadn't felt that way and gone to work for the Muncie Evening Press I wouldn't have met you."
"You really lucked out that time."
"If you say so, but don't think I've forgotten how you always wanted to tag along when I covered a football game at Kokomo or Logansport and you had to sit out in the rain or snow while I was up in the press box. It was really annoying on the drive home, hearing you complain about freezing or being soaking wet."
She pretended to be indignant. "I still haven't forgiven you for having me sit out in the sun at that baseball game in Lafayette when it was a hundred degrees. I almost passed out. And I suppose you've forgotten that game you took me to in Indianapolis when the batter hit a line drive into the stands and you ducked so the ball hit me on the leg. For six weeks you could see every stitch mark from the baseball on my thigh."
"Getting out of the way was an instinctive reaction."
"Funny how your instincts never reacted that quickly when some pretty girl was buttering you up in a bar because she thought you were such a wonderful writer."
"You have to be nice to your fans."
"With that in mind, I suppose I should be thankful you never have threatened to push Stephen King down a notch or two on the best-seller charts."
"I might have, but you know I hate writing long stuff."
"Unless it's something like the complete history of high school football in Akron. What did it take, three years with both of us doing full-time research? We read old newspapers on microfilm at twenty-seven libraries around the state. What were the sales possibilities? As I recall, three thousand copies at most. Then you donated the proceeds to the schools."
"It was the decent thing to do."
"You might at least have deducted our expenses."
"That would have been more than the proceeds."
"Well, please don't write about being told during basic training that the one order you never had to obey was 'Take off your gas mask.' Then the very next day while all of you were in a room filled with tear gas you –."
"OK, OK. It was one of those things that could have happened to anyone."
"But it only happened to you."
"Why are you laughing?"
"I'm thinking of the time in Normandy when you shot out all five panels of a full length dressing mirror."
"I thought it was a squad of Germans."
"But it was only your own reflection, wasn't it?"
"It wasn't funny."
"Then why was everyone else laughing?"
"Isn't it about time for you to start fixing lunch or something?"
So that's the way it went. I still don't have a good idea for Criminal Brief. Maybe I'm just too concerned that JLW will find fault with my grammar. Or that Leigh will poke fun at me or John will shake his head in disbelief because I dropped out of school after tenth grade. It's irritating, too, that Deborah looks so much better in a fedora than I do and that Melodie has led a far more interesting life than I have. There she was, hanging out with the stars in Hollywood while I was interviewing the county auditor in Ashtabula or the basketball coach at Wabash, Indiana. Then there's Rob and Steve. Both of them know far more about books than I do and can write intelligently about writers I've never even heard of. I refuse to even think about JLW's knowledge of long-ago events. It's so overwhelming it almost makes me feel like Charlie Brown in that strip when Charlie and that smart kid were lying on their backs looking at cloud formations. The smarty said something about seeing Wellington at Waterloo and Beethoven seated at his piano composing a masterpiece. Charlie kept his mouth shut but was thinking, "I was going to say I could see a horsey and a doggie."
All things considered, I wonder why I like Criminal Brief as much as I do?