BEYOND COMIX
by Leigh Lundin
This week's column is all Rob's fault. His article about cartoons and comics reminded me of a couple more, one extant, one extinct (perhaps).
The Rev. Brendan Powell Smith created The Brick Testament. This isn't a comic per se, but a Lego rendition of the Bible with speech bubbles. The Rev is one seriously sly dude. He brings up questions I once wondered about with pithy titles like: "God Gives Job Replacement Children, Money – Job 42:10-17" and "Revelation – Future Revealed to Guy on Tiny Mediterranean Island". Who could resist?
Clever titles and text, but a perceptive reader might ask how the good reverend handles sex in the Bible. Examples abound. I considered showing the Seductions of Lot as an example, but was afraid it might perplex children and frighten adults. Joseph and the Eunuch's Wife is fairly tame, but when it comes to sheer horniness, it's hard to beat David.
2 Samuel 11:2
<
And from the roof, David saw a woman bathing.
The woman was very beautiful.

2 Samuel 11:4
And David had sex with Bathsheba.
This was just after she had her period.
For conspiracy theorists, Schwa is the closest to cult status of any comic I know or, if you wish to argue the point, it's in a class of its own. The web comic was the brainchild (words are heavily loaded when Schwa is involved) of Bill Barker, who, according to various hypotheses, escaped to the dessert, is buried in the dessert, is having desert, or was snatched by the very aliens he depicted.
Splashed with 1984ish warnings like "Trust no one" and "Resist resitance", the series has a theme but not a story line about the Schwa Corporation, a kind of futuristic Halliburton that runs a rigid utopia that either opposes aliens, cooperates with aliens, or is alien. The Schwa World Operations Manual and Schwa Sightings Journal are available, but the web sites are no longer active, except for merchandize. (Click image below for more examples.)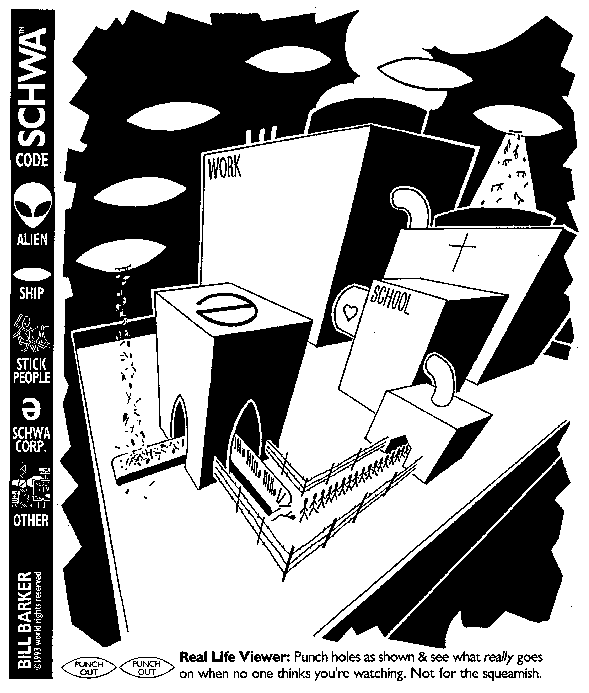 Life Cycle