EVERYBODY LOVES RAYMOND
by Deborah Elliott-Upton
It was a cool day and very clear. You could see a long way – but not as far as Velma had gone. –

—Farewell, My Lovely
"Tall, aren't you?" she said.

"I didn't mean to be."

Her eyes rounded. She was puzzled. She was thinking. I could see, even on that short acquaintance, that thinking was always going to be a bother to her.

—The Big Sleep
I'm an occasional drinker, the kind of guy who goes out for a beer and wakes up in Singapore with a full beard.

—"The King in Yellow"
The above are examples of what are affectionately referred to as Chandlerisms1. They are the kind of quotes readers remember long after the story has ended. Sometimes, they make us smile, sometimes cry, but we recognize the writing as something special worth remembering.
Raymond Chandler did what most writers end up doing: he stole from himself. Characters, plotlines and sometimes entire passages were adapted from one of his stories into another. When the Muse gives a writer something wonderful, it's difficult to let it go without fully using all the nuances of a character, plot or place. Chandler's debut novel, The Big Sleep, in 1939 left his readers wanting more hardboiled stories. He followed with Farewell, My Lovely, The High Window, The Lady in the Lake, The Little Sister, The Long Goodbye and finally Playback in 1958. In the mid to late 40s, he produced scripts for "Double Indemnity" (with Billy Wilder), "The Blue Dahlia," and "Strangers on a Train" (largely rewritten by Czenzi Ormonde, one of Ben Hecht's assistants, who was hired by Hitchcock when Hecht was unavailable), based on Patricia Highsmith's novel.
"I don't mind if you don't like my manners. I don't like 'em myself. They're pretty bad. I grieve over them long winter evenings."

—The Big Sleep
Philip Marlowe made his first appearance in a short story in the October 1934 issue of Black Mask.
For Velma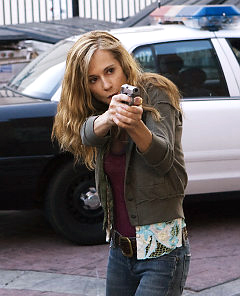 Philip Marlowe became the man's man of private detectives. There's a bit of Marlowe in current fictional detectives – even those of the female variety. The P.I. in fiction is almost always a loner, a bit sarcastic, yet witty, can't quite make a relationship work and has a love/hate relationship with law enforcement officials.
The reason everyone steals from Raymond Chandler is his characters work. That, and everybody loves Raymond.
Notes: