The Mystery Blogosphere is a wonderful place for old friends to gather and for new friends to meet. One of the people I've had the pleasure of befriending online is my Friday counterpart at Murderati, J.T. Ellison. Early each Friday morning, just as Bandersnatches is being posted here at Criminal Brief, J.T.'s column, Comma Sutra, is going up at Murderati. About two months back you may recall that I did a guest stint over at Murderati (where I got to talk dirty). Today I invited J.T. to drop by and share some of her insights and experiences in the short story realm. So without further ado, please welcome J.T. Ellison. . .

—Steve Steinbock
KILLER CO-OPERATIVE

by J.T. Ellison
Many of you have heard of Killer Year. Many of you haven't, and some of you hate the concept with a passion that just burned your computer screen. No, you can't send me a bill.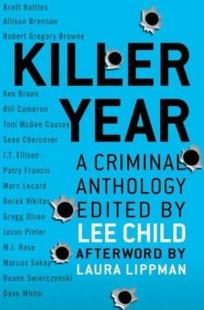 It's been two years since we shuttered the doors on Killer Year, and I look back on that closed chapter with great fondness. Killer Year, for those who don't know, was a cooperative of authors with debut novels in 2007. It all got started with an offhand comment I made on Jason Pinter's blog, and it still amazes me how much was accomplished because of that simple statement, praising some of the upcoming debuts that I'd heard of: "2007 is going to be a killer year." Our numbers fluctuated, but in the end, we had 13. Lucky thirteen.
We started as a way to get a few of us who were in paperback equal time with the hardcover brethren, and morphed into a living, breathing (and sometimes fighting) organism – a seething mass of friendship and creativity and panic and politics and publishing. The debut year is a frightening landscape, but with compatriots by your side, it's a little less worrisome.
To brag for a moment, there was at least one Killer Year name on every best debut novel award nomination list for 2007. That was one of the most amazing accomplishment we saw. The second was the Killer Year Anthology. We jokingly called it the little anthology that could, because every single person we mentioned it to (except our brilliant agent Scott Miller) said there's no way any publisher would want an anthology of short stories by a group of unknown writers. Snap.
We proved them wrong, as we did most of the Killer Year naysayers. The book is out in the US, UK, Australia and New Zealand and still selling strongly, so it wasn't such a stretch after all. We were able to pay back our investments in the group (that was one of the criteria we had to set for membership – we had to have people with advances who could put money into marketing and promotion. It cut a lot of people out, but it was for the best. Now, ITW's debut organization has some 70 authors, and that's a bit unwieldy.) Most of us are on our third books now, some are on their second or fourth (I'm writing my sixth right now, and my first three are already on the shelves, my fourth comes next March.) In this publishing landscape, that's an accomplishment in its own right.
But the most important thing we all took away from Killer Year was friendship. Friendships gained, friendships lost. We made mistakes, and had triumphs. The pressure on us was enormous – people assumed since we were smart enough to band together and start marketing a single name, Killer Year, instead of individuals – we were savvy and competent when it came to the industry. Hate to break it to you, but we weren't. We were debut authors, with no better lay of the land than the kid who just signed his deal yesterday. We got good advice and bad advice and had to weigh it all like some ridiculous Lady Justice on crack. We foundered sometimes, pushed forward and made decisions as best we could with extreme influences from the outside, from people who wanted us to be something other than what we were.
And what were we, really? A group of gung-ho kids who wanted to elevate their profiles in the publishing industry? Maybe. And maybe we were a group of friends who saw that there was a future out there, and we wanted a part of it. Either way, it was wonderful, a time in my life I'll always treasure.
That's where it started, and despite some bumps along the way, that's where it ended. Some of my dearest friends are former Killer Year members. And I'm so thrilled that the International Thriller Writers, who sponsored and semi-adopted our group of misfits, has gone on to create a successful debut author program. I'm on the Debut Author's committee and it's so great to see what was an offhand comment turn into something that's made a lasting impression.
The Short Story Grind
I can't ever leave the cooperative behind completely because of the anthology. "Prodigal Me," my short in Killer Year: Stories to Die For, was my first story published in a hardcover book. (Cue great pride…) It was also the first short story I ever attempted. I knew nothing about the form, the style, the requirements when I wrote that story, I just free-wheeled my way through and hoped for the best. I don't do that anymore, sadly.
It's endlessly astounding for me to see any of my short stories in print. Yes, I know that isn't the most politically correct thing to say, but it's the God to honest truth. I spent several years telling people I couldn't write short stories, only to try my hand at them and discover that yes, I can write shorts, and yes, some of them are actually be worth reading.
But every time I get in front of an audience and they ask me about writing short stories, I secretly cringe. Shorts do not come easy for me. They are 5,000 times more difficult than writing a novel. 500,000 times more difficult, really. Of course, there are short story writers who scoff at this, crank them out, place 100 a year and would never even consider trying a novel. And that's great. I wish I could have that effortlessness.
I found early on that while longer-length shorts were difficult for me, I had a penchant for flash fiction. A complete, start to finish story in less than one thousand words. That I could do. And when I started, I found a rhythm that sticks with me to this day. I've written a few short stories that are in the 5,000 to 7,000 range, but the shorter, the sweeter, as they say.
Inspirations
I'm constantly inspired by music. My novels all have theme songs, something akin to an extended movie soundtrack, but they are always classical pieces. Rachmaninoff's Violin Concerto #3, Tchaikovsky's Violin Concerto in D, Berlioz's Symphonie Fantastique, that kind of thing. When the book is done, I put together a soundtrack of alternative and rock music that embodies the themes of the book and put it up on my website. It's a fun way to engage readers on another level. But my shorts are a world apart, in style, tenor and influence. I need lyrics, and titles, and all the attendant images they arouse.
The first one that I wrote that I was really proud of was inspired by a James McMurtry song. The title of the song is Red Dress, and there's a line in it – Where'd you get that red dress? I heard that and decided to answer the question for myself. "Where'd You Get That Red Dress" is still one of my favorites.
I have a short in an upcoming anthology called Killing Carol Ann. That was inspired by one of my all-time favorite songs by a Nashville artist named Richard Stooksbury, titled, appropriately, Carol Ann. The song is sweet and haunting, and I've taken it and perverted it to my own means. But it works.
Another influence for my shorts are dreams. I just placed a story called "Chimera" in the Surreal South anthology, and surreal is the perfect name for it. It was a faithful explanation of a nightmare I had – one so vivid, so visceral that when I go home to my parents and sleep in my bed I feel the shadow of it hanging over me, years later.
Shorts are an escape from the mundane, a chance to try new things, to stretch my wings. I've always admired the actor Johnny Depp for his ability to stray away from the careful into the sensational, to go out on a limb and be willing to make a fool out of himself (which generally translates into acting brilliance) for the sake of his art. When I decided to try my hand at shorts I adopted that mentality. I had absolutely nothing to lose.
I'm not the best short story writer in the world. But I have fun with it now, exercise my writing chops by switching points of view and characters and settings that I can't get away with in my novels. It's liberating. But it's still damn hard work. Then again, what form of writing isn't?
Thanks so much for having me here today!
J.T. Ellison is the bestselling author of the critically acclaimed Taylor Jackson series, including All the Pretty Girls, 14, Judas Kiss and the forthcoming Edge of Black. A former White House staffer, she moved to Nashville and began research on a passion: forensics and crime. She has worked extensively with the Metro Nashville Police, the FBI and various other law enforcement organizations to research her novels. Ellison lives in Nashville with her husband and a poorly trained cat. Visit www.JTEllison.com for more insight into her wicked imagination.