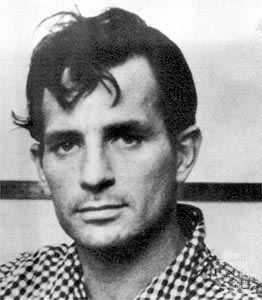 PROFESSIONAL TIPS — JACK KEROUAC
by Leigh Lundin
Hey man, those of you who dig the Beat Generation and especially, like Jack Kerouac, man, this column is for you.
I live a few minutes from the Kerouac house in College Park, a nice but not too pretentious suburb that Orlando swallowed, but still manages to maintain its own identity, at least until the city allowed developers to drop a hideous multi-story monstrosity into the middle of Edgewater Drive. Did I say it was monstrous? Forgive me; I'm waxing sarcastic. It merely has fourteen different architectural styles. In case you don't like Mediterranean or Key West, you can tear your eyes away to the ponderous Ponderosa quarried stone look.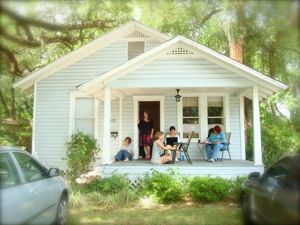 In lovely contrast, the Kerouac home is an ordinary frame house on an ordinary plot in a more or less ordinary section within walking distance of downtown College Park, where Jack wrote The Dharma Bums. Every year, the Kerouac Project gives one writer residency in the house. Pretty cool, huh! I mean, like that's devine, daddy.
After fans asked the writer how he managed to write what he did, he wrote thirty, ah, tips. There's probably hip wisdom if you can figure it out, perhaps with the help of bongo drums and Granny's weed.
Belief and Technique for Modern Prose
Scribbled secret notebooks, and wild typewritten pages, for yr own joy
Submissive to everything, open, listening
Try never get drunk outside yr own house
Be in love with yr life
Something that you feel will find its own form
Be crazy dumbsaint of the mind
Blow as deep as you want to blow
Write what you want bottomless from bottom of the mind
The unspeakable visions of the individual
No time for poetry but exactly what is
Visionary tics shivering in the chest
In tranced fixation dreaming upon object before you
Remove literary, grammatical and syntactical inhibition
Like Proust be an old teahead of time
Telling the true story of the world in interior monolog
The jewel center of interest is the eye within the eye
Write in recollection and amazement for yourself
Work from pithy middle eye out, swimming in language sea
Accept loss forever
Believe in the holy contour of life
Struggle to sketch the flow that already exists intact in mind
Don't think of words when you stop but to see picture better
Keep track of every day the date emblazoned in yr morning
No fear or shame in the dignity of yr experience, language & knowledge
Write for the world to read and see yr exact pictures of it
Bookmovie is the movie in words, the visual American form
In praise of Character in the Bleak inhuman Loneliness
Composing wild, undisciplined, pure, coming in from under, crazier the better
You're a Genius all the time
Writer-Director of Earthly movies Sponsored & Angeled in Heaven
So, like that's that. If you can figure it out, man, it's yours, free. Me, I'm gonna dig some Lenny Bruce.