BACKSTORY BLUES
by James Lincoln Warren
I have taken two creative writing courses in my life. One was at my alma mater, UTSA. That one was a poetry course. The second one was a screenwriting course I took through UCLA Extension. I took the first for three elective credit hours toward my bachelor's degree and the second because I was suffering a severe case of writer's block and needed to shake something loose.1
By and large I am not a big believer in creative writing courses, but they have their uses. The poetry course taught me a tremendous amount about subtlety and economy of expression. In the screenwriting course, I learned … well, I didn't learn how to write a screenplay.
The teacher was more interested in trying to get us to avoid crappy writing than in teaching us how to structure and format a filmscript. I guess this was so that we, his protégés, would avoid all the pain and frustration he had suffered as a crappy writer learning his craft. (He'd been a sportscaster who made the transition to writing for one of Aaron Spelling's dreadful prime time soaps. If it sounds like I'm not very compassionate regarding his growing pains as an artiste, it's because … it's because I'm not very compassionate regarding his growing pains as an artiste.) But I digress.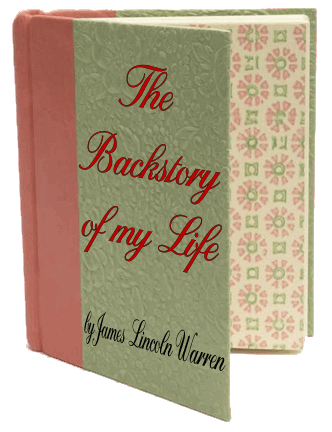 Anyhow, one of the things he had us do was write short biographies of all our characters. We had to do this before we started writing our scripts.
I've heard that other teachers require this as well, but I wouldn't know about that. It's not a procedure that I would call exactly indispensable for most stories, but it can be useful—I did it when I was developing the character of Alan Treviscoe, the 18th century insurance investigator, because I needed to fit him into his time, but I haven't done it with Carmine Ferrari, the former NYPD detective turned private eye in Beverly Hills, because I don't want to tie down his past if I need to invent it for some future story.
In any case, most of what was contained in the detailed life histories that I wrote for my ensemble cast never appeared in the fragment of a screenplay I wrote for the course, and even if I had written a whole feature-length screenplay, most of it wouldn't have popped up anywhere anyway. The instructor didn't even read our character biographies.
That's because he didn't care if any of the biographicaca came out in our stories. As far as he was concerned, that whole aspect of the exercise was to start to get us to develop characters, so that we would know who were were writing about before we started writing about them.
And therein lies a lesson: backstory is not the same thing as background.
The OED doesn't even list "backstory" as a word. So what is it, anyway?
"Backstory" is an invented word. It was invented to describe important events or character details that are not inherently part of a story, but which silently inform the story. The reader does not have know anything about backstory for the story itself to make sense. Background, on the other hand, describes the setting of a story, including events and character details, and must be shown explicitly to the reader in order to make sense of what is going on.
Now there are two slippery slopes here for the author. One is too little backstory. This can lead to embarrassing continuity problems. You know so little about the character that not only does he come across as being shallow, but he winds up like poor Dr. John H. Watson, whose Army-career-ending wound from a Jezail bullet in Afghanistan notoriously migrated from his shoulder (as described in A Study in Scarlet) to his leg (as described in The Sign of Four). Eventually Doyle settled for "one of my limbs" ("The Adventure of the Noble Bachelor").
But by the far the worse slippery slope is too much backstory. Especially if it is shoved down an unsuspecting reader's throat with a ramrod. Dashiell Hammet knew this when he wrote The Maltese Falcon. Think about it: the reader knows almost nothing about Sam Spade, except that he looks like a "blond Satan" and has a reputation for being something of a son of a bitch. By the end of the story, you haven't learned much more about him, except that he lives by his own ethical code. And you know what? That's fine by me. I don't care how Spade became a private detective, where he went to school, or how he entered into his ill-advised affair with Miles Archer's wife. None of that has anything to do with the murderous events attending the bird. But I betcha Dashiell Hammett knew exactly what Spade's history was.
One of the worst things a writer can do is pummel the reader with unnecessary information. Some writers assume that backstory is of essential interest to the reader, presumably on the theory that it humanizes their characters and makes them more interesting. (Insert Sam Kinison agonized screaming sound here.) That's like being forced to listen to a drunk telling you about his divorce and what a bastard his boss is and how his kids are out of control and every sad boring detail of the entire sad boring history of his whole sad boring life when all you did was ask him his name. (And there are those who believe there are no justifications for homicide. Hmph!)
This is something I really have to remember when I'm doing research for a story. I dig up all sorts of interesting and unexpected tidbits when I'm rooting around source material. But no matter how fascinating I may find a weird fact, that doesn't mean it belongs in the story. (It may, however, belong in another story at another time.)
The first story I ever sold that got the cover at Alfred Hitchcock's Mystery Magazine, "Miching Malicho", was about a forgery of a play by William Shakespeare. Forgery, falsehood, and fraud were major cultural themes in the 18th century, and one of the most notorious cases was that of James Macpherson's translations of Ossian's poetry. Samuel Johnson thought Macpherson was a complete fraud who had written the poems himself, and demanded Macpherson produce the original Gaelic versions as proof of their authenticity. Macpherson responded by publishing a short fragment of one of the poems, "Tamora", in Gaelic, but never produced a single manuscript for independent examination.
I thought the controversy attending Macpherson was on point in my story, and I have one of my characters (Captain Gunn, Treviscoe's Watson) quote "Tamora":
" 'S lionmhar ceamna na marbh by treun
Air osna, dubh-aisra' na bein,
Nuair ghluisas a ghellach, an ear,
Mar ghlas-scia, du shiubhal nan speur.

Which is to say in English, 'Green thorn of the hill of ghosts, that shakest thy head to nightly winds! I hear no sound in thee; is there no spirit's windy skirt now rustling in thy leaves? Often are the steps of the dead, in the dark-eddying blasts; when the moon, a dun shield, from the east, is rolled along the sky.'

" 'Tis the same tale of Tamora my grandmother recited to me when I was but a wee bairn."
I have been told that this was exactly the sort of backstory that should have been left out, that it added nothing, interrupted the narrative flow, and bored the reader. Just the sort of thing I loathe so much in others' stuff. Maybe the folks who told me that are right. But let's face it: I was so pleased with myself for finding the Gaelic version in the first place that there was no way I wasn't going to use it. It was my baby.
All right, so I'm a hypocrite.
Aren't all parents?
Notes: