POE AND PROUD
by Steve Steinbock
This week's installment of Bandersnatches is coming to you direct from New York City, where your humble correspondent is attending the Edgars, the annual gathering of the Mystery Writers of America.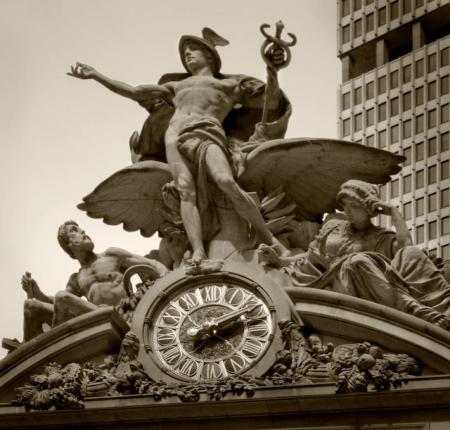 It's Grand Central Station out here. Literally. The New York Grand Hyatt sits directly atop Grand Central Terminal on 42nd Street between Park and Lexington. My hotel room window looks directly out upon Jules-Felix Coutan's forty-eight foot high sculpture of Hercules, Minerva, and Mercury. A straight line across from where I'm sitting would take me directly into the side of Mercury's winged helmet.
The Wednesday Edgar Symposium was pretty darn good. Normally, I'd rather spend an afternoon of waterboarding rather than having to sit in an auditorium for six hours of talk. But the sessions I attended (and no, I didn't attend all six hours) were enjoyable and worthwhile. Chris Grabenstein moderated a session on "Stagecraft," using theatrical techniques to develop character. Reed Farrell Coleman led a discussion among a panel of current Edgar nominees (including Laura Lippman) exploring the art versus the craft of mystery writing. Finally, Julie Smith led a Q&A session with Sue Grafton and James Lee Burke that was as inspiring (and humbling) as it was funny.
It's worth mentioning that on this bicentennial of Edgar Allan Poe's birth, there are a lot of Poe events and resources available. Every last Sunday of each month this year, Radio Theatre New York is putting on live performances of Poe stories at Under St. Marks. The Edgar Allan Poe Society of Baltimore provides extensive articles, essays, and etexts of Poe's work on their website. The Poe House Museum in Baltimore is sponsoring a year-long celebration of Poe .
Wednesday night I had dinner with occasional Criminal Briefers Barry and Angela Zeman, along with mystery writers Charles Todd and Morley Swingle, and Morley's daughter Veronica. During dinner, Charles and Morley, without realizing that I know and work with James here at Criminal Brief, began speaking admiringly of him. It's a testament to CB founder JLW that every adult around that table consider him a friend.
Alfred Hitchcock Presents. . .
While at the Editors and Agents reception on the evening of the Edgar Symposium, AHMM assistant editor Laurel Fantauzzo gave me a sneak peek at the July/August issue, hot off the press, and slated to hit the shelves in the next month. I gleefully discovered that two of my Criminal Brief collaborators each had stories in the issue. Rob Lopresti's Leopold Longshanks is back in "Shanks and Misdirection," in which the fictional mystery writer uses his understanding of misdirection to provide an armchair solution to a scam, and to exact a clever bit of revenge on a pompous reviewer. I'll never look at ATM machines the same again. John Floyd's "The Powder Room" is an explosive tale that showcases John's clever plotting as well as his storytelling skill.
Inexplicably, the photo and biography of a third Criminal Briefer, James Lincoln Warren, appears in the contributors Lineup, although no story by James appeared in the issue. Additional stories by Loren Estleman, Brandon Du Bois, and D.A. McGuire make this a Must Read issue for short story fans.
A Story Sold
Speaking of stories, I'm pleased to announce that I've sold my first story to Ellery Queen's Mystery Magazine. No telling when my story, "Cleaning Up," will appear in print. But the contract has been signed. I'm in.