THE DETECTIVE STORY DECALOGUE
by Steven Steinbock
(with a little help from Ronald A. Knox)
As some of you know, in my other life, I teach and write about Jewish stuff. When explaining my two careers, I sometimes joke that I tried to leave religion for a life of crime. I sometimes get strange reactions from people when they learn about my background in religious studies. Some get nervous and think they can't cuss or tell dirty jokes in front of me. Some people puff up their feathers in superiority and explain that they believe in evolution. (It's surprising how often I get this. I believe in evolution, too. What does one thing have to do with the other?) Sometimes people become weary, thinking I must be a religious freak. (I assure you I'm not. Depending on how you define it, I suppose I am religious. And it goes without saying that I'm a freak. But a religious freak? Pshaw!)
This week has been a busy one. In that religious half of my life, I have one article and three lectures to write. By this time next week I'll be in Carmel, California where I'm the visiting scholar-in-residence at a synagogue there. Two of the lectures I've modeled in sort of a Dave Letterman "Top Ten" style. (One is on the Top Ten explanations for the Kosher dietary laws, and the other is about the Top Ten differences between Judaism and Christianity).
In the spirit of religion – and of Top Ten lists – I give you the Detective Story Decalogue. These ten rules of mystery fiction were first revealed in 1929 to mystery writer, Sherlockian, and Catholic priest Monsignor Ronald A. Knox.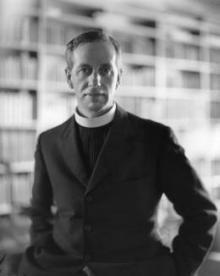 While Knox wrote these with a tongue well inserted in cheek, much of what he said makes sense. As you read the Decalogue, you'll see that much of it is a product of the times, expressing Knox' annoyance with certain clichés (such as the Yellow Peril and the obscure contrivances), and in the case of one of his rules, a jab at Christie's Murder of Roger Ackroyd.
One of my esteemed colleagues here at Criminal Brief University may have posted this list in an earlier column. But I was clopped in the head by my car door, and my memory was never all that good to begin with. So here is Monsignor Knox's Decalogue:
The criminal must be someone mentioned in the early part of the story, but must not be anyone whose thoughts the reader has been allowed to follow.

All supernatural or preternatural agencies are ruled out as a matter of course.

Not more than one secret room or passage is allowable.

No hitherto undiscovered poisons may be used, nor any appliance which will need a long scientific explanation at the end.

No Chinaman must figure in the story.

No accident must ever help the detective, nor must he ever have an unaccountable intuition which proves to be right.

The detective must not himself commit the crime.

The detective must not light on any clues which are not instantly produced for the inspection of the reader.

The stupid friend of the detective, the Watson, must not conceal any thoughts which pass through his mind; his intelligence must be slightly, but very slightly, below that of the average reader.

Twin brothers, and doubles generally, must not appear unless we have been duly prepared for them.

Incidentally, nearly a decade before Orson Welles' famous "War of the Worlds" broadcast startled gullible listeners, Ronald Knox performed a similar hoax over BBC Radio when broadcast a story of a revolution sweeping over London. The curious can read about (and listen to) it here and here. (The second link, from the BBC Radio 4 website, also includes a recitation of Knox's Decalogue).
Let me know what you think. Are any of these rules still valid? Is "Fair Play" passé? If people are interested, S.S. Van Dine wrote a similar set of rules, only he had twenty, and I think he took himself more seriously than did Monsignor Knox. As always, I look forward to your thoughts and observations.