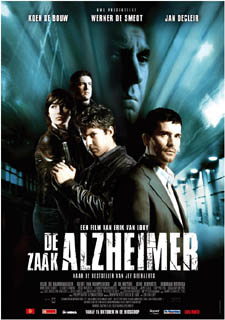 KILL for the MEMORIES
by Leigh Lundin
Checklist for Movie Rental

Belgian
subtitled
with protagonist who

is aging rapidly
is becoming senile
kills people
If you plan to rent a suspense thriller one weekend, this checklist might appear something you'd avoid, but that would be a mistake. Variously known as The Alzheimer Case, The Memory of a Killer, The Alzheimer Affair, or its original Flemish title, De Zaak Alzheimer, this film is a criminal nest of noir, police corruption, and political intrigue. It's so good, it saw American theatre release in 2005 and a domestic remake is in the works, but I recommend catching the original before, well, the public forgets it exists.
Author Jef Geeraerts wrote De Zaak Alzheimer. Angelo Ledda, the protagonist is a grizzled contract killer, subject to Alzheimer's disease, who realizes he's losing his edge. He tells his employers he intends to retire, but they persuade him to make one more hit.
When he realizes the target is a little girl, Ledda refuses to kill her. His bosses assassinate the twelve-year-old anyway and come after him. Pursued by organized crime, police, and the encroaching demons of Alzheimer's, Ledda uses his faulty but still formidable brain power to wreak vengeance on those who deserve it.
Bad Guys and Good Writers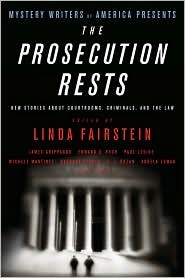 Last month, the Mystery Writers of America released their latest anthology, The Prosecution Rests, spearheaded by crime writer Linda Fairstein. I recommend the book for two reasons: (a) It's good, and (b) I have a story in it.
I hopped through the stories, starting at the end with Angela Zeman's thriller 'Bang', followed by Twist Phelan's 'Time Will Tell' and Barbara Parker's story on the day she died. Eventually, I got around to the first half of the book which has several great stories by writers I don't know, but would like to.
Kate Gallison's story about the Salem witch trials appealed to me on several levels including its twist ending. 'Spectral Evidence' is a classic.
Eileen Dunbaugh is another new writer. Her story 'The Letter' captured a compelling sense of time and place in poverty-stricken Chicago.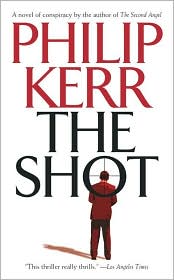 One of the risks of writing historicals is the temptation to 'over-document', to slather on too much detail in an attempt to paint the clearest possible picture, stamping a story with an encyclopedic feel. One of the most extreme examples is Philip Kerr's The Shot, set in 1960, leading up to President Kennedy's assassination. The book is so rife with era minutia, it sometimes feels like a catalogue with a plot. Eileen avoided this mistake with her light touch.
Mercy Killing
Many authors write to order: Give them a theme and they're off and running. I haven't made that leap, so unless I happen to have a story in a drawer, I'm unlikely to come up with anything to submit to an anthology.
As it turned out, when the MWA sought submissions for The Prosecution Rests to feature lawyers, judges, or a courtroom setting, I thought of an early story collecting dust in my hard drive. Focused on Alzheimer's disease and euthanasia, 'Quality of Mercy' begins and ends in a courtroom, debating justification of mercy killing.
When the MWA accepted my entry, I re-read the tale and panicked. My experience grew since my early days of writing and now it seemed amateurish to my self-critical eye. What would Paul Levine and Michele Martinez think having my student story sandwiched between theirs? Wouldn't mine look like a thatched cottage surrounded by skyscrapers?
John Helfers is the publisher's unseen eye, working with authors to hammer stories into shape, passing on editorial changes and corrections. I seized the opportunity when the first chance to make changes arrived. I concurred with virtually every change editors suggested and added a couple more, including a recently learned trait of Alzheimer's. I fired the story back and awaited final edit.
Meanwhile, I worked to tighten my writing. For some reason, extraneous adverbs and adjectives sound natural when writing, but awful to someone else's ear. When the proof copy arrived with a chance to make final changes, I deleted two dozen words, all of them unnecessary modifiers.
Two weeks later, the ARC arrived, ARC meaning "advance reader's copy" or "author's review copy". When I cracked it open, my expunged modifiers were still there! I phoned John Helfers and he eased my mind, saying they printed the ARC before the final edits, which would appear in bookstore copies. Whew, the emotion involved: This was a short story and not even a novel!
Early reviews didn't mention my name, nor did I expected them to. My fellow authors are much more experienced and better known than I am. Our favorite Women of Mystery mentioned me because they're always supportive. Thanks to Terrie Moran, Victoria Kennedy discussed The Prosecution Rests in the Midwest Book Review.
Dick Stodghill reviewed The Prosecution Rests in his column, Stodghill Says So, where he was generous with his remarks. Both Dick Stodghill and Vicki Kennedy are writers, so they look at technical details beyond a reader's experience.
The most surprising discovery came from googling. Following a Criminal Brief article about googling one's self, I keyed my name in. Besides my surprising obituary, genital enlargement, and performance on Dancing with the Stars, I discovered additional reviews.

The Boston Edge, in their Entertainment section, reviewed The Prosecution Rests. For half an hour, I sat rereading it in case the words disappeared. The Boston Edge not only mentioned my story, reviewer Kevin Scott Hall gave it excellent marks.
Coming out of shock, I eMailed my Criminal Brief colleagues who applauded, clapped me on the back, and told me to write about it. I saved that Boston Edge page and PDF'd it in case Kevin Hall discovered he made a horrible mistake.
The End : a note regarding the dénouement
A deliberately ambiguous ending caps 'Quality of Mercy'. I plotted it to hint at the dark confusion constituting Alzheimer's disease. At least three lethal outcomes are feasible and, while I have my notion, no theory is wrong. When I hear of debates about what really happened, I'm secretly pleased I accomplished my goal.