THE WAY WE NOIR
by Rob Lopresti
Yesterday in this space Curt Colbert wrote about being the editor of Seattle Noir. I was one of the lucky writers he got to edit.
Noir is often defined as "Life's a bitch and then you die," but I think that's only half of the formula. The true definition is this: "You are a punk, but you try to be more. Life's a bitch and then you die." (And as I wrote this column I found a much terser definition, by Jack Bludis: "Hardboiled = tough, noir = screwed." That's pretty accurate.)
The classic noir protagonist is a petty thief or a petty non-thief — the latter being a character who is only honest because he hasn't met a temptation strong enough to overcome his cowardice. Then he sees something bigger, more significant, and he goes for it. This something bigger could be honest or dis. A pickpocket tries to rob a bank. A burglar saves someone from a burning house. But what happens next is that the world turns around and squashes the poor chump. Just like Greek tragedies, Noir is about hubris: about trying to reach higher than the gods will permit.
I came here for the waters
People occasionally say that "Casablanca" is a noir movie. Well, it's filmed in gloomy black-and-white, but that's about the only connection. However, do you remember Peter Lorre's character, Ugarte? He was a minor criminal who moves up in the world by killing a couple of German couriers and stealing The Thing Everyone Wants. For his trouble Ugarte is captured and the last time he is mentioned is when the police chief cheerfully announces that he hasn't quite decided yet whether Ugarte killed himself or died trying to escape.
If Ugarte was the main character, "Casablanca" would be a noir movie. At one point he says to Rick (Bogart's character) "I have many friends in Casablanca, but you despise me so you are the only one I trust." There is Noir in one sentence: the lousy self-image, the aspiration, and the doom.
Rainy City blues
When Curt Colbert announced to the Mystery Writers of America Northwest chapter that Seattle Noir was going to be published, I got excited. I had had an idea on the back burner in case Akashic Books ever decided to hit the Emerald City with their famous Noir series. The story was about the homeless people in Pioneer Square (quite close to the Seattle Mystery Bookshop … be sure to make a pilgrimage when you are in town). I wanted to center on a reality-challenged guy who witnessed a crime.
The problem was, as Curt noted in his essay, each story had to take place in a different neighborhood, and by the time I heard about it, Pioneer Square was taken.
I was miserable. Where else could I put a bunch of homeless people, especially a main character who has trouble telling truth from fantasy? Then I started laughing. Of course: Fremont!
The Center of the Universe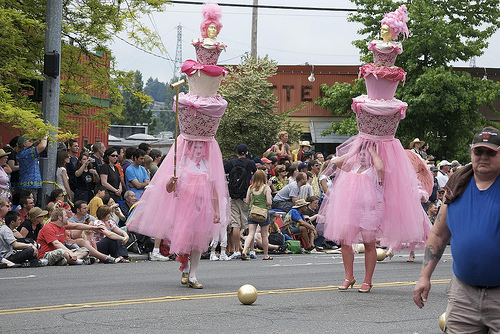 That's the nickname for the Fremont neighborhood. (It's also the title of my story.) What is Fremont like? Well, their major annual event is the Solstice Parade, which features huge floats (hand pulled… no engines allowed), and naked bicyclists, among other things.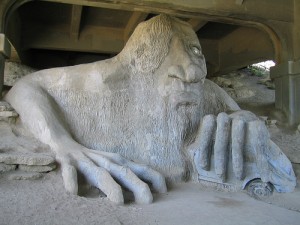 And their most famous public art work is a troll (under a bridge, naturally) holding a genuine Volkswagon Beetle in one hand. This place could make anybody feel a little bit flaky. Now imagine a homeless guy, who depends on his not-too-reliable friends to keep him grounded, and imagine that he's stuck in Fremont, and has just seen a murder….
The story was great fun to write.
And in review
I know there is no point in arguing with reviewers, but one of them said something that bugged me. In a generally favorable piece he said that Seattle might be "too nice" for noir, and complained that there wasn't enough blood and gore in Seattle Noir. Well, he seems to be confusing noir with horror. The essence of noir is not someone being chopped up. It's someone being stabbed in the back. Preferably by a beautiful woman, or fate, or both.