LOOKING WEST
by John M. Floyd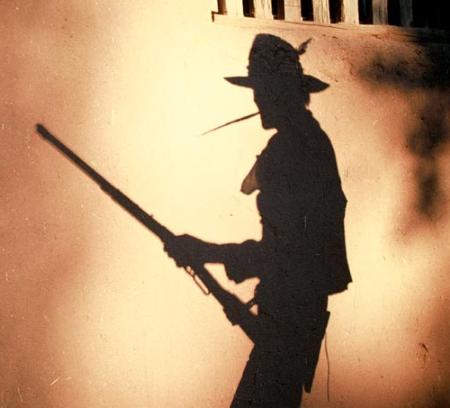 This week I'm straying, as I sometimes do, from the usual subject of short stories and the mystery/crime genre. The reason?
I've been reading (gasp!) western novels. And I don't mean novels about western civilization. I mean novels about the rip-roaring, wild-and-woolly American West of the late 1800s. And boy has it been fun.
Boston to Arizona, Taxicabs to Stagecoaches
Specifically, I've been reading westerns by Robert B. Parker, an author who usually writes mystery fiction with crimefighters like Spenser and Jesse Stone and Sunny Randall. But not always. In 2002 Parker ventured into the Old West with an interesting novel called Gunman's Rhapsody, which included the Earps, Doc Holliday, etc. — and more recently has created a series of three books starring fictional gunfighter Virgil Cole and his friend Everett Hitch. These two sometimes-lawmen are more fun to read about than any characters I've found since Texas Rangers Gus McCrea and Woodrow Call.
The novels are Appaloosa (2006), Resolution (2008), and Brimstone (2009), whose titles are taken from the towns in which they're set. Having just finished the latest one, I can tell you I enjoyed all three, mainly because of the way Parker writes his stories.
A Matter of Style
He takes a bare-bones, no-nonsense approach that really appeals to me. These three books, like his crime novels, are heavy on dialogue and light on description, and extremely fast-paced. You hardly have time to catch your breath. And there are a lot of long exchanges, many of them consisting of short, clipped sentences, between the two protagonists (who remind me at times of Spenser and Hawk). I like that. It seems real, and reads the way I think these folks would actually speak. Elmore Leonard would be proud.
Another similarity in the way Parker handles his two genres is that both feature characters who, while not admirable in every way, have a keen sense of personal honor and of the difference between right and wrong. Or at least what they consider to be right and wrong. They live by a code of ethics that can never be broken, no matter what. This concept works especially well in westerns, since that's a genre where Good and Evil are usually easy to identify, in spite of what color the hats are.
Putting Faces to the Names
As some of you know, Appaloosa was made into a movie last year, with Ed Harris and Viggo Mortensen in the lead roles and Renee Zellweger as Virgil's love interest. I enjoyed the film, mostly because the screenplay was so faithful to the book but also because of the strength of the actors — especially Harris and Mortensen. I hope the other two novels will be adapted for the screen as well, with the same director (Harris) and the same cast.
Western Influence
Do I, as a writer of mostly short mystery fiction, feel a little guilty about reading horse-opera novels when I should be reading the kind of thing I like to write? Nope. The best way for any of us storytellers to improve is to read well-written stories, in any genre — and Parker delivers the goods. He can pack more backstory into a natural conversation between characters than almost anyone else I've read, and it somehow doesn't seem to matter that he seldom describes anyone or anyplace in police-report detail. In your mind, you can see the buckboards rattling along in the street, taste the dust, smell the whiskey, feel the tension before a gunfight, hear the clang of the blacksmith's hammer. He makes you think you're there.
A master at work.