MAGIC AND MYSTERY
by Steve Steinbock
Last week I mentioned an article in the March 17 New Yorker magazine. It was a long piece by Adam Gopnik titled "The Real Work: Modern Magic and the Meaning of Life" exploring the thinking that goes on behind performance magic.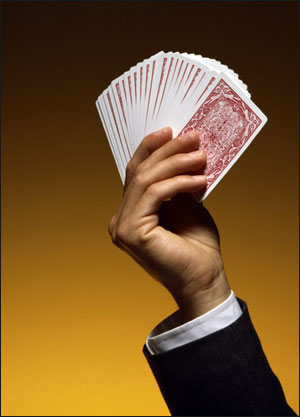 Sleight-of-hand is a hobby of mine. I love doing the unexpected with cards, ropes, newspapers, and rings. I've never performed professionally, but have done some shows at camps and schools, and have done impromptu routines for friends and family. I've spent more money than I care to admit on books, videos, and gimmicks that are intended to make my magic better.
Over the years, there have been a number of mystery writers who have been professional magicians, and a few professional magicians that have written mysteries. Clayton Rawson is the most obvious. A great performer and teacher of magic, he was the creator of two fictional magician sleuths, as well as doing editorial work for Inner Sanctum Mysteries and Ellery Queen's Mystery Magazine.
Harry Houdini worked with Arthur B. Reeve on a silent movie and its 1919 novelization, The Master Mystery. Magician John Mulholland teamed up with Cortland Fitzsimmons to write the thriller, The Lady in the Cage. Magical theoretician Henning Nelms wrote two excellent novels under the name Hake Talbot. One of these, Rim of the Pit, is rare in that it's a fair play impossible crime novel written in a distinctly hard-boiled style.
Sid Fleischman started out as a magician, then wrote a half dozen Gold Medal thrillers before turning to children's books. But he never gave up magic. Magicians feature in several of his Gold Medal paperbacks as well as in many of his children's adventures.
Michael Z. Lewin enjoys magic and juggling as hobbies. Daniel Stashower works his love of magic into his Harry Houdini mystery series. Poker master Rick Gadziola enjoys a card trick when he isn't playing cards or working on his latest Vegas-based mystery. James Swain keeps a professional foot in both worlds. I'm sure there are many others I've neglected to mention.
So why am I mentioning all this in the first place? The New Yorker article brought home to me the point that Mysteries and Magic have a lot in common.
There are some important differences, of course. Mysteries are enjoyed in private by individuals, while magic is usually performed for groups. The mystery world has a lot of fans, but not a lot of admitted "amateurs," while for every professional magician there are two or three hobbyists like myself.
But mystery fiction and stage magic both rely on misdirection. That's probably the key element to both arts. And where else is the job of the artist to hide things in plain sight?
Both mysteries and magic employ gimmicks. But in both fields, it isn't the gimmick that matters so much as the execution. John Dickson Carr taught us that there are only so many ways for a murder to be committed in a locked room. Lovers of impossible crime mysteries (myself included) know all these tricks. But that doesn't take away our surprise when the author pulls it off beautifully.
I often take up a deck and control a card, just for my own entertainment. By "control," I might, for instance, take the Queen of Diamonds and shuffle her into the deck. Then I shuffle and cut and shuffle again every which way, knowing throughout exactly where the Queen rests, able to bring her to the top of the bottom of the deck with little more than a twitch. That's something any card magician can do. It's a great mental exercise, as well. I'm juggling fifty-two cards, and always keeping track of the location of one or more. How different is this type of card control from plotting a mystery, keeping characters, motives, and alibis straight while sustaining an exciting story?
Insiders in both the mystery and the magic field often have strong opinions about their art. I've written in the past about the occasional spat between hard-boiled and cozy people. There are also writers who argue about the relative importance of plotting, character development, and the role of domestic animals. In the magical arena, there are those who praise frolicking fingerwork and fancy flourishes, while others (the late dean of card magic, Dai Vernon, for example) poo-poo anything that doesn't look completely natural. There are those who love David Copperfield's tuxedoed elegance, and those who admire David Blaine's casual style with his faded jeans and stoned expression.
Another thing magicians and mystery people have in common: they both put on great conventions that are attended by some of the nicest people around.