AMAZON MUSCLE
by Leigh Lundin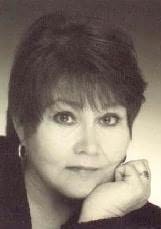 Susan Slater
Author Susan Slater has written a raft of books, including at least two mystery series I'm aware of, the Ben Pecos and the Dan Mahoney mysteries. Her web site is well worth viewing for another reason, because it is one of the rare good uses of Shockwave Flash on a web site.
When Susan's books go out of print and demand drops from several thousand to a few hundred or dozen, she calls upon an industry technology called PoD, 'print on demand'. Print-on-demand whips out a paperbook book about the same way your computer prints a cover letter, one copy or a thousand.
PoD powerhouse Lightning Source (LSI) is perhaps the biggest, but there's many smaller companies and even schools led by Indiana University that offer PoD services, providers that include Cambridge, Cornell, Harvard, Penn State, Princeton, Rutgers, and Texas A&M.
It's important to note that PoD is not the same thing as publish on demand, sometimes called vanity presses that specialize in bringing to fruition self-published books. Publish-on-demand and print-on-demand are often confused, because self-publishers often revert to PoD because of the smaller numbers of copies involved.
In 2005, Amazon acquired a PoD called Booksurge. According to reports, its quality was spotty, so in 2006, Amazon pumped resources into Booksurge with new equipment and technology. Still, it seems, the upgrade didn't attract customers. Jeff Bezos had plans for Booksurge, something called vertical integration– cutting out the middle man.
Amazon has been a well-run company and its CEO, Jeff Bezos, is considered an enlightened executive and entrepreneur. Bezos made Amazon into the little bookstore who could, defying experts who questioned if anyone would buy books on-line. We like Amazon and we invariably link the books we talk about to Amazon. But…
The POD People
I receive mailings from a Yahoo group called Publishing and Promoting. Sometimes the content is less than scintillating when an author waxes enthusiastically about baking cookies in the shape of her characters for her book signing. All right, maybe not that extreme, but it can be dry stuff. However, this week heated up about a topic that may change the way authors and ultimately readers do business.

If you've been on Amazon.com recently, you may notice some of the BUY buttons are missing. There's a reason for it. In a P&P memo, Janet Elaine Smith quoted Publishers Weekly which quoted a Wall Street Journal article about Amazon.
"Amazon has notified publishers who print books on demand that they will have to use Amazon's POD facilities if they want to sell their books directly on Amazon.com, the Wall Street Journal reported.

"'The move signals that Amazon is intent on using its position as the premier online bookseller to strengthen its presence in other phases of bookselling and manufacturing," the Journal continued. Amazon "has evolved into a fully vertical book publishing and retail operation. Most recently, Amazon acquired audiobook seller Audible Inc. Amazon also sells its own ebook reader called the Kindle.'

"'Publishers will have to use Amazon's BookSurge POD subsidiary. Among competitors are Ingram's Lightning Source and lulu.com."
Publishing & Promoting is a small, informal group, but PMA, The Independent Book Publishers Association, is not and neither is Publishers Weekly or Writers Weekly. So far, every industry article and news source I've read has either questioned the policy or condemned it.
Alison Rose Levy in Arianna's Huffington Post mentions Booksurge's reputation for higher cost and lower quality. She says, "Anyone who dreams to one day write their own book would be impacted by this change."
The Phone Call
Diane Newton passed along a note by Bill Altimari, in which he says he received an eMail for him to call Amazon's Booksurge rep, and, in what he characterized as a "slap in the face", was told that to continue business as usual, he was to commence printing with Booksurge. Furthermore, he says, Booksurge/Amazon intends to charge for the printing of the book and take 48% of the net (although some have been told 48% of the retail).
At this point, I'd say I was cautiously concerned; however, some people are panicking. Amazon is getting astonishing push-back, but I think it's too early to assume that Amazon has slipped into eBay's "We're too big to care" mold. However, we don't know exactly what's going on because, to quote Writers Weekly, "the confidentiality clause in that contract is the tightest I've ever seen. Don't expect anybody at those firms to ever talk about what they had to give Amazon to keep their BUY buttons turned on.."
Below, I've included a reference of several links, including the announcements in Publisher's Weekly, The Wall Street Journal, and The Washington Post. The Writers Weekly Clearinghouse page has a most comprehensive list of links.
Many of the questions raised in blogs and letters to editors relate to restraint of trade and antitrust concerns. If the situation grows more serious, most commentators don't see much help coming from the present Justice Department. Under this administration, virtually all Sherman antitrust investigations were halted. In 2000, the Justice Department won a major anti-trust suit against Microsoft and were considering potential perjury charges against Microsoft's new CEO, Steve Balmer. However, within days of assuming office in 2001, John Ashcroft 'forgave' Microsoft (a huge campaign contributor), flushing away all that work and tax money (and the victory). That was seen as a business signal that pretty much anything goes.
Today, you can witness the result even as Microsoft strong-arms Yahoo in an attempt to take over that company. Indeed, ComputerWorld relates Amazon's move to a Microsoft situation.
Opinions
Hill Kemp of Guardian Angel Publishing spoke with an attorney who commented:

"I definitely think Amazon's actions sound like antitrust violations. My question would be why is the justice department not on this already? Justice is so political these days, it's hard to know what they would really go after at this point. Many states have similar antitrust provisions in their business regulations, and maybe you could find an AG's office at the state level who would be willing to listen to a complaint of this nature.

"Seems to me that the folks with the ox to be gored here would be the other POD companies. They should be banging on doors at their local state house, if not financing a civil suit of their own."

Deborah Sell suggested, "Rather than limiting any responses to the Justice Department, why not include the Federal Trade Commission as well?"

Karen Syed of Echelon Press has staunchly risen to Amazon's defense: "Amazon has been great to us and I understand their logic, to some degree, for this. It is about business. They are probably sitting on a HUGE number of titles that may or may not be moving and that costs them money. … Truth is, this is a good business move for Amazon, and I would say the best way to get around it is to get an Advantage account and sell more books."

Karen touches upon another point in that some authors and small houses have expressed fear about going up against Amazon (not that I've sensed the least whiff of intimidation). I've never known writers to be particularly reticent, but the argument is that publishing is a relatively small world, and that reputations on both sides could be damaged, particularly those calling for boycott.

Canadian writer Mark O'Meara has a different fear, that the new cross-border shipping restrictions could put him out of business.
Amazon PoD Links
Announcement

Writers Weekly Warehouse

Playing Monopoly

PW on Booksurge plans

Amazon explains

Our Friend, Bill Crider

Murder by 4

PMA

Fear

Comments

American Society of Journalists and Authors

Amazon UK