A DAILY DOSE
by Deborah Elliott-Upton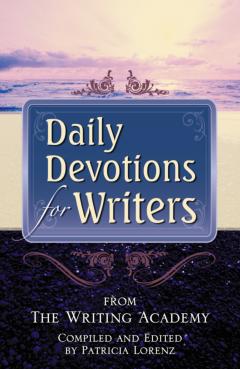 Last year I was invited to participate in a fund raiser for The Writing Academy. The book, Daily Devotions for Writers, was compiled by Patricia Lorenz and edited by her and my good friend, Melanie Rigney, and is so hot off the presses it's sizzling. Between the covers live 366 true stories about writing by writers. I say they livebecause these stories are certainly not at rest. While this book is geared toward writers, it most certainly is a good read for those needing a bit of support now and then, too. Which basically, is all of us at one time or another.
Authors across the country share their own Life Lessons in hopes of lending a helping hand to others traveling the same road. It's always nice to know sometimes those pitfalls can be mere stumbling blocks we can find our way around and possibly side-step when we're forewarned. Because others have gone before us, there most certainly is a way to maneuver the ruts as well as not worrying so much about the towering cliffs above us still to climb after we get past one more hurdle.
Okay, I'll stop with the clichés.
My personal story appears on the October 21 page and deals with how when faced with disappointment of rejection, we choose whether to accept or rise above it.
No matter how hard we try to hide or outwit it, many times rejection finds us in life, whether it is of a job we thought we'd done well, a competition we'd expected to win or from a relationship once flowering, now withering away. A friend of mine says simply, "We can either get bitter or get better. Our choice." I'm not sure where she heard this sage advice, but I agree with the concept.
The book isn't all melancholy renditions though. One writer tells of finding herself with a new writing space after her grandchildren moved out. Writing among neon pink and green walls obviously inspire her. Who am I to say it wouldn't me, too — although I have opted for a pale terracotta color for my office décor. The devotionals content includes fear of failure, writing vs. watching an hour of a TV program and encouragement to pick ourselves up and dust ourselves off only one who has been in those muddy trenches can share. Okay, so I fell into the cliché trap again.
If you'd like to purchase an autographed-by-me copy of Daily Devotions for Writers, send an e-mail with Daily Devotions in the subject line to deborah@expressedimagination.com and I will e-mail instructions on how to obtain a copy. Feel free to purchase as many as you like. My pen is in hand at a moments notice for autographing.
Personally, I find a daily dose of encouragement especially welcome just before turning on the computer in the mornings. It goes well with that first steaming cup of coffee, but then, what doesn't?