FEELIN' WORDY
by Steve Steinbock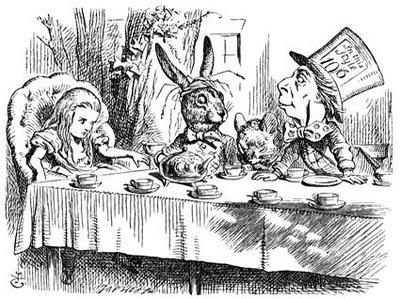 I'm in the wordy spirit. In last week's column I wrote about the meanings and etymologies of unkempt, nonplussed, and egg on. There was a lot of discussion in the comments about how nonplussed has flipped its egg, going sunny-side up when its intended meaning is over hard. That's a funny thing about words. They don't always say what they mean.
"I'm glad they've begun asking riddles. –I believe I can guess that," she added aloud.

"Do you mean that you think you can find out the answer to it?" said the March Hare.

"Exactly so," said Alice.

"Then you should say what you mean," the March Hare went on.

"I do," Alice hastily replied; "at least – at least I mean what I say – that's the same thing, you know."

"Not the same thing a bit!" said the Hatter. "You might just as well say that 'I see what I eat' is the same thing as 'I eat what I see'!"

"You might just as well say," added the March Hare, "that 'I like what I get' is the same thing as 'I get what I like'!"

"You might just as well say," added the Dormouse, who seemed to be talking in his sleep, "that 'I breathe when I sleep' is the same thing as 'I sleep when I breathe'!"

"It is the same thing with you," said the Hatter. . .
On Tuesday, my friend and abettor (not to be confused with abattoir) Rob Lopresti told us how a vocabulary explanation from a college professor led him to dub a street musician a "Shanty Drummer," which in turn inspired the beautiful story in this month's EQMM.
That same issue of EQMM contains a story by frequent Criminal Brief visitor, mystery maven, reviewer extraordinaire (and like Rob, an academic librarian), Jon Breen. In that story, the characters of Detectives Foley and Berwanger play with the word disgruntled.
"You look disgruntled," Berwanger said.

"Yeah, I am," the kid said.

"Well, we'll do our best to gruntle you."

"Shouldn't that be regruntle him?" Detective Foley suggested.
Disgruntled is a pretty strange word, which doesn't seem to have changed its colors, but doesn't make a lot of sense when you think about its etymology. The root is grunt. So a person who is gruntled would have a tendency to grunt. Wouldn't you think that to be disgruntled would be a good thing?
I'll tell you an adverb that has me disgruntled (in the sense that it makes me grunt): gingerly. What the hell does that mean, anyway? (he asked, gingerly). If ever there was an empty, useless word, gingerly is it. When I hear the word ginger, I imagine red-headed orphans, the movie star from "Gilligan's Island," and the pickled sushi accompaniment. Turns out the word comes from a Latin root meaning "well-born," and is related to the modern adjective, gentle.
I'll be back in a week with more words to dismember and disremember.