TROUBLE IS MY BUSINESS
by Steve Steinbock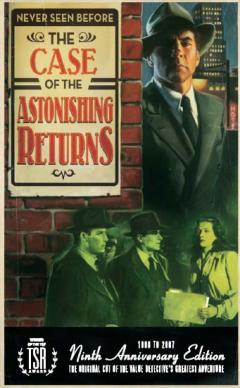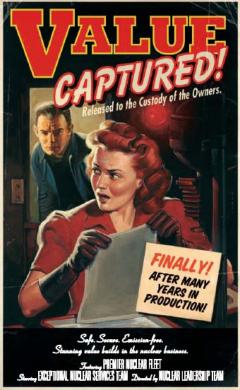 Each year, publicly held companies distribute booklets to their stockholders. These booklets, cleverly called Annual Reports, contain financial statements and analyses, letters from the CEO, and restatements of the company's philosophy and scope. Not, in my view, particularly interesting reading.
One exception was Marvel, the comic book publisher, which did their Annual Reports in comic book format, that is, until a pair of parasites named Icahn and Perelman sucked all the blood out of the company, leading it to bankruptcy in 1996. (The company was resurrected, largely through the efforts of Avi Arad. CBS News correspondent Dan Raviv wrote a good book on the subject).
Another exception, which just came to my attention about ten days ago, is Entergy Corporation, which produces and distributes electric power. The content is still pretty dry, but this year Entergy used the styles of Pulp magazines and Film Noir posters to decorate their Annual Report. Not much else to say about it, but I found it pretty clever for something that is normally a pencil-pushing nightmare.
Watching the Detectives
I can be a little behind the times when it comes to popular culture. Don't get me wrong, I love popular culture. I live popular culture. But it's usually last year's – or last decade's – popular culture that I'm hip to.
Did I just use the word "hip?"
Anyhow, this past week I've made two new best friends: Jonathan Creek and Doctor Tony Hill. I haven't actually met either of these men. In fact, to the best of my knowledge, neither are real people. Both are sleuths on British television programs that have been on the air longer than I wish to admit.
I was introduced to Jonathan Creek two weeks ago when fellow Criminal Briefer Rob Lopresti, responding to my column about magicians in mysteries, mentioned the program. The BBC program features a quirky loner (the titular Jonathan Creek) who designs and builds stage illusions for a renowned magician. In the first episode, Creek teams up with investigative journalist Maddie Magellen to prove the innocence of a burglar accused of murdering a famous artist. Creek and Magellen are about as unlikely a team as you'll find. Creek (played by comedian Alan Davies) is quiet, cautious, reserved, and gently thoughtful with his baby face and long curly hair. Magellen (played by Caroline Quentin) is brash, loud, and only marginally honest.
The program premiered in May, 1997, and ran for four seasons, with Caroline Quentin leaving the series after 2000. What makes the show a gem, in addition to the quirky characters and their comedic interplay, is that every episode involves an impossible crime (mostly locked-room murders, but occasionally an apparent supernatural crime) that Creek solves using his profound knowledge of illusions and misdirection.
My other new best friend is Doctor Tony Hill (not to be confused with my friend and colleague Doctor Tony Harris, who has been haunting this site for the past few weeks). The central character on the ITV program Wire in the Blood (Here is a link to the ITV webpage), and played by actor Robson Green, Hill is a clinical psychologist whose own grip on reality is a little shaky. Where Jonathan Creek is quirkily funny, Wire in the Blood is quirkily edgy. The laughs that I emit while watching Wire are as much a result of nerves as they are a tribute to the witty script.
Speaking of the script, Wire in the Blood is based on a series of novels by a real-life hero of mine, Val McDermid. The Scotland born McDermid is a journalist, a reviewers' reviewer, and an authors' author. Her books are intense and intelligent.
Wire in the Blood premiered in 2002, and I've only discovered it this week. Did I not say I was slow?