ELMORE AND MORE
by John M. Floyd
Several weeks ago one of my mystery-writer friends told me a new Elmore Leonard novel had been released. What was really welcome news, though, was that Dutch was planning a trip to Lemuria Bookstore here in Jackson to sign that novel. (He's been here several times before — I met him when he signed Tishomingo Blues at Lemuria in 2002.)
I was even more pleased to find that Leonard wasn't coming alone. His son Peter, Michael Connelly, and George Pelecanos would also be on hand. It would be the first time the four mystery/crime writers had ever appeared together, and the only public appearance they had scheduled. As you might already know, the elder Leonard's latest novel is Road Dogs, Connelly's is The Scarecrow, Pelecanos's is The Way Home, Peter Leonard's is Trust Me.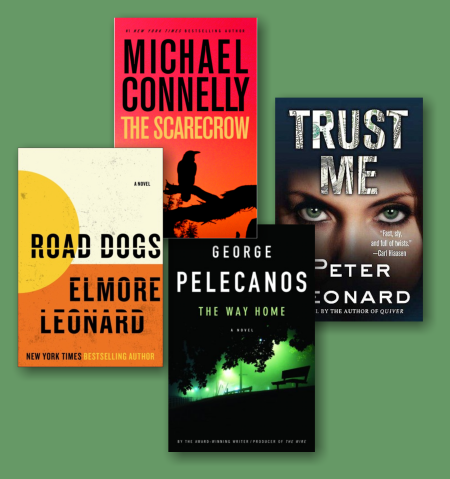 A forum for 'em
I attended that event this past week, and the "reading" afterward. And this was my kind of reading, which means that it wasn't a reading at all. (My take on that is, I've already bought the books — I don't need to listen to the authors read aloud what I'm about to read for myself. I'd rather hear them talk about writing and publishing.) The format in this case was ideal: the four authors participated in a panel discussion moderated by one of our local Public Broadcasting hosts, and discussed everything from personal background to work habits.
Although I didn't take notes (I should have, but I was too intent on hearing everything), here are some of the points I remember:
Crumbs from the roundtable
Pelecanos said he got published in a strange way. The first and only submission of his first novel's manuscript went directly to St. Martin's Press in New York without the benefit of an agent (he didn't know he needed one) — and they called him a year later and said they'd found it in the slush pile and wanted to buy it.
Peter Leonard said that when he was a boy he'd go into his dad's office and find notepads and pens and wadded-up sheets of paper scattered around a typewriter. He added that now, fifty years later, it's still the same. Elmore writes everything in longhand on yellow legal pads and then types it. He's never used a computer.
Connelly gets his ideas almost exclusively from stories told to him by others — cops, reporters, friends, etc. Peter said he gets most of his ideas from headlines or news broadcasts, and then builds on that.
Elmore Leonard received $90 for the short story "3:10 to Yuma" — two cents a word. His favorite film adaptations of his work are "Out of Sight," "Jackie Brown," "Get Shorty," "Hombre," and "Valdez is Coming." He said the second-worst film in history was the 1969 movie version of his novel The Big Bounce, and the worst was the 2004 remake.
Three of the four writers said they like to edit each day's material before proceeding with the manuscript — they don't finish an entire rough draft before going back to rewrite.
Elmore's latest, Road Dogs, brings back three of his former characters: Jack Foley from Out of Sight, Dawn Navarro from Riding the Rap, and Cundo Rey from La Brava.
Pelecanos said much of his material comes from what he's learned during community volunteer work in public schools and juvenile prisons in Washington, DC. His previous jobs range from line cook to women's shoe salesman to writer/producer for HBO's "The Wire," for which he won an Emmy.
Elmore Leonard said he sticks pretty close to his "Ten Rules of Writing," which were created sort of tongue-in-cheek for a writers' conference where he served as guest of honor. He wrote them that afternoon so he'd have something to present that night.
Connelly's never written a novel that has more than three points of view — most have only one, and are first person. Elmore said he's written only one novel in first person — Hombre — and that was from the POV of a supporting character.
All four talked about the influence other writers have had on their work. Those who were mentioned by more than one of the panelists were Hemingway, Chandler, Cormac McCarthy, and Ross Macdonald.
Elmore, on a previous trip to Jackson, stopped by and visited with the late Eudora Welty. He said she was sweeping her front porch at the time. He also told us he once phoned Dustin Hoffman to ask him to take the lead role in "Get Shorty," but Hoffman's agent discouraged him because of the title.
In The Scarecrow Michael Connelly reunites reporter Jack McEvoy and FBI agent Rachel Walling from The Poet. He said McEvoy is the most autobiographical of any of the characters in his twenty novels.
Peter Leonard said his next book, which opens with two American students in Italy stealing a taxi cab, is a result of personal experience. When he was twenty years old he and a friend got drunk and stole a taxi in Rome and spent a week in an Italian prison.
They all agreed that the one thing you must have to succeed as a writer is perseverance.
Dutch treats
When Elmore Leonard signed my book and I introduced myself he said, "I recognize your name — I've been reading your stories in AHMM."
Just kidding. He didn't really say that, though I wish he had. What I said to him was, "I know you hear this a lot, but I've read every one of your books." He grinned and replied, "I never hear it enough."