SCHOOL's OUT NEWS
by Leigh Lundin
Little newsy items are like little snacks between the big headline issues. Sometimes they provide ideas for stories… and sometimes they provide stories for articles.
Like much of the rest of the nation from Florida to Maine, kids have been graduating high school. Florida has its embarrassments and bad speeches. Thanks to freedom of the press (if not speech), some receive wider attention than principals would like.
Hernando County, Home of Machiavelli Middle School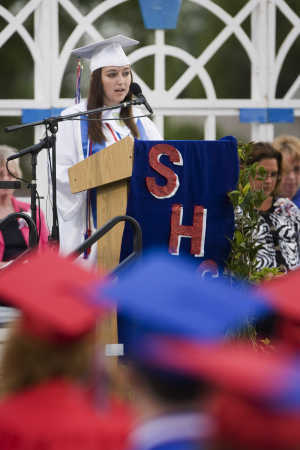 Consider these two Spring Hill participants:
Jem Lugo

Senior class president, valedictorian, yearbook editor, 3.98 GPA, accepted at Harvard, recipient of a Barnes Scholarships for young people who have overcome obstacles, excelled academically and set sizable goals.

Susan Duval

Springstead's anal high school principal, my nominee for the Joe Biden Award. (Apply 'anal' in any context you wish.)
Jem Lugo, after reviewing numerous graduation speeches, was struck by their uniformity, down to the same tired jokes. She decided to write a speech that was "real", a speech "worth hearing". Springstead's administration was "appalled"– that's the word they used. Here is the heart of her speech:
"

I'm going to remind you of some basic concepts you can actually apply to your life. Crazy, right?

First off, get money. You can't do anything without money. Do something with your life where you're able to have a steady, reliable, source of income. Gamers, I'm sorry, but farming for gold in World of Warcraft is not considered a reliable, or socially-acceptable source of income.

Second, after you have your money, be sure to pay your taxes. I hear the IRS can get pretty nasty with tax avoiders.

Also, don't get arrested. Sure, the jail lifestyle might seem like a luxury nowadays, but in 20 years, when you're going for that top-notch CEO position, that misdemeanor you got for stealing a street sign with your friends might just come back and bite you in the butt.

Moreover, take some time in your life to stand up for something. Whether it's a stance for pro-choice, religious debate, vegetarianism, or even something as simple as cleaner bathrooms, just make sure your voice is heard.

You're making this money for a reason. Use it to have some fun. Go out and party. Use all of your vacation days. Use it to travel. Explore the world. Free yourself from the monotony of the workforce. I promise you, having fun will keep you sane.

Be sure to have that one person or thing that makes you smile whenever you see it. I'm not going to put on an act and tell you you're future's going to be peachy. No, life is gonna suck sometimes. Believe me, you're gonna need that one thing in your life that can always brighten your day, whether it's a significant other, a dog, a lava lamp, or the blankie you've had since you were a baby. Hey, whatever it takes to smile.

A few other basics to remember:

Always say please and thank you; it's always appreciated.
Wash your hands when you leave the bathroom; you'd be surprised how many people don't.
Listen to your gut instinct and your conscience. When there's a choice between the little angel on one side, and the little devil on the other, please listen to the angel.
Respect your elders, because one day, you'll be old too. Plus, they might leave you something in their will.
Don't treat Spelling and Grammar check as a god. It definitely misses things.
If you ever achieve any sort of fame or acclaim in your life, don't mess it up. Think Michael Phelps and Britney Spears.
And if your mother would not approve of your actions, then you probably shouldn't be doing it.
Don't believe everything you hear or read, and definitely don't click on every link someone sends you.

We're all dying to just get this over with. So I'm going to resort to a cliché ending, and quote one of the most influential men of all time, Freddie Mercury. 'Just gotta get out, just gotta get right out of here.' Congratulations class of 2009, we did it!

"
Now readers, according to the St. Petersburg Times, Principal Susan Duval, who rejected the too-original speech, had herself been removed by a prior superintendent and reinstated by his successor, and subsequently received a $1,500 fine and letter of reprimand to stop a state inquiry after she acknowledged twice plagiarizing material as her "personal thoughts" for graduation speeches she gave in 2004 and 2005.
My suggestion: Fire Duval and hire Jem Lugo.
Graduating without Honor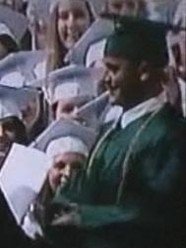 In Maine, School Superintendent Suzanne Lukas ordered Justin Denney to return to his seat and refused to give him his diploma to graduate. Apparently Lukas got her panties in a wedgie from some seniors tossing a beach ball and a couple of other boys who had to be separated. Justin Denny hadn't taken part in bad behavior. His crime was blowing a kiss to his mother.
It's not clear if Suzanne Lukas mistook Denney for someone else then refused to admit her mistake, or if she doesn't like black folks, but she refused to issue the diploma, denying Justin, his parents, and grandparents the pleasure of seeing their boy graduate. You can see the bad boy's videos here and here.
My suggestion: Fire Lukas and hire Justin Denney.
You'll Grow Calluses Doing That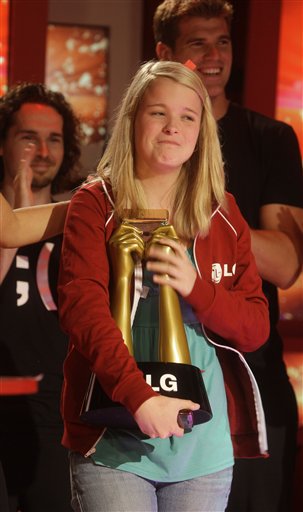 15-year-old Iowa freshman Kate Moore "normally" texts 450 or so messages in a school day, 14,000 some per month. I'm not sure what's normal about that, but it's her word, not mine.
In New York City, she parlayed her fleet fingering into winning the LG U.S. National Texting Championship, beating out a quarter of a million other contestants, including stepsisters and 2nd and 3rd place winners, Morgan Dynda, 14, and Erin Fink, 15, both from Pooler, Georgia.
Her family welcomes the $50,000 prize which can help offset their daughter's phone bill, which must be, like what, $168,000?
My suggestion: Investigate texting as a means of teen sexual abstinence.
In other news…
Who's the Hero?
Here's an electrifying story from the UK. Lightning struck 14-year-olds Sophie Frost and her boyfriend, Mason Billington, knocking them out cold and damaging their vision. Oddly, London's Daily Mail headlines Apple's wonderful but inanimate iPod as the hero of the story, but I, along with Sophie's mother, credit Mason.
Mason regained consciousness first. Injured and with damaged vision, he carried the still unconscious Sophie to a road, where he flagged down a passing motorist to take them to the hospital. Fortunately, both are expected to make a full recovery. The photo of Sophie's clothing is amazing.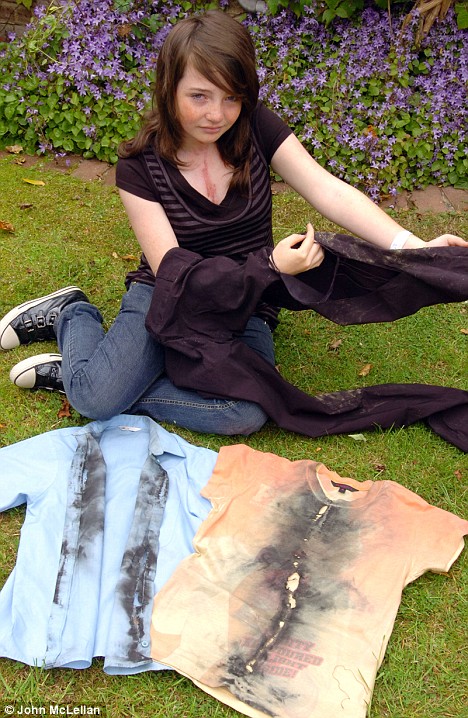 Have a wonderful week and stay out of the news.