BATHS OF DIOCLETIAN
by Robert Lopresti
An archaeology student I know is going off to Rome this summer. I urged her to go to one of my favorite museums, the Baths of Diocletian. What draws me to it is not that I am such a fan of baths (I generally prefer showers).
Most of the museums we encountered in the eternal city were exactly what you expect to find in a museum of the Roman empire: beautiful monuments, sculptures, busts, faded paintings, etc. Not the Baths of Diocletian.
What the museum authorities chose to do — and I think this is brilliant — was put all the epigraphy in one place. Epigraphy: ancient writing.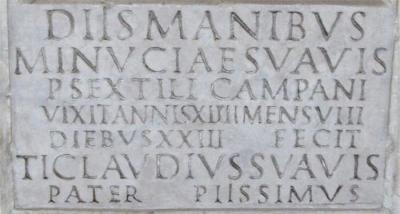 All those monuments and busts and so on are generally created by the rich and illustrious, say the five percent of the population that collects the taxes. The ninety-five percent that paid the taxes couldn't afford to have statues thrown up to themselves.
Ah, but the small businesswoman could afford to have her name carved onto a piece of stone to hang in front of her shop. And many a Roman soldier got his name carved onto a tombstone. One scrap of stone we saw there even records the name of a man who is listed as being the slave of another slave — a concept that those of us used to the Uncle Tom's Cabin style of slavery have a hard time wrapping our brains around.
That's what you find in this museum: little scraps of the lives of average people of the Roman empire. And it fascinates, long after idealized portraits of emperors begin to bore you.
A letter to heaven
One room is filled with what I would call votive offerings. These were mostly small objects made to request favors from various gods — or thank them for prayers already answered. These were not beautiful, but they were absolutely fascinating.
Some were found in the ruins of temples, while others were found in the Tiber. (The signage in English was pretty good in this museum, but I don't know whether these things were washed into the river over time, or deliberately thrown into the river as part of a ritual.)
One that stuck in my head was a little plaque from a gentleman thanking the goddess of childbirth "who proved her worth during the abstinence of Jupiter." This refers to the period after childbirth in which the parents are supposed to refrain from sex. As a reader of fiction don't you long to know the rest of that story? Presumably mother and/or child had some sort of crisis and recovered and the father/husband, feeling the sort of helpless gratitude that accompanies such a moment, paid it back as best he could.
Many of these votive offerings were in the shapes of the body parts being prayed about – including some parts I never expected to see commemorat- ed in religious art.
Vote for me
But my favorite exhibit consisted of two small clay cups, or shallow bowls, each about the right size to fit in the palm of your hand. Do you want to feel a direct connection to the ancient Roman republic? Take a look at these little bowls.
If you were a Roman citizen in, say, 60 B.C., and you attended a public event, someone might have handed you one of these little clay bowls with some free food in it. And when you finished the food you would have found a name carved in the bottom: in the case of the two in the museum they were Cato and Catalina.
These gentlemen were candidates for office and the bowls were election freebies; the equivalent of our buttons and bumper stickers. Cato won his election. Catalina, rather famously, did not, and led a revolt. Steven Saylor wrote a very good mystery novel set in those events: Catalina's Riddle.
On stone or on paper or on the Web
So what does all this have to do with mystery short fiction?
This museum is a monument to what General Semantics calls time binding, the uniquely human ability to pass information on for unlimited periods. We can write things down and people who were not born when we did it, who never lived in our country, and never even spoke our language, can read what we thought, said and did.
And every thing we write down, every store sign, every shopping list, every blog entry, and yes, even each humble little crime story, is a piece of the record with the potential of telling some future scholar, or casual reader, something about the people who struggled along in the impossibly distant twenty-first century.
How's that for a responsibility? Makes me want to run this through Spellcheck one more time.