SUMMER READING
by Deborah Elliott-Upton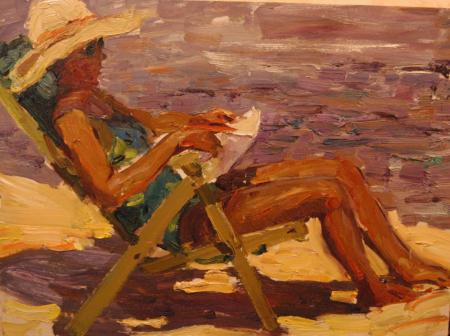 The temperature gauge where I live proves even more than the calendar pages that summer has officially arrived. My family is enjoying a little downtime following the wedding. For the newlyweds, this meant a trip to Costa Rica. For my husband, it meant a weekend with the Cowboy Action Shooters and for me, a wonderful excursion in the book store where I plucked two novels written by writers I'd heard about from reliable friends. I think word-of-mouth is always the most reliable advertising.
Usually, I read mostly short stories and personally recommend two (that I've read so far) from the July/August issue of Alfred Hitchcock's Mystery Magazine. I don't think you'll be surprised to find these authors included on the Criminal Brief masthead. John M. Floyd's "The Powder Room" and Robert Lopresti's "Shanks on Misdirection" are superb – the kind of stories that make you want to read more about the characters. (Also, included is a photo of our leader a.k.a. James Lincoln Warren looking a bit like Phil Donohue.)
My FWR's (Friends Who Read) have suggested several novels and I am now getting to the stack that's been collecting on my nightstand and also reading a manuscript one of my WFWR (Writer Friends Who Read) gave me to critique and so far this is one great coming-of-age story. I can't wait until this one is published and I can provide more details.
The first book I chose to read was Diane Chamberlain's Secrets She Left Behind. I'll admit I didn't completely get the "why the culprit done it" until the end, but I discovered the "whodunnit" fairly soon into the story. This didn't keep me from reading to find out why.
I enjoyed the way Chamberlain switched points of view with every chapter. This is only done with a deft hand. Many writers attempting this feat make many readers groan. (One who also did this well was Terry Mcmillan in Waiting to Exhale. The best – in my humble opinion – is still Stephen King's The Stand
Chamberlain's story swept me away from the sweltering heat of the Texas plains and onto the sandy beaches of Topsail Island on the east coast. I wasn't just introduced to characters through a plotline, but met people, who seemed as real as if I were sneaking into someone's diary. Turning the pages, I empathized with their heartaches. Only a great writer makes this magic happen. Enjoy it when you find it; it's rare.
The book was 490 pages. It stopped just at the right time for the story to end, and yet, much too quickly.
Which is exactly what a good summer read should do.
When I closed the book, I poured myself a glass of Giddyup1 and thought about why the characters had been so compelling. The short chapters reminded me of the tight word count necessary to a short story. No time for wasted words, extraneous phrasing and meandering.
An editor once said I tended to meander with my characters. At the time, I believed I was only adding bits of characterization to the narrative. Since then, I've realized a reader doesn't need to know complete description and full names of every character, even if theirs are interesting to the writer. Maybe especially if they are interesting to the writer. It's easy to get caught up with how witty and clever we writers think we are sometimes. Thank you, Mr. Mystery Editor.
It's time to close out the computer, hit the pool and then dive into a new novel. I think this is going to be a sensational summer for reading. So, what are you reading now? I may need to add to my collection on the nightstand.
Notes: