THE MORE THINGS CHANGE
by Steve Steinbock
Last week I finished one anthology of time travel short stories, and am now midway through a second. I'll discuss the two anthologies in more detail once I've finished both. Needless to day, I've had time travel on the mind.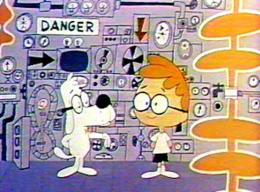 I've always loved the science fiction subgenre of time travel. I recall being eight or nine years old, coming out of a Saturday matinee and dropping into the bookstore next to the theatre. My mother was never on time to pick me up, so I had plenty of browsing time. I'm not sure which books I bought that first time I found an extra dollar in my pocket. (Back then, you could buy two paperbacks for a dollar). It may have been Mary Shelley's Frankenstein or H.G. Wells' The Invisible Man. But I think it was The Time Machine. I'm not sure I'd seen the Rod Taylor movie yet. But I knew what time travel was. I knew Mr. Peabody and his Way Back Machine from the Rocky and Bullwinkle Show, and I'd seen Bing Crosby play a Connecticut Yankee who joined King Arthur's court (although I hadn't yet read Sam Clemens's novel).
In 1966, when I was eight years old, two of my favorite television programs were the comedy "It's About Time" (in which a pair of astronauts accidentally end up in prehistoric times, and befriend cavewoman Imogene Coca), and the drama "Time Tunnel," in which two scientists (one played by singer James Darren) become lost in time, and even Lee Meriwether is unable to bring them home.
Last week, I experienced a time travel experience of my own. I set my alarm before climbing into bed to read a story from one of these time travel anthologies. It was around 11:30 pm when I began. After some time passed, I glanced at the clock and was surprised to find that it was already after 1:00 am. I quickly closed my book and turned out the light. The next thing I remember was waking to my alarm at 6:30 am. I climbed out of bed and noticed that no one else in the house was up. I walked across the room, feeling a little off balance. I turned, and my eyes caught the greenish digits on the VCR. It said 5:32.
Damn. Somehow I'd gone back in time an hour!
I can hear the skeptics out there saying, No, you fool. You just set the alarm wrong! It's true. The night before, when setting my alarm, my finger must have advanced the time one hour, causing me to think that I'd read for over an hour and a half, when it was really only thirty-four minutes. But for a few minutes, like Si Morley in Jack Finney's Time And Again, in a very real cognitive sense, I'd traveled in time.
Back in the days when "It's About Time" and "The Time Tunnel" were in their first run, I loved my elementary school library. The librarian read to us from A Wrinkle in Time as well as some time travel novel involving a thyme garden. While I perused Alfred Hitchcock's Monster Museum and Clayton Rawson's Golden Book of Magic, my friends were heavy into hot rod magazines. One of the more popular books in our school library was a guide to using fiberglass and bondo to convert your 1940s or 50s sedan into a cool modified car. I'm not sure why our library had this book. None of my classmates owned old Buicks. But it didn't really matter.
As I watch my own two sons, I'm struck with a time traveler's sense of déjà vu. Sam, who is now eleven, has developed a fascination with old Ford Mustangs. As he sketches them in great detail, I'm reminded of my own fifth grade classmates and their hot rod designs.
Nate, meanwhile, has the innards of three computers spread out on the basement floor, and has been using power tools, sandpaper, primer, and paint to redesign computer cases. Nate's not quite old enough to drive a car, but he drives computers pretty hard. Just as I, as a teenager, wanted to fine-tune my car with the best carburetor, exhaust system, and cylinder block I could afford, Nate is on a constant drive to soup up his computer, making it as quiet, as cool, and as fast as he can.
The more things change, the more they stay the same.