BAD, BAD CRIMINALS, part II– CHINA
by Leigh Lundin
This week we bring you criminal briefs from China and Singapore.
Sichuan Province. Sichuan cuisine and folklore came together recently. Apparently a few in southern China believe the cure for brain problems is, well, more brains. Human brains.
A mother with a mentally ill 25-year-old daughter decided to try out the recuperative recipe. Needing ingredients,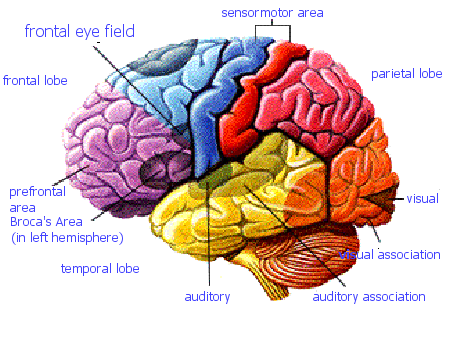 Lin Zongxiu hired a specialist to grocery shop for her. The Chinese Igor bopped a 76-year-old man on the head and minutes later traipsed back to his employer with a beer cooler containing the succulent cerebellum.
Mrs. Zongxiu boiled her famous pot-sticker soup for her daughter who, oddly enough, seemed to considerably worsen after she learned the secret recipe.
Police being what they are, didn't like the idea of a headless corpse lying around. Following a trail of eleven herbs and spices, they discovered Zongxiu's family and their loyal employee who will do time, probably not standing on their head.
Hong Kong, China. Menstrual blood is thought to have special powers. In North America, it makes men run screaming. In some southwestern Asian countries, it can be an ingredient in folk magic.
In another folktale recipe, 26-year-old Indra Ningsih added her own blood to her boss' soup in the belief it could improve relations with her employer.
Her boss, Madame Mok, discovered the non-vegan ingredient in the vegetable soup and raised bloody hell, charging her maid with intent to poison. My guess is the formula didn't work.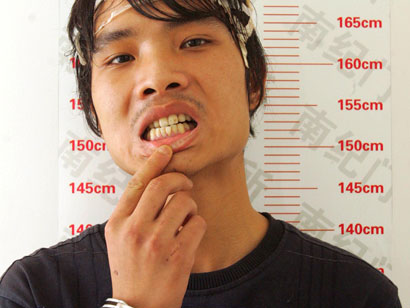 Nanjimen, Chongqing, China.  Police were puzzled by a series of burglaries in which steel bars were bitten through. During interrogations, a man mentioned his roommate, a 23-year old named Xiong, was able to crack walnuts with his teeth.
It turns out Xiong has an ability to gnaw and bite through steel, failing only once, he reported, to bite through exceptionally thick bars.
They have problems building a decent an electric motor, but oh, those teeth! No report on how thick the jail's bars are. Richard Kiel, Take Notes.
HeNan, China. Cheeks are another matter. Teacher Guo became angry with a ten-year-old boy. She grabbed his cheaks, yanking him off the floor… and yanking the very cheeks off his face.
The teacher packed the cheeky boy off home with his cheeks. Fifty-two stitches later, he's going to be okay, but police are investigating.
My old high school principal wants to make the teacher a job offer.
Jeixi and Puning, Jieyang, Canton, China. Cremation is extremely rare in China due to traditions of religion and respect. However, overpopulation and acute land shortages have led Canton to mandate cremation as a means to saving valuable land.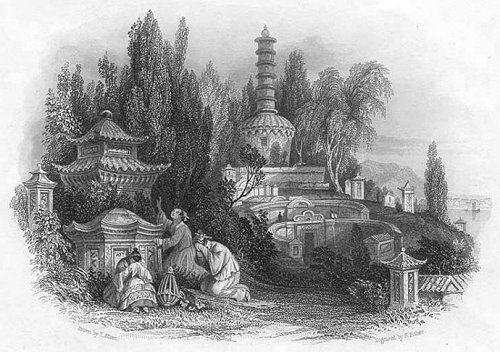 That left relatives in a quandary who wished to bury their family members traditionally in violation of the law.
Step forward criminal entrepreneurs. Cantonese organized crime offers a service supplying a corpse for state officials to cremate, while family members retain their loved one for private burial. Unfortunately, the bodies criminal gangs provide come from the living. As many as 400 people– mostly elderly– have disappeared.
Who among us hasn't faced that dilemma, toasting Pop or bumping off Uncle Louie?
Police are investigating and arrests have been made. At least one trial has been held, but in camera, so the verdict remains unknown.
The Gumshoe and the Private Dick
Singapore. You know when you're, um, like driving and your girlfriend, ah, lies down with her head in your lap, and she's, er, kind of entertaining herself, sort of? Well, in Singapore, things went horribly wrong.
There, two lovers met in their car. The lovely wife leaned down to mouth the mango, as the Kama Sutra says, auparishtaka. Then whoops! Karma struck their car!
A van backed into their automobile. As we learned above, amazingly powerful teeth are not unknown in South Asia, and, well… She severed him, or at least part of him. Things grew more complicated.
The woman was married but not to her cringing car companion. Her suspicious husband had hired a gumshoe to follow his wife. The detective saw the crash, heard a scream, and raced to the rescue, saving the husband's rival– or most of him.
Singapore news reports the unfaithful wife carried the private dick to the hospital.
Love bites, don't it?
---
Disclaimer
Remember: Crimes, misstatements, misquotes, misdeeds, and really stupid stuff are alleged or opinions until proven otherwise. Besides, if you sue us, we're broke.