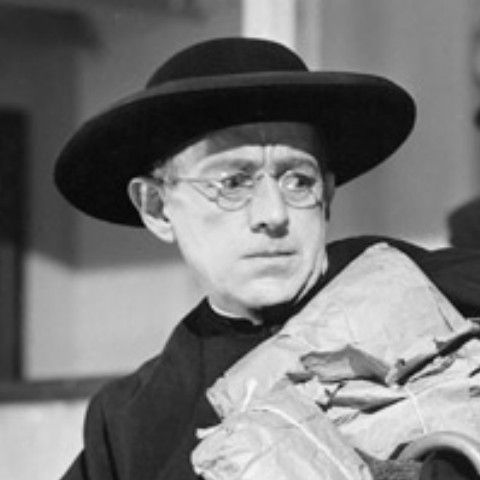 STEAL this BURGLAR
by Steve Steinbock
For the past two weeks I've been trying to get to the point, but my meandering brain keeps getting in the way. So before I digress again, here's my thesis: G.K. Chesterton's invention of "Father Brown" (1910) marked a watershed moment in detective fiction. By pitting the modest, diminutive priest against a gentleman thief, Chesterton created a confrontation that changed the genre.
For the past two weeks I've used this forum to write about criminal
protagonists in crime fiction. There was Westlake's "John Dortmunder" and Block's "Bernie Rhodenbarr." There was Fantomas, Arsène Lupin, and the Scarlet Pimpernel. There was Zorro and Robin Hood and countless others. Their stories ranged from political commentary to twist-of-plot comedy. A.J. Raffles – the cricket playing crook created by Willie Horning – is said to have been an embarrassment to Arthur Conan Doyle (to whom the first anthology was dedicated).
There were quirky detectives prior to Father Brown. Baroness Orczy, creator of gentleman outlaw The Scarlet Pimpernel was also responsible for "The Old Man in the Corner," an obsessive-compulsive, possibly autistic old man who performs his armchair detections while knotting string in a corner seat of a tea shop. Emma Orczy also wrote a series of stories about "Lady Molly of Scotland Yard," one of the earliest popular female detectives.
Another quirky detective, and one of my personal favorites, is Professor Augustus Van Dusen, known as "The Thinking Machine." The creation of American writer Jacques Futrelle, who perished aboard the Titanic, The Thinking Machine first appeared in the 1905 story, "The Problem of Cell 13."
Then there's Father Brown. When we begin reading the very first Father Brown story, "The Blue Cross"
(1910), the story appears to be in the style of Leblanc's stories. The protagonist, it seems, is a jewel thief named Flambeau, taken straight from the mold of Arsène Lupin. Flambeau is a brilliant master of disguise, ever able to escape the clutches of the police as he uses style and wit to fill his pockets. Along comes a short, stumpy priest, performing a series of bizarre pranks, each one foiling the crimes of Flambeau.
The story is funny and brilliant. And as I suggested above, by having a clever, quirky, and moral hero defeating a gentleman thief – something the police have been unable to do – Chesterton guided the genre into the modern era.
In 1954 there was a wonderful film adaptation of "The Blue Cross" called "Father Brown" in the UK and "The Detective" in the US. I don't know if it's available on DVD, but it's worth seeing. Alec Guinness stars as Father Brown, and Peter Finch plays Flambeau.  Guinness doesn't look anything like the way I imagine Father Brown, but he is as treat to behold. (I can't speak for the television adaptation of Father Brown, as I haven't seen it).
As an interesting footnote, in his memoirs, Sir Alec Guinness credited his role in "Father Brown" for a turning point in his own life: his own conversion to Catholicism.
Crime doesn't pay. See you in seven.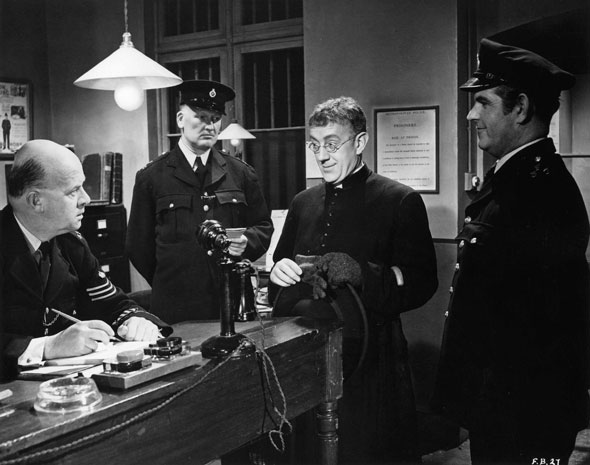 ---