DON'T READ PAGE 80
by John M. Floyd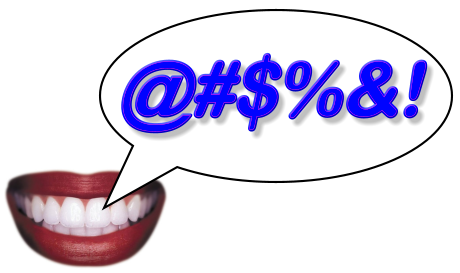 I'd like to open with a question (actually, several questions). Do you agree with the use of profanity in short stories and novels? Do you object to it? Do you find it distracting? Do you think it's sometimes necessary, depending on the scene or situation? Does it bother you only if it's excessive?
Don't get me wrong, I'm not on a crusade here. I've often mentioned how much I enjoy the work of Stephen King, Elmore Leonard, and others who pull no punches when it comes to using rough language in novels and stories. This applies to the screen as well — I love movies like "Pulp Fiction," "Reservoir Dogs," and "The Departed." (If my grandmother were still alive, I'm pretty sure the language used in any one episode of the HBO series "Deadwood" — another of my favorites — would do her in.)
I also believe, though, that those same books and films would have been effective even without rampant foul language, and I admit I try to avoid using it in my own stories. I just honestly don't think it's needed. I know, I know, I've heard all the arguments in favor of it: If you're writing about prison inmates or combat troops or members of a street gang, you want to be realistic, and the dialogue should ring true. I understand that, at least to some degree. But my take on it is, intelligent readers already know the way these people talk. Just as I, as a writer, have never felt the need to describe in infinite detail the appearance of my characters, I also don't feel I need to provide the reader with every single profanity my characters might use. I realize that when my bank robber sprints into the street with the loot in one hand and his gun in the other and finds the getaway car gone, he won't say, "Well, darn" — in fact I have a pretty good idea what he would say. (They're probably the same words I'd use myself, if that happened to me.) The thing is, the reader knows that too. I don't think you have to spell it out.
More and more, I have come to agree with Jerry Seinfeld, who once said profanity is sometimes a crutch used by lazy writers, and that if your work is good enough you don't need it. To my knowledge, John Grisham has never used strong language in his novels (I've read them all), and whatever you might think of his level of talent, no one can deny his level of success. The same is true of Dick Francis, Tony Hillerman, and others. And we're not talking about cheerful, lighthearted subject matter here — many of Grisham's characters are the vilest of the vile. (Notice that I didn't actually say that many of his characters are lawyers, so if you thought that, blame yourself and not me.)
One other point. I was a little concerned, when my first book of short fiction was accepted for publication, that the publisher would want me to spice up the language a bit — after all, these are stories about crime and deception and mayhem. Instead, he agreed to keep the content at least somewhat family-friendly, and since that seemed to work, we followed the same plan with the second book.
I should mention, however, that the reason wasn't that we were trying to be pious or noble. The reason was that he (and I too) wanted the books to appeal to the widest possible range of readers. I'd like my stories to be enjoyable to everyone from pulpwood haulers to investment bankers, and when seventy-year-old Bessie Lou Sweet buys one of my books and reads it and tells the members of her sewing circle or Bible-study group about it, I'd like for them to want to buy and read it too.
I should remind you here that I'm referring mostly to offensive language. I'm not quite as picky about other controversial subjects. My stories don't feature a lot of guts and gore or steamy sex, but since they are mystery/crime/suspense fiction they are sometimes violent, and I don't hesitate to poison or stab or suffocate folks occasionally. Is it wrong, or at least inconsistent, that Sister Mary Agnes — who would never utter an obscene word or think lewd thoughts about Father O'Malley — would, if she had to, skewer an attacker with a pitchfork? Maybe so. Maybe my values are a little warped. To each his own.
A few years ago I published a poem in Byline Magazine called "Fair Warning." If you have ever written something a bit off-color, you might be able to relate to this:
When Katie's first novel was done,
She sent it to her Grandma Munn;
"Enjoy it," said Katie,
"But don't read page 80,
130, or 251."