OXFORD ENGLISH DICTIONARY ON CD-ROM, v.4.0
by James Lincoln Warren
In "A Scandal in Bohemia", Sherlock Holmes informs Watson that he would be "lost without his Boswell." For my part, I would be lost without my dictionaries, thesauri, and style manuals. The Gentle Reader will appreciate that I have a particular affection for lexical software, since it saves me so much time when I'm pecking away at my computer's keyboard. I've got tons of these applications, but the two I use most frequently are the Oxford English Dictionary on CD-ROM (actually installed on my hard drive) and the New Oxford Thesaurus of English.
The CD-ROM version of the OED has just gotten a major upgrade to version 4.0, up nine-tenths from v.3.1. Because I own the previous version I was able to purchase the upgrade for a virtual song, by which I mean a mere $79.95 instead of the full version's sticker price of $295.00. All right, not exactly a song, but still: when you consider that the 20-volume print version costs $6,295.00 (even the Compact Edition, i.e., the one requiring the use of a magnifying glass, will put you out a not-insignificant $399.95), well, I call that a bargain. Especially since the print version won't even pop up on my monitor on demand.
Anyway, it was delivered in the mail on Friday. I had been waiting for it with the impatience of a puppy at chow time and expected it to be delivered while I was away in Africa. But it finally arrived and I was thrilled and halted everything until it was installed on my machine.
So what did I get for my 80 bucks?
The folks at OUP inform me that the newest version has these new features:
· Now compatible for Mac users as well as PC users
· Flash-base
· Smoother and faster performance providing instantaneous search results
· New word-wheel which supports incremental letter-by-letter browsing
· 7,000 new words and meanings
While I'm delighted for all of my Mac-user friends (hi, Leigh!), the first improvement wasn't much of a selling point for me. The second improvement puzzles me a little — Flash's big selling point is that it can be used for animation with very efficient code. What's the advantage in basing a dictionary on it?
They mention better performance, which for some reason is listed as a separate improvement, but let's not be picky. It's true — the advanced search function is much, much quicker than it was, but on the other hand, the application itself takes a lot longer to load.
The fun begins with the fourth improvement, the so-called "word-wheel". You won't find the expression "word-wheel" anywhere in v.4.0's Help function. What I think they mean is the new search window in the word listing. Since I'm sure that last sentence made no sense at all, allow me to explain. Here's a screenshot of v.3.1: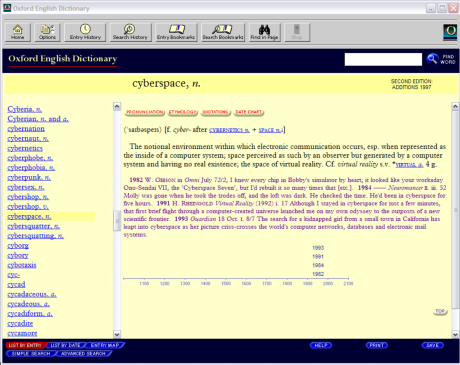 See the list on the left? It shows an alphabetical listing of main entries in the dictionary. Now here's a screenshot of v.4.0: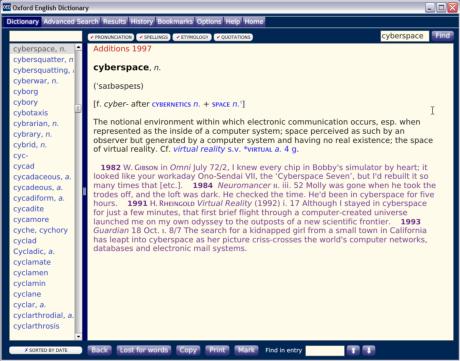 You'll notice a few cosmetic changes immediately: they've switched fonts from the elegant serifed font Plantin to Arial (which is generally easier to read on computer screens), and changed the color scheme. The timeline illustration, which was superfluous in the first place, has been deleted. Most of the buttons have been rearranged. And above that word list, you'll notice a little text input box that wasn't there before. This is the word-wheel feature, at least I'm pretty sure this is it. If you type in there instead of in the regular look-up box on the right, it will automatically scroll to the first word containing the letters you typed in, e.g., type in "ceb" and the list begins with "cebacic", a variant spelling of "sebacic" (sebacic acid: "an acid obtained by the distillation of oleic acid"), but if you type in "cei" you get taken to "ceiba" ("The God-tree, Silk Cotton-tree of the W. Indies, Eriodendron anfractuosum (Bombax Ceiba)"). Cool, huh?
They've also added another text input box on the lower right, which will search only within the entry being displayed — let's say you're displaying "bone" and you want to find out if it is ever combined with "crush". Type in the latter and the display will scroll down to definition 16, where "-crushing" is listed as an extension. You could do this in v.3.1, too, but you had to navigate away from the main screen to do it.
Then there's them new 7000 words, not available in any print addition. Considering I paid $79.95 for them, that's a little over a penny a word, well below current magazine rates but slightly more than I got paid for my first professional sale. On the other hand, there are more than half a million entries in the OED, so 7000 more is only an increment of .14 per cent. I really wonder if I'll ever even find any of those new 7000 words. (I can, of course, if I really want to — both versions allow you to list words by date of coinage, although there's nothing coined after 2004 in v.4.0, and nothing after 1999 in v.3.1 — one example of a word included in the former, but not found in the latter, is "bling", a word which I once used in a story.)
I guess the main new thing is that the user interface is now simpler and easier to use while retaining all the functionality of the previous version. So was a new interface worth 80 bucks? Probably not. The old interface wasn't that bad, although I really like the new "Back" button. Do I regret coughing up the four score simoleons (which the OED advises is American slang for "dollar" and dates from 1896)?
Are you kidding?
I have a new toy.
But for Christmas, I want a book. The two volume Historical Thesaurus of the Oxford English Dictionary is due out in September. It's only $395.00.
That's tax deductible, right?