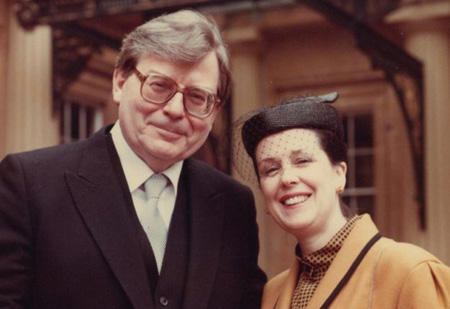 YOUthanasia
by Leigh Lundin
Two and a half weeks ago, famed British conductor Sir Edward Downes and his wife Joan died together at a suicide clinic outside Zürich "under circumstances of their own choosing." Sir Edward was not terminally ill, but his wife was diagnosed with rapidly developing cancer. Together, they decided they did not want to live without each other.
Much of the reporting has been dry, but London's Evening Standard published powerful articles (here, here, and here) about the couple's death. It's very nearly a love story, a Romeo and Juliet of the aged.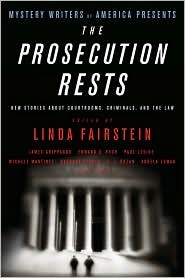 As readers know, the MWA anthology The Prosecution Rests contains a story about euthanasia, my own 'Quality of Mercy'. The story explores the morality of packaged death but doesn't express a conclusion, letting readers draw their own opinions.
During the past year, I talked with my friend Dick Stodghill, who has a certain vision about the right to die, the right to choose the time, place, and circumstances of one's death. Dick is clear: No one should be able to tell another how to control their life– or their death.
I have sharp ideas about assisted suicide but, unusual for me, I don't vocalize much because I have more questions than answers. Unlike politics, crimes, and other human missteps, death is irreversible. Once it's done, it can't be taken back. The laws and people involved must be perfect, and we live in a far-from-perfect world.
I worry about government involvement, particularly a Brave New World society that might sweep away the infirm, the incontinent, and the inconvenient. I am concerned about impatient or even greedy relatives who might want to hurry the process along. I speculate darkly about the motives of some who take part in the act of rushing others over the threshold.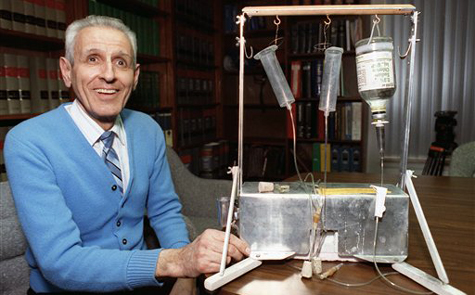 In particular, Jack Kevorkian– Doctor Death– spooked shivers down my spine. He struck me as a bit too eager, too gleeful: grubbing for publicity, running for office, clowning in court in a powdered wig. At least some of his patients, according to reports, were not terminal. I believe his first 'patient' was a woman who simply feared she might have Alzheimer's disease.
Asking Dr. Jack for assistance became tantamount to asking Bernie Madoff to help you invest. I don't see a lot of difference between Kevorkian and his Thanatron/Mercitron death machines and Dr. Walter Freeman, the man who traveled America in his Lobotomobile, doling out thousands of transorbital lobotomies to treat behaviors as slight as daydreaming and turning on lights during daylight. Just ask Rosemary Kennedy– except you can't– she was one of his victims.
I do voice an opinion about one other aspect. I hear people say "I don't want to be a burden to my children."
What the hell are you talking about? What kind of lesson is it for children to equate inconvenience with human life? Until the 1950s when America became mobile, families gathered around and cared for loved ones. Providing for one's elderly became a shared experience and bonded families. Yes, it's more difficult when families are scattered and perhaps one child becomes stuck with the responsibility, but it's part of life. So what if your child has to change your diapers and spoon-feed you? How many years did you do that for your child?
Here I have to give credit to my brother Glen. Rather than wait for a nurse, he picked Mother up in his arms and carried her to the bathroom to take care of her. Glen can be a pain-in-the-ass, but he never once complained about Mom being a burden. So, whatever your position about the debate may be, let's set this one issue aside.
The Final Analysis
At this moment in time, I know what answer is right for me, but I don't know what is right for you or Dick Stodghill or anyone else, and perhaps that's the way it should be. Edward and Joan Downes seemed to have found the right answer for them, but it might not work for others.
Maybe a one-size-fits-all law isn't an ideal solution. It doesn't seem right when Florida imprisons an elderly man for helping his wife end her life, and yet I don't want to see the floodgates open on quick-and-easy euthanasia.
I turn to you, the reader. What are your thoughts? What would be your solutions? What would you want when the time comes?
---
Note

The route this Evening Standard interview took illustrates the amazing age we live in: The news item arrived on my desk in the United States from a reader in South Africa who found the British article on a Canadian news site about an event that took place in Switzerland. Five countries and three continents later, I'm able to bring it to you.