WITNESSING I WITNESS
by Rob Lopresti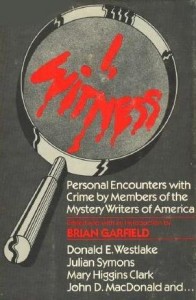 Today I'm going to plug one of my favorite books, which I see is available for less than three bucks on the web. Such is fame and glory.
I, Witness is a collect of short pieces by mystery writers, but they are not short stories. They are all non-fiction with a common theme: the author's personal connection to crime. The book was published by the Mystery Writers of America in 1978 to celebrate the Second International Conference of Crime Writers, which was held in New York that year. (And hey, after twenty years it's time to do a sequel with a new generation of mystery writers … anybody listening, MWA?)
A Death Wish is born
Back in August I wrote about the book's introduction by editor Brian Garfield. He talked about a petty theft that had him mad enough to want to kill the perpetrator. He turned that anger into the classic novel Death Wish. But there are lots of other interesting stories.
It begins with Donald E. Westlake's "Tangled Webs – Best Offer," in which the master of the comic caper explains that he stole the plot for his novel Jimmy the Kid from his own unfilmed screenplay, which was inspired by a movie producer who took the idea from a gang of French criminals who stole it from a novel by Lionel White.… It's complicated, but you'll laugh.
Fun with felons
Peter Godfrey tells a chilling story of trying to write from the viewpoint of the culprit in a famous unsolved murder – and then getting letters from the apparent culprit (still unknown today). Dan J. Marlowe's novel about a bank robber got him enthusiastic phone calls from a fan – followed by a visit from the FBI. The caller was Al Nussbaum, a bankrobber on the Ten Most Wanted List. In prison Nussbaum switched to mystery writing – with a lot of help from Marlowe and other members of MWA. Naturally, Nussbaum has an essay in the book as well.
John Ball reports on a house invasion robbery in which his jade collection was stolen. The highlight for me was the TV reporter who asked him to move "the bust of Hitler" out of camera range. "I explained with as much patience as I had left that it was of Edgar Allan Poe and that it was going to stay right where it was." (Of course it was the Edgar he won for In The Heat Of The Night.)
Larry Block tells a hilarious/horrifying story of getting arrested in Mexico as a teenager. Lawrence Treat reports on shenanigans that kept him from voting in a small New England town.
Crime on the job
And some of the writers wrote of their professional experience with crime (not Nussbaum's kind, however.) For a lovely description of chaos, read reporter Desmond Bagley's description of covering an agricultural fair in South Africa when someone attempted –almost successfully – to kill the Prime Minister.
Joe Gores tells the story of the car repossession that inspired the first of his DKA novels about, uh, car repossession.
Former FBI Agent Thomas H. McDade regales us with tales of his days on the "Nut Letter Desk," and his dealings with the woman who signed her correspondence "Princess Angeleus Marie Lamé." One of her letters begins "Nine brothers, all somebody else, and of different nationalities." Then it becomes confusing. I guarantee you won't guess how McDade's story about her ends.
A chilling tale
Let me finish with Hillary Waugh, who tells fascinating stories of interviewing homicide cops. Here in one paragraph is a great story plot that I haven't yet seen used on one of the umpteen versions of CSI. Have I missed it?
Consider the case of a man whose body was found hanging above the bathtub. It looked like murder by his worst enemy. The homicide detective, however, collected the water in the tub's drain trap for analysis and, lo and behold, it was ice water, not tap water (there's a difference.) The victim had committed suicide using a block of ice, in the expectation that his enemy would be charged with murder.
This is a book I reread every few years. Track it down.