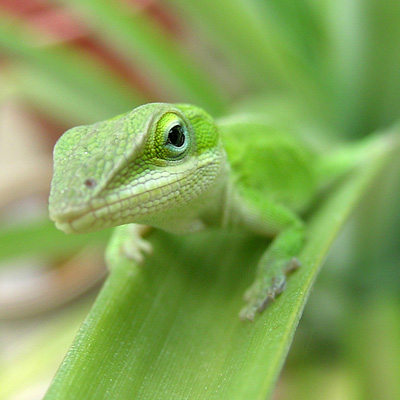 A SHORT TALE
by Leigh Lundin
This morning when I planned to shower, an anole arrived before me. I opened the window and there he was, inside the screen, glaring at me. When I reached for him, he scampered up the screen, inside the glass.
He was a juvenile, his tiny body less than 1-1/2 inches (4cm) plus a tail for a grand total of perhaps 2-3/4 inches (7cm). I thought I spotted a tiny name tag that read Bart.
An anole (pronounced ah-NOH-lee), sometimes called an American chameleon, is a member of the Iguanidae family. Anoles are ubiquitous in Florida, sunning themselves in gardens and lounging under cocktail umbrellas. They are a natural pesticide, living on mosquitoes and no-see-ums– those minute midges– insect flecks that hold Shriner conventions in your eyes and ears.
Bart was skinny, suggesting he'd missed a few meals whilst trapped behind the glass.
Still, he was defiant, not trusting a big naked guy (hey, it's my shower) to deliver him from glass and tile purgatory. I slid my hand between screen and glass, promising cold drinks and lovebugs if only he relent and come out.
Full grown, anoles reach a maximum length of five to six inches (12-15cm). They love insects but they're harmless to people. A bite from an angry anole is about as dangerous as being attacked by Q-tips. When we were kids, parents thought it was cute to secure a thread around anoles' necks and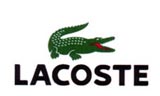 safety-pin the little creatures to our shirt fronts like living Lacoste alligators.
Bart might have had an ancestral memory of such a humiliation suffered by a distant great-great-great-great grandfather. He wasn't happy about being accosted and jumped over my hand and leaped into the empty tub where I stood. He circuited the shower like a Derby winner taking victory laps. When I turned to catch the little guy, he ran under the cavern formed by my arch, thinking it safe.
I lifted my foot… he shot away… and dove down the drain. Down he drain! Aargh.
If I showered, I worried he might drown. Closing the drain might be worse. Since the drain was a little sluggish recently, I'd planned to glug Drain-O gel down the pipe after my shower. I couldn't do that with a little lizard inside! I didn't want to bio-degrade him!
I trickled water into the drain. I heard a distinct phfffffft. I imagined Bart sticking out his tongue at such an ineffectual ploy.
Like true chameleons, anoles can change color. Among plant stems and leaves, they can become a vivid green making them hard to spot.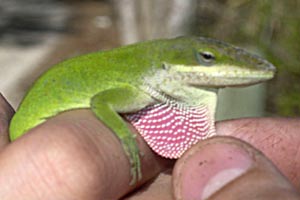 When resting on a tree limb, they can turn brownish–black, blending in like a knot. Males have a dewlap they're capable of projecting like waving a flag, "Hey, ladies, look at me!" Dewlaps often comprise red and yellow, making them hard to miss when they gather at anole bars and malls.
I ran more water. The phfffffft raspberry stopped, followed by sneezing and cursing. The anole emerged from the drain, muttering, "That wasn't fair. Hey, couldn't you have the decency to put clothes on?"
"It's my shower."
"Ingrate. Remember that mosquito annoying you last night? I had him for dinner with fava beans."
"I didn't think we had fava beans."
"Your cupboard doesn't have diddly. Couldn't you lay in mealworms? What's a grown guy doing with Hostess cupcakes? Hey, easy on the tail."
I picked him up. He rested in my hand, deciding it wasn't so bad.
In crime stories we speak of tails, the spies and private eyes who follow their target. Sometimes targets shake off tails, wholly understandable to lizards.
Suppose you're a fan who reads or writes cat stories. Cats and anoles are seldom friends, because anoles are to cats as insects are to anoles– delicious. Anoles have a secret defense– their tail. More than one cat has chased a little lizard, slapped her paw upon its hindquarters… and found herself with nothing but a squirming tail.
Like many lizards, anoles are capable of shedding their tails, leaving it to writhe and wiggle while the lizard safely escapes to live another day (and grow another tail). Pretty cool trick for a crafty critter.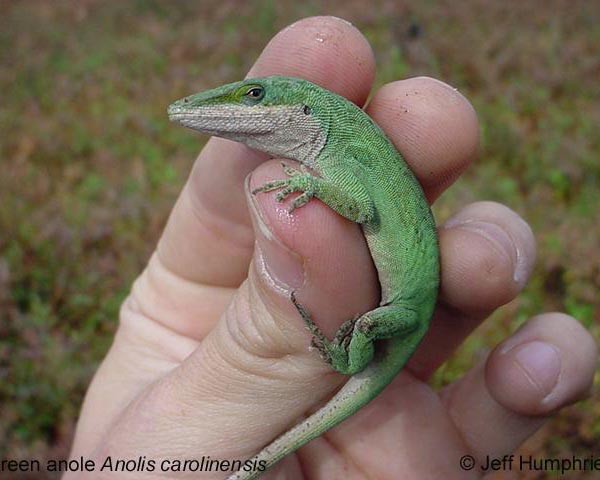 I padded from the bathroom and opened the outside door.
"Hey, there's no air conditioning out here."
"Maybe not, but there's plenty of food."
"That's a good point."
I opened my hand. Bart continued to crouch there.
He grumbled. "Give me a moment. Sheesh! Talk about cold-blooded."
I dropped Bart in the flower bed. He glared but ran off under a leaf. I turned to step back inside and there on the threshold, crouched another anole.
---
Images are copyright according to links, including Wendy Lynn Parlier, University of Charleston; Jeff Humpries, Clemson University; and as otherwise may be indicated. The Lacoste alligator logo is a trademark of Locoste, France. Author denies knowledge of cupcakes or Snoballs found in said cupboard.