THE GAME'S AFOOT
by Deborah Elliott-Upton
One hundred forty-nine years ago, a baby boy was born on this date in Edinburgh, Scotland. Before his death July 7, 1930 at age 71, he would change the world with his writing.
"Come, Watson, come!" he cried. "The game is afoot. Not a word! Into your clothes and come!" — "The Adventure of the Abbey Grange"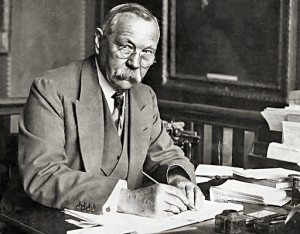 While studying medicine at the University of Edinburgh, Sir Arthur Conan Doyle started writing short stories and published his first fiction at age 20 in Chambers's Edinburgh Journal. Following his education, he waited for his patients to notice his setting up practice at 1 Bush Villas in Elm Grove, Southsea, passing the time by writing. In Beeton's Christmas Annual for 1887, Doyle's A Study in Scarlet was the world's introduction to Sherlock Holmes. Presumably modeled after his university professor, Joseph Bell, it's also been said Holmes may have been closer to Edgar Allan Poe's character, C. Auguste Dupin.
"It is an old maxim of mine that when you have excluded the impossible, whatever remains, however improbable, must be the truth." — "The Adventure of the Beryl Coronet"
Doyle's adventures of Sherlock Holmes are well-known and his exploits are still read today, finding new fans in every generation. Holmes appeared in 56 short stories and four novels written by Doyle. Fourteen movies hit the silver screen between 1939 and 1946 starring Basil Rathbone and Nigel Bruce as Holmes and Watson accordingly.
"Ever since I was a boy and first got acquainted with the great detective I wanted to be like him . . . to play such a character means as much to me as ten 'Hamlets'!"

— Basil Rathbone, in a 1939 interview.
An organization dedicated to 221-B Baker Street where Holmes shared an apartment with his friend and co-hort, Dr. John Watson, and enthusiastic about everything Sherlockian is known as The Baker Street Irregulars. The name originates from Doyle's characters deemed Holmes' street urchins who scouted street information for the detective for pay. Proving Holmes popularity still reigns, in 2007, a British television movie starring Johnathan Price (Sherlock Holmes and the Baker Street Irregulars) is a family fare adventure dedicated to the Baker Street Irregulars. The fan club founded in 1934 has included Franklin Delano Roosevelt, Harry S. Truman, Rex Stout and Isaac Asimov among their membership. The Baker Street Journal is published quarterly and according to their web site, www.bakerstreetjournal.com , has been in existence since its founding in 1946 by Edgar W. Smith. Their informal slogan is "Never before has so much been written by so many for so few." The Baker Street Journal is a widely-respected source of scholarship about Sherlock Holmes.
It was nine o'clock at night upon the second of August — the most terrible August in the history of the world. One might have thought already that God's curse hung heavy over a degenerate world, for there was an awesome hush and a feeling of vague expectancy in the sultry and stagnant air. The sun had long set, but one blood-red gash like an open wound lay low in the distant west. Above, the stars were shining brightly, and below, the lights of the shipping glimmered in the bay. The two famous Germans stood beside them, and they looked down upon the broad sweep of the beach at the foot of the great chalk cliff in which Von Bork, like some wandering eagle, had perched himself four years before. They stood with their heads close together, talking in low, confidential tones. From below the two glowing ends of their cigars might have been the smouldering eyes of some malignant fiend looking down in the darkness." — from "His Last Bow"
The above is the opening paragraph to the short story concerning "An epilogue of Sherlock Holmes." Notice the visual images Doyle paints with his wording choices. How could a reader not want to continue reading? This is a mark of a great writer. Another sampling from the same story shows how Doyle uses description sparingly, yet captures an image sharply in our mind's eye allowing us to "see and hear" the character.
He was a huge man, the secretary, deep, broad, and tall, with a slow, heavy fashion of speech which had been his main asset in his political career.
Although the Sherlock Holmes films made from 1939-1946 hardly represented a true presentation of the characters in Doyle's stories, personally, I can't read the last three paragraphs in "The Last bow" without hearing and visualizing Basil Rathbone and Nigel Bruce just before closing credits roll.
"There's an east wind coming, Watson."

"I think not, Holmes. It is very warm."

"Good old Watson! You are the one fixed point in a changing age. There's an east wind coming all the same, such a wind as never blew on England yet. It will be cold and bitter, Watson, and a good many of us may wither before its blast. But it's God's own wind none the less, and a cleaner, better, stronger land will lie in the sunshine when the storm has cleared. Start her up, Watson, for it's time that we were on our way. I have a check for five hundred pounds which should be cashed early, for the drawer is quite capable of stopping it if he can."
Sherlock Holmes Films starring Basil Rathbone and Nigel Bruce

Sherlock Holmes and the Hound of the Baskervilles

The Adventures of Sherlock Holmes

Sherlock Holmes and the Voice of Terror

Sherlock Holmes and the Secret Weapon

Sherlock Holmes In Washington

Sherlock Holmes Faces Death

Sherlock Holmes and the Spider Woman

Sherlock Holmes and the Pearl of Death

Sherlock Holmes and the Scarlet Claw

Sherlock Holmes and the House of Fear

Sherlock Holmes and the Pursuit To Algiers

Sherlock Holmes and the Woman In Green

Sherlock Holmes In the Terror By Night

Sherlock Holmes In Dressed To Kill