THE KABBALAH OF CRIME FICTION
by Steve Steinbock
If you look in the spice cabinet of crime writing, you'll find a variety of ingredients: action, character, plot, emotion, witty banter, intellectual challenge, and cats. A story that uses all of these will taste pretty nasty. But some authors and their readers, like chefs and diners, will go heavy on the ginger, while others will avoid it altogether.
This goes back to my grandmother's old adage about chocolate and vanilla. I've used this forum numerous times already to explore tastes and subgenres, but I have a slightly fresh spin.
Yesterday I read a short story that was very cleverly plotted, but had a style and characters that were somewhat stale. Meanwhile, in my car, I've been listening to a thriller written by a woman whose style is powerfully emotional, but her plots are pedestrian and predictable.
For the past twenty years, the more popular mystery series have been those that emphasize character traits as they develop from book to book. Writers are more focused on writing about the personal life of the detective – her parents, children, pets, illnesses, romantic ups and downs, and alcohol abuse – than on plot or action. A survey of the forums at Amazon confirms that mystery consumers care deeply about series-wide character development.
(On the one hand, I find this trend pretty silly. In the good old days, you could pick up any Agatha Christie, Rex Stout, or Erle Stanley Gardner novel, whether written in 1931 or 1958, and you'd find a dependable Miss Marple, Nero Wolfe, or Perry Mason the same as in every other book of the series. On the other hand, I admit that I've gotten caught up in the lives of characters like Block's Matthew Scudder or Lippman's Tess Monhaghan.)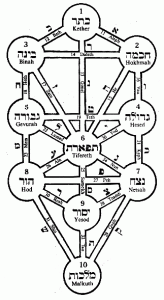 Over the years I've taught a number of classes on Jewish mysticism. (No, Madonna wasn't my student, and yes, Kabbalah is older than MTV). The Kabbalistic concept that I have the most fun with is that of the Ten Sephirot of the Tree of Life. This, according to medieval rabbis, is the design that represents not only the attributes of God, but the very DNA pattern of everything in creation. That includes crime fiction.
By understanding the nature and interrela- tionships of these ten elements, we can among other things, better appreciate every- thing around us, and live a life in balance.
One of the nifty aspects of this concept of Tree of Life is how the Sephirot connect in three distinct realms. The top three sephirot pertain to intellect. The middle three sephirot deal with emotion. The bottom four sephirot concern visceral, instinctual experience and action. In other words, for Wizard of Oz fans, you've got the Scarecrow ("If I only had a brain"), the Tin Woodman ("If I only had a heart"), and the Cowardly Lion ("If I only had the nerve").
It would take more space than a weekly Criminal Brief column would allow, but it would be interesting to explore how crime writers and their handiwork are reflected in the Tree of Life. Which writers highlight intellect? Which emphasize emotion? And which ones center on action? Do John Dickson Carr, Nora Roberts, and Mickey Spillane fairly represent the Brain, the Heart, and the Fist? Which writers – contemporary or classical – achieve a balance of these attributes? And what about the spaces between the sephirot? What other aspects and elements exist in crime writing?